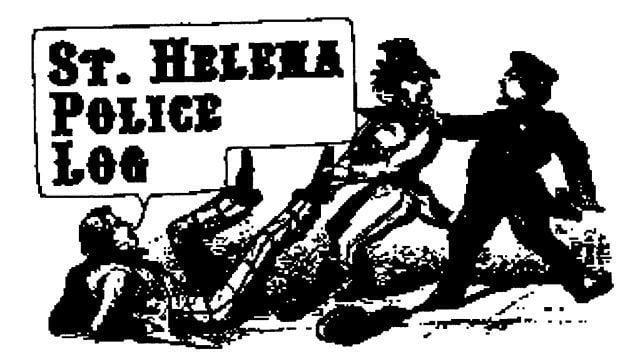 0923 -- A white BMX bike was found at the skatepark on Sunday and brought to the police department.
1658 -- Report of an out-of-control teenager threatening a family member with a pair of scissors on Saint Andrews Court. Police arrested the juvenile on suspicion of assault with a deadly weapon and resisting arrest.
0336 -- After checking an occupied vehicle on Charter Oak Avenue, police arrested a 29-year-old St. Helena man on suspicion of possession of a controlled substance and possession of drug paraphernalia.
1327 -- Medical aid for a person having a seizure on Monte Vista.
1609 -- Report of a woman sleeping or passed out in the driver's seat of a car near Adams Street. Police detained the 48-year-old St. Helena woman on suspicion of public intoxication. She was later released.
1717 -- Police checked on a suspicious person on Main Street.
0145 -- A caller said helicopters were flying over Hudson Avenue.
0809 -- A kid's bicycle was found at Madrona/Riesling.
1002 -- A big brown dog was barking outside a Main Street home. The caller was concerned because it was cold.
1059 -- A fluffy little white dog ran away from home. It was wearing a blue collar.
1421 -- Three cars were reportedly blocking White Sulphur Spring Road outside the city limits. Police notified the CHP.
1515 -- Construction signs were blocking a driveway on Silverado Trail. The caller moved them.
1852 -- Report of a suspicious man walking around shirtless on College Avenue.
1952 -- Report of a suspicious shirtless man walking around a commercial property near Main/Sulphur Springs. Police detained the 18-year-old Napa man on suspicion of public intoxication and providing a false name to police.
2019 -- Medical aid for a man choking on Fulton Lane.
0805 -- A car was briefly reported missing from Monte Vista, but its owner found it nearby.
0835 -- A car was reported stolen from Grove Court.
1039 -- Someone drilled a hole in the gas tank of a car on Hasty Court. The gas was drained from the tank.
1317 -- Report of a suspicious car cruising through the Spring/Sylvaner neighborhood. The two occupants kept getting out and looking at houses. Police contacted the people, who were looking for a lost item.
1430 -- A turkey vulture hit a power pole, got electrocuted, and blew out a transformer on Spring Mountain Road.
1652 -- Someone punctured the gas line of a car on Monte Vista. The gas had leaked out.
1825 -- Report of 11 kids playing basketball at a basketball court on Hillview Place.
2123 -- A Hunt Avenue resident called to make sure it was OK for her neighbor's kids to swim in their backyard pool. It was OK because they were siblings and staying in their own yard.
2139 -- A caller said someone parked in his assigned parking space in an apartment parking lot on College Avenue. Police told him to call the apartment management.
0147 -- An agitated man came to the police station saying he was involved in a domestic dispute. Police detained the 45-year-old St. Helena resident on suspicion of being under the influence of drugs, public intoxication, and violating probation.
0330 -- A driver reported being followed by another car on Silverado Trail and then onto Zinfandel Lane. It turned out to be a CHP unit.
0820 -- A caller reported seeing a missing person driving through the elm tunnel Friday morning.
0835 -- Two customers were drinking their coffee and hanging out outside a Main Street coffee shop. Police reminded them of social distancing and told them not to stay on the premises.
1156 -- Police found some juveniles at the skatepark and reminded them the park was closed.
1239 -- Report of a fire near Deer Park Road. Controlled burns were allowed, according to Cal Fire.
1349 -- Report of a reckless driver on northbound Highway 29.
1537 -- There was some sort of plywood structure in Sulphur Creek near Valley View. The caller was concerned it might block the water if the creek rises. Police notified Public Works.
1622 -- Someone left graffiti on a sidewalk on Valley View.
1718 -- A caller was receiving harassing phone calls on her home phone. The caller wasn't saying anything – just mumbling. Police told her to contact her phone company and block the number.
1725 -- Report of a suspicious man inside a Hunt Avenue business. The caller believed the man had a warrant out for his arrest. Police arrested the 28-year-old Sacramento man for two outstanding warrants from Napa County and one from Solano County. He was cited and released with a promise to appear in court.
0033 -- Report of a domestic disturbance involving an out-of-control family member on Mariposa Lane.
0142 -- Police checked on a juvenile walking along Madrona Avenue.
0209 -- A caller said dogs were barking nonstop on Saint James Drive.
0910 -- A passport was found on Allison Avenue.
1344 -- Medical aid on Grayson Avenue.
1834 -- A caller said dogs were still barking all day and all night on Saint James Drive.
2116 -- Report of a prowler on Peppertree Circle.
0115 -- Report of possible domestic violence on Edwards Street, with the sounds of fighting and a woman screaming. Police checked the area.
0807 -- A caller said laborers in a Main Street parking lot were failing to practice social distancing.
1834 -- Non-injury lift assist on Pope Street.
1845 -- A Spanish-speaking officer was asked to help with a traffic stop on Meadowood Lane.
Be the first to know
Get local news delivered to your inbox!