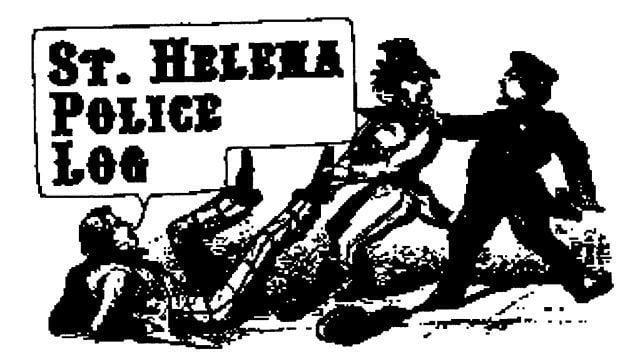 Tuesday, March 30
0607 — Non-injury accident at Highway 29 and Zinfandel Lane.
1001 — Report of an unusually large amount of traffic on Pope Street near Silverado Trail. The caller was concerned there might be an obstruction of some sort. Police weren't aware of any problems.
1023 — Report of cones blocking a driveway on Spring Street, and a neighbor refusing to move them.
1036 — Someone from a Main Street business said there was no parking available for customers. The caller felt that other businesses were taking up available parking spaces.
1347 — Report of fraudulent activity on a bank account. Police took a report.
1523 — Report of three juveniles shooting street signs as they headed down Crane Avenue in a green SUV. Police checked the area.
1545 — Report of a speeder in a white Mercedes on Dowdell Lane.
1655 — A caller lodged a complaint about noise generated by a landscaper. Landscapers can work until 5 p.m.
2042 — Lift assist on Fulton Lane.
2316 — Police contacted a bicyclist riding with no lights at Starr/Meadowcreek. An officer reminded the cyclist that lights are needed when riding a bike at night.
Wednesday, March 311316 — Police were told to be on the lookout for a car carrying a bike stolen from Calistoga.
2034 — Report of an unconscious man in front of a Main Street building. Police arrested the 35-year-old Santa Rosa man on suspicion of providing false identification to an officer, driving with a suspended license, and an outstanding warrant.
2345 — Report of a possible drunk driver on Highway 29.
Thursday, April 10842 — Report of a reckless driver at Pratt/Main.
1154 — Report of two loose dogs at Sylvaner/Spring.
1320 — Report of a fire east of Silverado Trail. It was a controlled burn.
1546 — Graffiti was found at Main/Grayson.
Friday, April 21054 — Report of a reckless driver passing over double yellows on Silverado Trail.
1107 — Two dogs were loose near Crane/Grayson. Police called their owner.
1505 — Report of a pit bull left in a hot car on Main Street. The windows were slightly cracked.
1639 — Medical aid for a person who slipped and fell inside a Main Street store.
2220 — Report of a reckless driver on southbound Highway 29 leaving Calistoga.
Saturday, April 30016 — Report of loud people in a backyard on Valley View Street.
1206 — A white chihuahua found near Spring/Allyn was returned to its owner.
1640 — Two-car accident at Silverado/Pope.
1949 — Medical aid on La Cuesta Court.
2330 — Report of a fight at a Highway 29 hotel. Police arrested two men for public intoxication.
Sunday, April 41218 — Report of a possible drunk driver speeding and passing illegally on Silverado Trail.
2131 — Report of a possible drunk driver on Highway 29. Police stopped the car and determined the driver was not drunk.
Monday, April 51756 — Report of vandalism in front of the chapel at the Catholic cemetery.
1926 — Report of two suspicious men claiming to be with PG&E. Officers confirmed they are third-party PG&E workers.
Tuesday, April 60613 — Report of a woman creating a disturbance at a Main Street business and claiming she'd been ripped off.
0727 — A backpack was found in front of a Main Street bank.
1118 — Report of a construction vehicle parked too close to the Vineyard/Hillview intersection, obstructing the view of traffic.
1245 — Report of possible trespassers on a Hunt Avenue property.
1256 — A woman was reported missing, but it turned out to be a misunderstanding. She was OK.
1417 — Report of a black Tesla speeding at about 100 mph on Pratt Avenue.
1748 — Report of a dog barking for over two hours in a car on Oak Avenue. The windows were open.
WATCH NOW: ST. HELENA POLICE, FIREFIGHTERS WISH RAYMOND MONROY A HAPPY 108TH BIRTHDAY
Editor's note: In relation to Saturday's log entry regarding a student with COVID-19, St. Helena High School Principal Ben Scinto sent the following email to parents Tuesday morning: "Good morning Saints families. We are informing you that there was a student on the high school campus from 1/6 to 1/11/21 who we later found out had COVID-like symptoms and did not notify the school. The student was later tested for COVID-19 on 1/20/21 and found to be positive. After doing contact tracing, Napa County Public Health informed us yesterday afternoon that they determined the individual was infectious from 12/30/20- 1/11/21. Had we been alerted at the time of the infectious period, we would have immediately performed site-based contact tracing and informed everyone who had close contact with this person. We would also have informed the entire high school community as is our policy. The quarantine period for any close contact is over, and so there is nothing to do at this time. We are not aware of any COVID-19 cases linked to this individual. Please ring us at 967-2740 should you have any questions. Thank you."
Editor's note: In relation to Saturday's log entry regarding a student with COVID-19, St. Helena High School Principal Ben Scinto sent the following email to parents Tuesday morning: "Good morning Saints families. We are informing you that there was a student on the high school campus from 1/6 to 1/11/21 who we later found out had COVID-like symptoms and did not notify the school. The student was later tested for COVID-19 on 1/20/21 and found to be positive. After doing contact tracing, Napa County Public Health informed us yesterday afternoon that they determined the individual was infectious from 12/30/20- 1/11/21. Had we been alerted at the time of the infectious period, we would have immediately performed site-based contact tracing and informed everyone who had close contact with this person. We would also have informed the entire high school community as is our policy. The quarantine period for any close contact is over, and so there is nothing to do at this time. We are not aware of any COVID-19 cases linked to this individual. Please ring us at 967-2740 should you have any questions. Thank you."