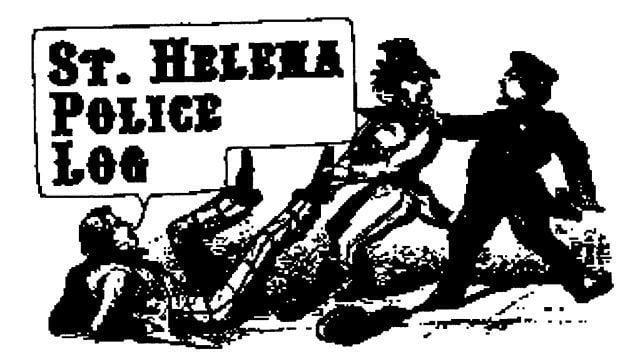 0846 — Police gave an anti-vaping presentation to fifth-graders.
0910 — Police assisted at the COVID-19 vaccination clinic on College Avenue.
2227 — Medical aid for a possible stroke victim on El Bonita Avenue.
2315 — Report of a large truck parked in the middle of Bella Vista Court. A tow truck was picking up a vehicle.
1234 — Report of a six-car pileup on Highway 29 just south of Zinfandel Lane.
1726 — Report of a reckless driver passing in the median and tailgating near Main/Charter Oak.
1804 — Report of a possible drunk driver on southbound Highway 29 near Dunaweal Lane.
1902 — Report of a woman screaming on Stockton Street.
2154 — A coyote was spotted on Pope/Stralla.
1040 — A USA flag and pole were stolen from outside a house on Laguna Seca Court.
0317 — Report of a loud buzzing sound on Spring Mountain Road, maybe from a transformer.
0334 — Report of a suspicious person next to a vehicle with its door open on Adams Street.
1133 — A man said he was being harassed by someone accusing him of stealing a truck.
1220 — Medical aid on Olive Avenue.
1406 — A woman said she pulled over to the side of the road to text. A man knocked on her front passenger's-side door, noticed her dog, and tried to open the back passenger's-side door. He wasn't armed or aggressive.
1451 — Medical aid on Pope Street.
1652 — A duffel bag containing what looked like surgical tubing was found on a bench on Spring Street.
1850 — Report of a very intoxicated couple on Allison Avenue, with one woman rolling on the floor. The man reportedly hit one car and almost hit two ladies.
2126 — Domestic disagreement on Spring Street.
2155 — Report of a blue SUV on College Avenue with drunk people inside, including the driver. One person had vomited.
2347 — Calistoga police asked neighboring agencies to respond to a bar fight.
1221 — Report of a reckless driver at Main/Charter Oak.
1739 — An Apple watch was found on Hillview Place.
1859 — Report of people being loud at a timeshare on Valley View Street.
2124 — Report of a loud party on Sulphur Springs Avenue. The caller confronted the people, who called him names. The noise stopped once he called the police.
0008 — Report of a non-injury accident on Pope Street. Police arrested the 29-year-old St. Helena man on suspicion of DUI.
1921 — Lift assist on Del Campo Court.
2346 — Medical aid on Charter Oak Avenue.
1047 — Gas was siphoned from a school bus overnight.
1105 — A piece of construction equipment fell out of a truck, possibly on Tainter, Spring or Allyn.
1501 — A woman said someone was fraudulently trying to open a bank card in her name.
WATCH NOW: ST. HELENA POLICE, FIREFIGHTERS WISH RAYMOND MONROY A HAPPY 108TH BIRTHDAY
Editor's note: In relation to Saturday's log entry regarding a student with COVID-19, St. Helena High School Principal Ben Scinto sent the following email to parents Tuesday morning: "Good morning Saints families. We are informing you that there was a student on the high school campus from 1/6 to 1/11/21 who we later found out had COVID-like symptoms and did not notify the school. The student was later tested for COVID-19 on 1/20/21 and found to be positive. After doing contact tracing, Napa County Public Health informed us yesterday afternoon that they determined the individual was infectious from 12/30/20- 1/11/21. Had we been alerted at the time of the infectious period, we would have immediately performed site-based contact tracing and informed everyone who had close contact with this person. We would also have informed the entire high school community as is our policy. The quarantine period for any close contact is over, and so there is nothing to do at this time. We are not aware of any COVID-19 cases linked to this individual. Please ring us at 967-2740 should you have any questions. Thank you."