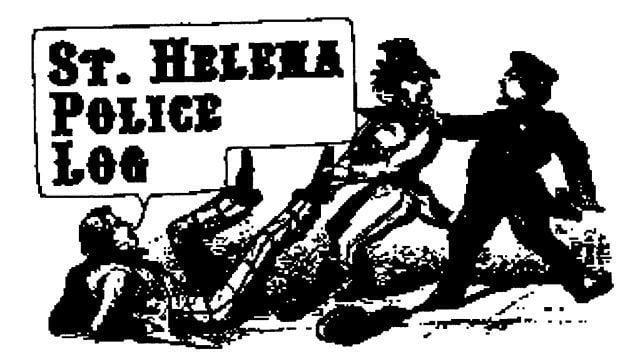 Tuesday, Sept. 22
1007 — A large piece of equipment was partially blocking Spring Street near Sylvaner Avenue.
1010 — Unwanted ammunition was turned into the police department for disposal.
1021 — An officer distributed certificates to various primary school students.
1055 — Police received a complaint about a person standing next to Main Street with a sign regarding abortion. The complainant asked if that person was allowed to be on public property with the sign. He asked if he would get in trouble for having a sign with the opposing view.
1737 — Medical aid for a juvenile slipping in and out of consciousness at Meily Park.
1800 — Report of three people drinking beer near a dumpster on a Main Street property. They'd been asked to leave and refused.
1843 — Report of two suspicious men knocking at someone's front door on Pratt Avenue.
2106 — Report of a water leak originating from some sprinklers on Scott Street. Police notified Public Works.
2206 — Medical aid on Dean York Lane.
Wednesday, Sept. 230800 — An officer helped distribute food to students at the school district office.
1058 — Report of an injured squirrel on Main Street.
1210 — Police were told to be on the lookout for a car heading down from Angwin, with a driver who might be in distress.
1259 — An officer found a disabled vehicle in the elm tunnel.
1500 — A bike was reported stolen from Meadowcreek Circle.
1552 — Report of a suspicious man looking into people's houses near Madrona/Riesling. He was in an old tan van.
1713 — Report of a man refusing to leave a Main Street property and trying to break a lock on a shed with a 2x4.
2039 — Report of a very agitated dog barking all day near Mills Lane.
Thursday, Sept. 240649 — A trailer was reported stolen from College Avenue. It was found on Oak Knoll a few hours later with its lock broken and items missing.
1828 — Medical aid on Spring Mountain Road.
2059 — Non-injury accident on Main Street, with a vehicle into a curb.
2117 — Lift assist on Fulton Lane.
2339 — A caller asked for extra patrol on Meadowcreek Circle. A bike was stolen earlier this week.
Friday, Sept. 250653 — Report of a verbal disturbance near Pope/Starr.
0732 — Medical aid for a woman with chest pain on Granger Way.
0935 — Report of a double-parked pickup loading and unloading stuff all morning on Pope Street.
1112 — Report of a suspicious man in a car on Sylvaner Avenue.
1831 — Report of a major water leak on Voorhees Circle.
2002 — Report of a reckless driver on Silverado Trail near Zinfandel Lane.
2023 — Report of a suspicious car on Spring Mountain Court.
Saturday, Sept. 261438 — Report of a suspicious man in a van on Zinfandel Lane. The caller was concerned because she'd seen a helicopter in the area and thought the driver might be hiding.
1442 — Report of a neighbor harassing a gardener on Stockton Street.
1459 — Police were asked to check on a family of four who were asking for money at Adams/Railroad.
1557 — A caller complained about gardening occurring on a weekend on Stockton Street. Police told the caller it could continue until 5 p.m.
Sunday, Sept. 270616 — A Redondo Court resident told police she would need help if St. Helena evacuates.
0701 — Medical aid on Main Street.
1107 — Officers assisted with evacuation warnings in the Howell Mountain Road area.
1148 — Medical aid on Chablis Circle.
1549 — A person reported an assault/battery that occurred Saturday. Police took a report.
1720 — Non-injury lift assist on Pope Street.
1720 — Medical aid for a man with a head injury on Main Street.
1748 — A caller who lives near the cemetery asked about the location of the fire. Police said St. Helena was not under evacuation.
1802 — Someone turned in ammunition to be destroyed.
1952 — Police began evacuating Spring Mountain Road.
2159 — Report of a reckless driver failing to yield to police on northbound Highway 29.
2200 — An elderly couple asked for a ride out of town.
Monday, Sept. 281336 — Report of people being seen on camera going through the debris of a winery that burned on Silverado Trail outside the city limits. Police transferred the call to the sheriff's office.
1620 — A car was reported stolen from Main Street.
1640 — A caller passed on a second-hand report of two suspicious people driving around and trying door knobs on Spring Mountain Court, which is evacuated.
1837 — Police set up a hard road closures at Madrona/Fir Hill and Riesling/Sylvaner.
1943 — Report of a suspicious car driving up and down Pratt Avenue.
1946 — An evacuated resident asked if someone could lock her back door to protect against looters.
2036 — Report of suspicious car on Vineyard Avenue, which is evacuated.
2044 — A caller requested extra patrol on Vallejo Street in case of potential looters.
2147 — A caller requested extra patrol on Spring Mountain Court due to people who've "crept" back into the neighborhood to check on their houses.
2152 — Report of a suspicious car on Hudson Avenue.
Be the first to know
Get local news delivered to your inbox!