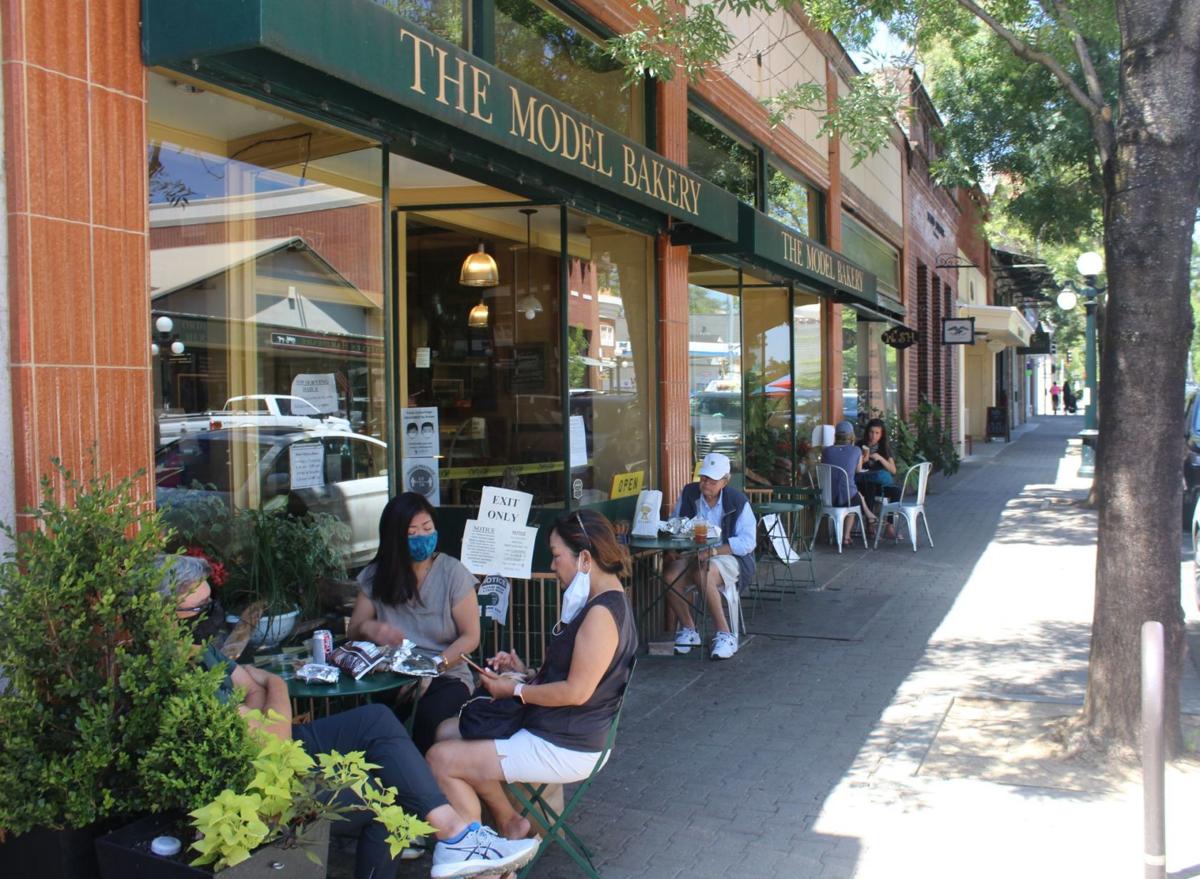 Gillwoods has closed its dining room and set up 12 tables in front of and behind the restaurant.
"The staff's getting their workout," said co-owner Jennifer Fradelizio. "It's a long walk around that building. But they're glad to be working."
Weekends are picking up up a little, but weekdays are slow enough that Gillwoods is staying closed on Tuesdays and Wednesdays.
"We've still got great support from locals who've been in almost every day who have been so kind," Fradelizio said.
Cook set up eight tables with 24 seats in a parking lot near Hunt and Railroad avenues.
"We wanted to make sure you still felt you're in a restaurant and not in a parking lot," said co-owner Meagan Rounds-Wilmoth. "People have been really positive about the whole experience."
Regulars miss sitting at the bar counter, but there's not enough room to set that up outside and still allow for six feet of social distancing, she said.
Goose & Gander, which has been offering outdoor garden dining, shut down voluntarily on Aug. 5 after one of its employees tested positive for COVID-19. It was given the all-clear to reopen, but owner Andy Florsheim decided to stay closed until Wednesday, Aug. 12, according to Elizabeth Naylor, director of events at the restaurant.
In the meantime, the restaurant has undergone a thorough cleaning and tests have come back negative for the rest of the staff. The one employee who tested positive is doing fine, Naylor said.
"We love our community and we want it to be safe and whole again," Naylor said.
Market has embraced outdoor dining at its restaurant and at a pop-up barbecue at the former St. Helena Catholic School on Oak Avenue.
Co-owner Ernesto Martinez said keeping both locations running "is going to be a challenge," with double the effort and a fraction of the revenue compared to normal times.
"At this point my main goal is to keep people employed," he said. "On the other hand, we have to wait and see if it's worth it."
"As far as the outdoor seating at the restaurant, it's tough," he added. "A lot of people, especially locals, don't want to sit on the sidewalk because people are passing by."
Last week Martinez said he was considering an outdoor lounge area behind the restaurant geared toward locals who don't feel comfortable on the sidewalk.
"It's been a challenging time," he said. "We try to go in one direction and then another, and everywhere we go it seems like we crash into something."
Watch now: 6 Foods To Avoid Eating While On A Road Trip
Be the first to know
Get local news delivered to your inbox!