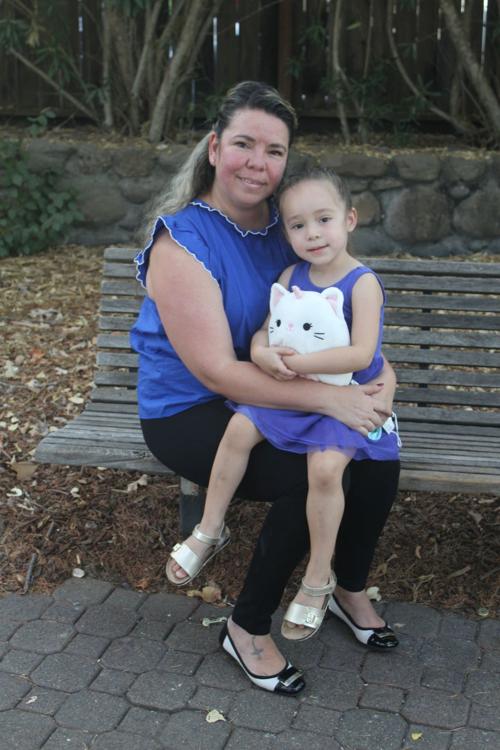 To explain how the St. Helena Rotary Club helps prepare kids for kindergarten, it might be useful to embrace your inner preschooler and build a tower of imaginary building blocks.
The first block is the Rotary Club's "Give A Child A Chance" program that matches up to $20,500 in donations to St. Helena Preschool For All.
The second block is St. Helena Preschool For All's scholarship program that opens up access to local preschools for kids whose families don't have the resources to pay full tuition on their own.
The third block is the preschools, which give kids the basic knowledge and social and behavioral skills they need to thrive in kindergarten.
The fourth and final block is the kids themselves, who arrive at St. Helena Primary School ready and willing to learn.
Irene Pérez and her 4-year-old daughter Natalia are climbing that tower thanks to a Preschool For All scholarship for Natalia to attend Mila's Preschool and Childcare Center in St. Helena.
After moving to St. Helena from Calistoga, where she'd lived for 20 years, Pérez had a hard time finding someone to watch Natalia while she was at work. Someone told her about Mila's. Although the price exceeded her budget, St. Helena Preschool For All stepped in with a scholarship.
"Otherwise I could never afford to have Natalia at a place like Mila's," Pérez said.



Watch Now: Irene Pérez on St. Helena Preschool For All
Preschool gives Natalia, an only child, a chance to interact with other kids and learn to share.
"In the morning when we wake up the first thing I say is 'Do you want to go to school?' And she right away says 'Yes!' and jumps out of bed," Pérez said. "She loves going to school."
"Our partnership with St. Helena Rotary has been instrumental in helping support St. Helena Preschool For All's mission to continue to provide an opportunity for 3 and 4-year-olds to have a preschool experience," said Executive Director Julio Olguin. "Our organization's strength and stability comes from our generous community partners such as the Rotary Club who over the past four years have joined us to raise awareness and over $70,000 toward scholarships. We highly value our partnership and know that together we are making a difference by preparing these young children and families for a continued lifetime of learning."
Kathleen Patterson, president of St. Helena Rotary, said donors can double their generosity by donating to Preschool For All through Rotary.
"We know not everyone can afford a $100 or $200 or $500 donation, but whatever you give to help the children have a good preschool experience will be matched," she said.
"Preschool benefits everybody because if kids don't have that preschool experience, they start kindergarten behind," she added. "You know what it does to a person's self-esteem to be behind. Plus it saves the school money because they don't have to do remedial work to bring the children up to grade level. So it's a win-win for everybody."
Our tower of four blocks isn't quite finished – every tower needs a solid foundation. The Give a Child a Chance program is underwritten by the following community sponsors:
Prime Sponsors: Anonymous, Jennifer Lamb, Central Valley, Sunshine Market, Paul Dohring, Michelle Wagner/St. Helena Real Estate.
Sustaining Sponsosr: Mallory, Imrie & Vasconi Insurance, Joel Toller/Coldwell Banker, Farella Braun & Martel LLP
Supporting Sponsors: Kathi and Bill Polachek, John Sales, John and Jennifer Muhlner, Evan and Lauren Galbraith, Mike and Ann Thomas.
Readers may donate online at gorotary.net or mail a check to St. Helena Rotary Foundation, P.O. Box 211, St. Helena, CA 94574.
Be the first to know
Get local news delivered to your inbox!