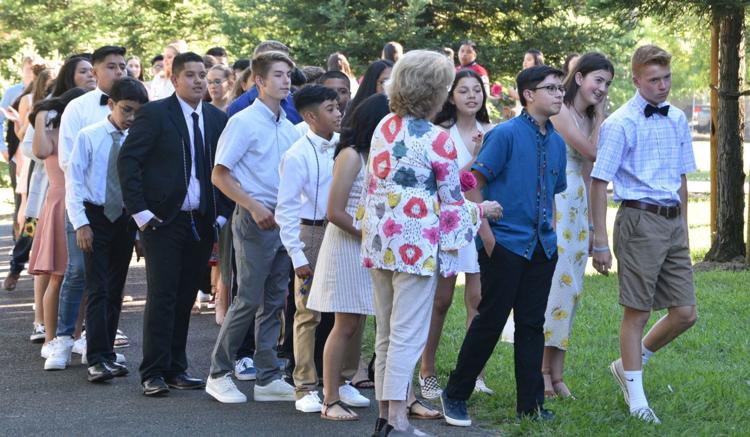 Eighth-graders from St. Helena's Robert Louis Stevenson Middle School celebrated their promotion to high school on Thursday, June 6.
Hundreds of people attended the ceremony, held on the school's front lawn.
Principal Karin Cox presided over the evening, which started with Anna Harrington singing the national anthem. Student addresses were presented in English by Gema Jimenez Ceja and Spanish by Grisell Servin Gutierrez.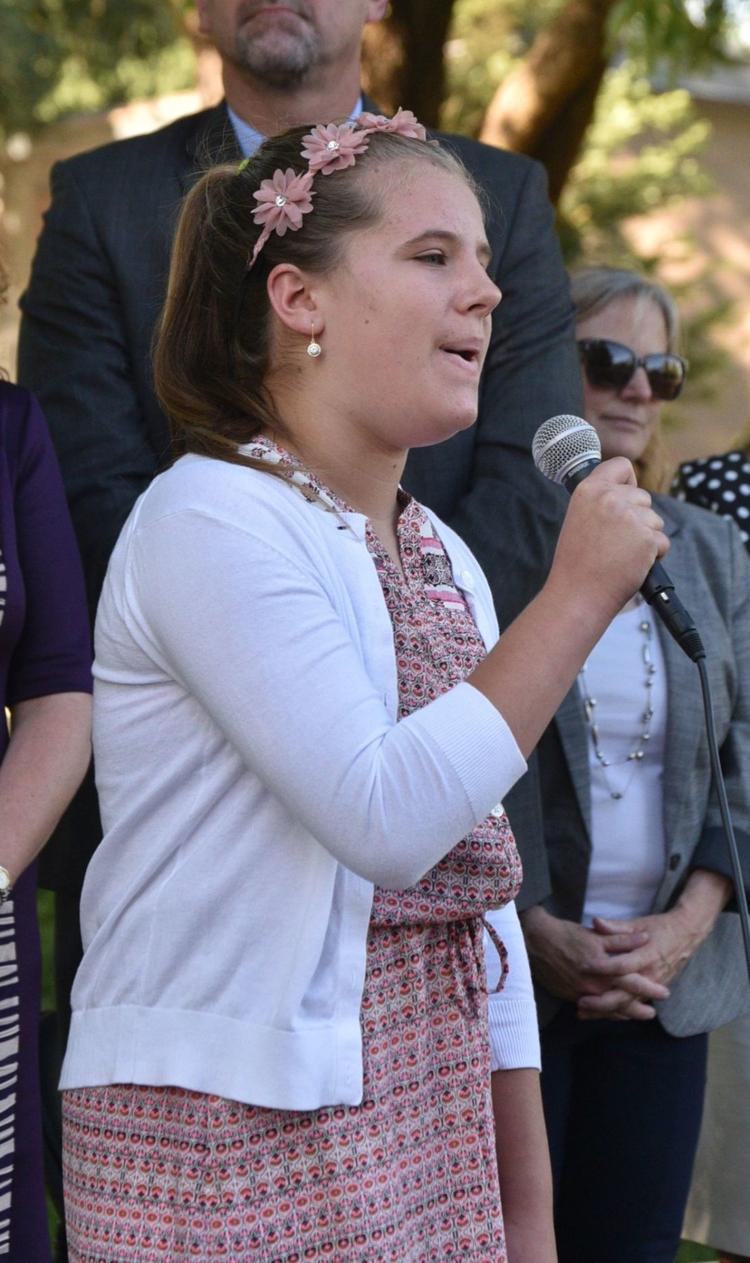 Parents and friends cheered loudly as each student was presented a Certificate of Promotion. Presenters were the St. Helena Unified School District Board of Trustees — Jeff Conwell, Maria Haug, Lisa Pelosi, Jeannie Kerr and Julio Olguin — and Superintendent Marylou Wilson, Chris Heller, chief academic/human resources officer, and Andrea Stubbs, chief building official.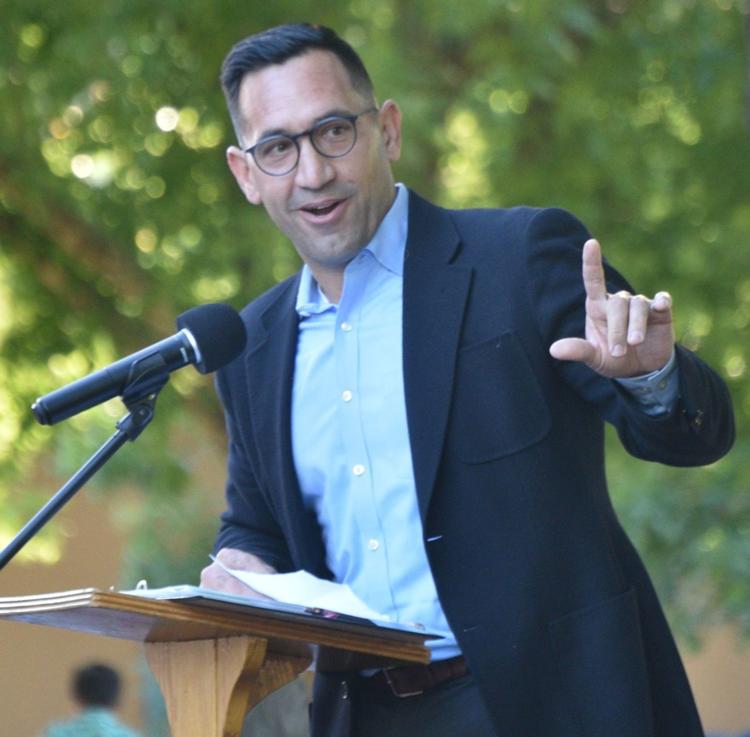 The final words came from St. Helena High School Principal Ben Scinto, who congratulated the students and wished them well in their next step to high school. The former middle school principal gave them three pieces of advice:
1. Surround yourself with good people. There is a saying that goes "Show me your friends and I will show you your future." You know the people who elevate you and you know the people who bring you down. Choose wisely.
2. Your difference is what makes you awesome. As much as there has been and will continue to be pressure to conform, please do not hide who you are. No greatness has been achieved by fitting in.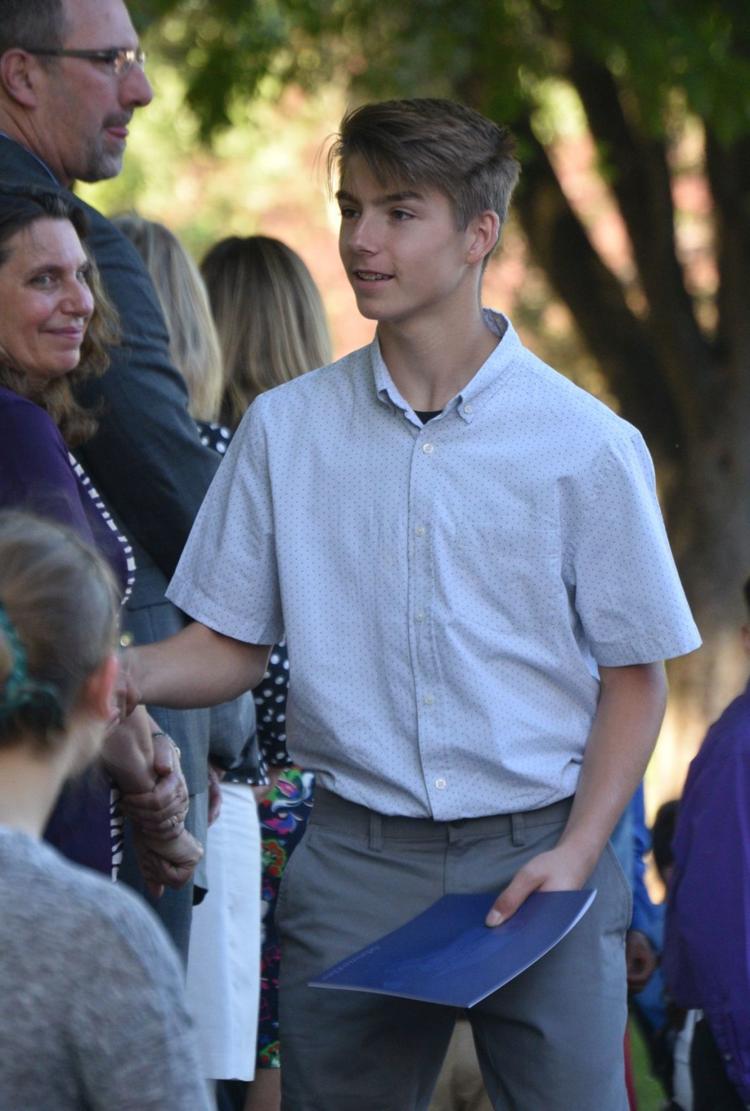 3. It's OK to not have high school and the rest of your life figured out. That said, be curious, be open, and set goals and work daily to achieve them.
You have free articles remaining.
Since many of the RLS graduates will move on to St. Helena High School, Scinto ended his comments with a loud "Go Saints!"
The Promoting Class of 2019 for RLS Middle School is as follows:
David Aguilera-DeLuna, Stevie Alvarez, Estefani Ambriz Aguilar, Arturo Barragan Martinez. Remi-Lou Basile, Arleth Bautista Bernal, Clementine Berlin, Rome Bissember, Eva Bowen and Nicholas Broyles;
Taylor Buchanan, Sean Burton, Brody Cameron Stenner, Savannah Carr, Isabella Castle, Lucia Cazares, Stephanie Cendejas Morales, Emmanuel Colin Gonzalez, Ruby Corley and Clayton Crean;
Aaron Cruz, Linnea Cupp, Sofia Cupp, Haven Demchuk, Brandon Diaz Fregoso, Verena Echeverria Perez, Aribella Farrell, Isabella Flores Zarate, Fernando Franco Alvarez and Karl Gabriel;
Sebastian Gallegos-Casas, Clayton Gambill, Roberto Garcia, Juan Garcia Alvarez, Arisbeth Garcia Perez, Alexis Gonzalez Cortes, Monserrat Gutierrez Aguilar, Gino Hanna, Thomas Herdell and Jennifer Herrera and Andrew Hileman;
Gema Jimenez Ceja, Nikos Kelperis, Charlie Knight, Rowan Laird, Justin Lopez, Jasmyn Lopez Alvarado, Emiliano Maldonado, Karley Martin, Daisy Martin del Campo and Anahiz Martinez Alcala;
Cleo McClain, Vianett Mendoza Martinez, Jadon Meyer, Calla Miner, Lily Moodenbaugh, Kiara Munoz-Gonzalez, Peyton Myers, Jade Nino Gonzalez, Rudy Ortiz Nufio and Efren Pelayo;
Wyatt Pitts, Prisila Ramirez, Krystel Ramirez Ortega, Fredy Ramirez Palma, Fabrizio Reyes, Talia Ricci, Eric Ries-Juncker, Jesse Robinson, Gregorio Roby and Talia Roche;
Leonardo Rodriguz Guzman, Melissa Romero Sam, Jake Salling, Zantos Segura, Grisell Servin Gutierrez, Jessica Servin Zuazo, April Shaw, Keaton Smith, Weston Staid, and Parker Strouss; and
Alejandro Topete Esquivel, Monserrat Torres, Isabella Valdez Rincon, Jessica Vega-Zepeda, Andres Velazquez, Dulce Velazquez, Emilia Verdin Bernal and Emilia Wagner.