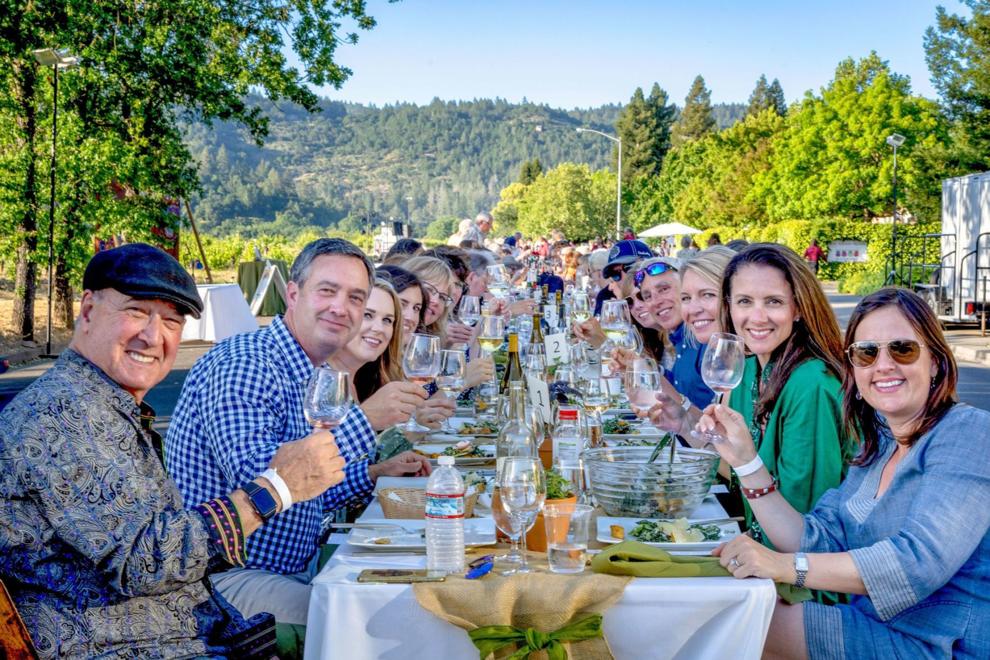 A long stretch of St. Helena's Adams Street was cordoned off to traffic last Saturday evening at the junction of Library Lane so that more than 500 mostly community members could gather at white-linen-covered tables that snaked their way down the middle of the dead-end street. Surrounded by the ancient and gnarled head-trained vines of the historic Library Vineyard on one side and lawn-fronted businesses on the other, guests had come to commune.
Unlike many of the dinner events held throughout the valley on any given Saturday, here there was no auction gavel urging people to donate to a worthy cause or undercurrent of wineries selling their wares. Hosted by a joint effort between the St. Helena Hospital Foundation, St. Helena Chamber of Commerce and Nimbus Arts, this dinner was wholly focused on enjoying a lovely evening, listening to live music and having dinner and a glass or two of wine with friends and family. Proceeds, if any, from the modest $75-per-ticket sales and sponsorships will benefit the St. Helena Hospital Foundation.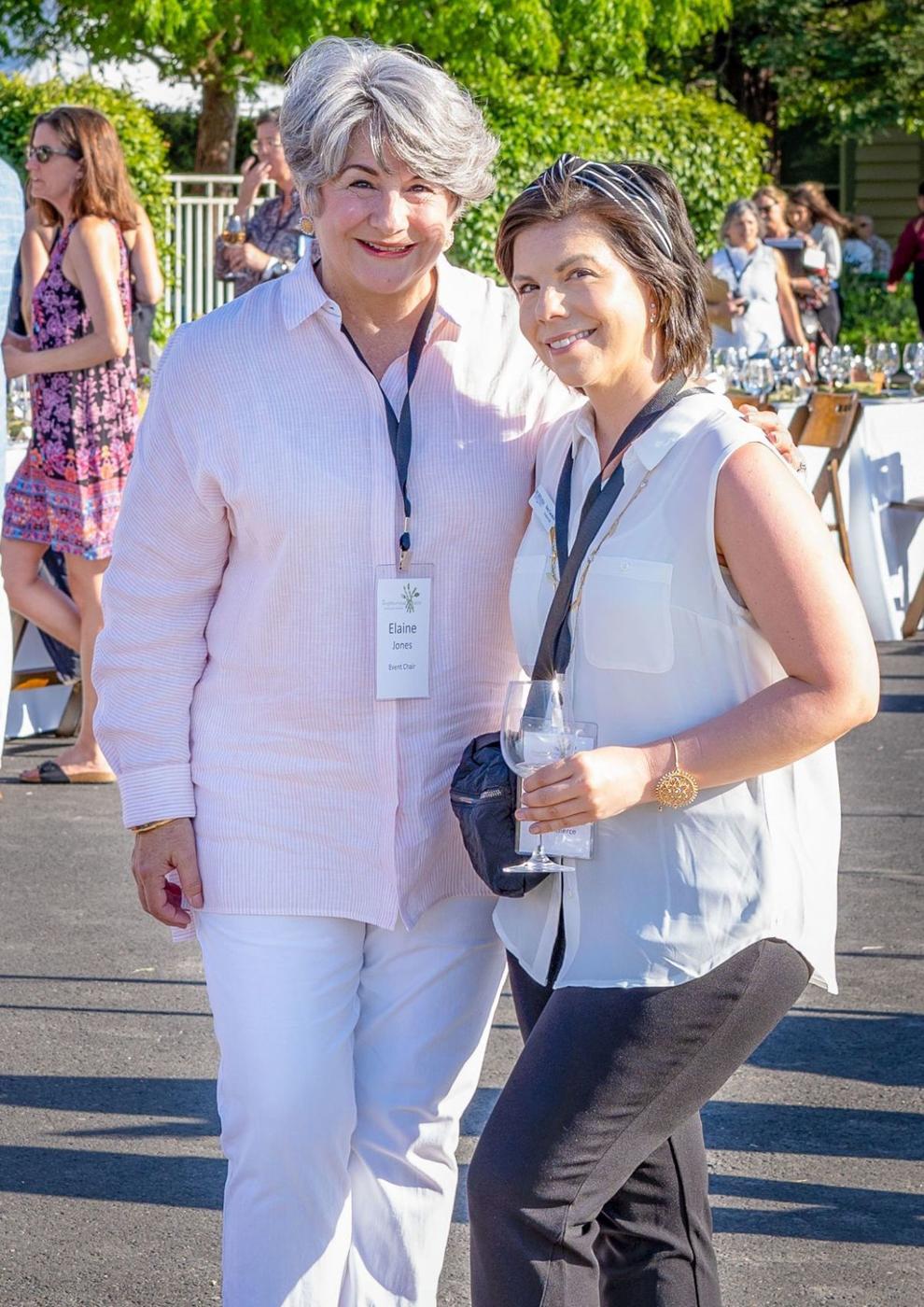 Addressing the gathering as they sat for dinner, Steven Herber, M.D., president of Adventist Health St. Helena and also a St. Helena Hospital Foundation board member, reminded people to have fun and also the benefits of having a strong community.
"We know that communing together can have seriously positive health outcomes," he said. "A strong community is a healthy community."
Herber then thanked the organizers, the guests and the many sponsors and pointed to recent studies that show distinct health benefits achieved through social interactions. It appears that people who lack social connections have 50 percent higher odds of dying younger compared with those who are more connected.
Building a healthy community
The idea for the sold-out dinner was hatched nearly two years ago. Reminiscent of Calistoga's perhaps slightly more rowdy Harvest Table that closes down Main Street each September, the St. Helena version included live music from Grammy-winning singer-songwriter Billy Dean accompanied by local wine industry veteran musicians The Silverado Pickups and a five-course meal by Chef Nash Cognetti of Tre Posti.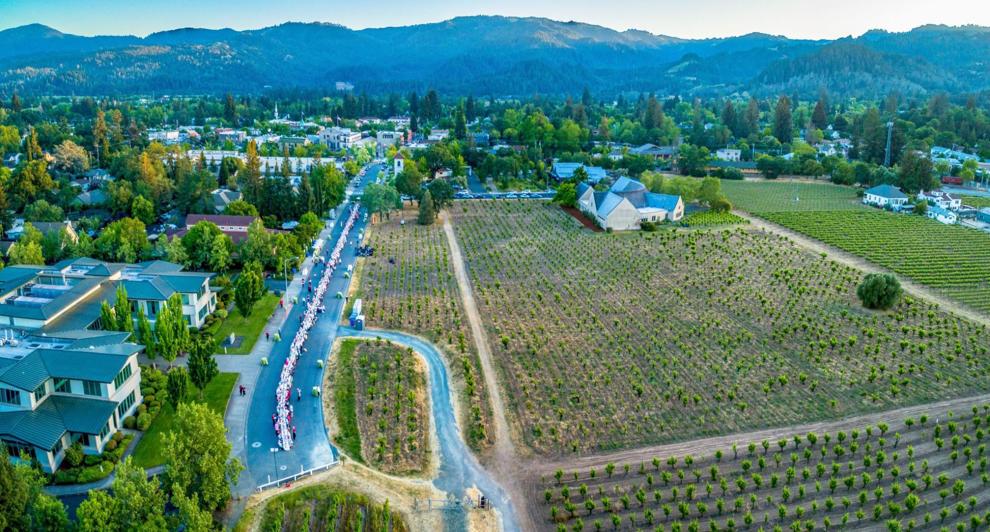 "The response and execution has thus far exceeded our expectation," said Elaine Jones, secretary of the board of directors for the St. Helena Hospital Foundation, who helped spearhead the event. "The goal was to bring people together. What we know about healthy communities is that the more people walk, talk, eat, play and work together the healthier they are."
A portico to health
As a part of the effort to bring people together, Nimbus Arts is creating two large sculptural porticos adorned with colorful tile mosaics hand-crafted by hundreds of community members. The porticos will be placed in downtown St. Helena and on the Adventist Health St. Helena Hospital grounds.
"We have plans to place these art pieces throughout the community to provide a thoughtful monument to represent our connections, a sense of welcome, wellness and hope for the future," said Jamie Graff, executive director of Nimbus Arts. "Our missions align in that our goal is to bring people together and improve community cohesion while at the same time making beautiful art."
Food, music and fun



As the sun set the cloudless blue sky gave way to pinks and oranges and the vines in the nearby vineyard took on a shadowy silver hue. The twangy country music intermingled with the sounds of laughter as people began to finish their meals and head for the dance floor or just stroll down the traffic-free street.
"It's just wonderful to see everyone here tonight enjoying themselves and happily conversing," said Mayor Geoff Ellsworth. "It's too infrequent that we get a chance to celebrate our beautiful and vibrant community in such a friendly and cohesive manner — my hope is that these types of events will thrive."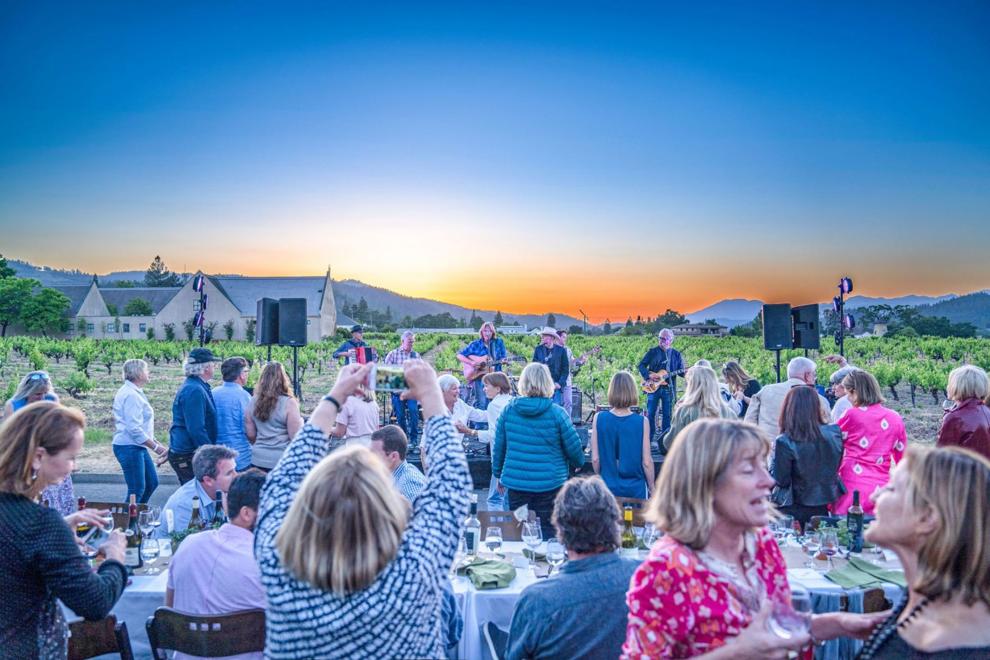 A group of departing revelers passed by a tourist who was standing at the entrance.
"What's going on down there?" the man asked. "It looks like everyone is having so much fun. It reminds me of my home in India."
"It's just some people getting together to enjoy our beautiful town and have some food and wine," a woman called out from the group. "You should join us next year."
"I can't wait," he yelled back.
The group waved goodbye and continued walking toward town, but the man remained, listening and watching, a soft smile across his lips, his body slowly swaying to the music.