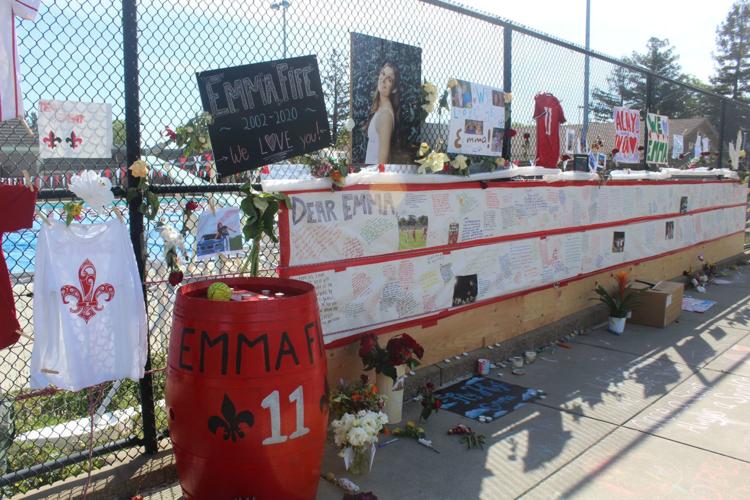 St. Helenans have spent the past few days remembering St. Helena High School (SHHS) senior Emma Fife, who passed away unexpectedly over the weekend.
Classmates have created a memorial display with posters, photographs, painted wine barrels, flowers and candles on a fence at St. Helena High School. On the sidewalk in front of the fence are messages in chalk.
SHHS senior Kristina Isdahl organized the memorial display and also organized a GoFundMe campaign to raise money for a memorial tree and plaque. Her initial goal was $1,200, but by Thursday morning donors had already contributed almost $13,000.
Isdahl is now planning a memorial tree, plaque and bench, and she's close to confirming a location. She said the rest of the money will go to a scholarship in Fife's memory.
Individuals and family members are invited to place an LED candle on the labyrinth at St. Helena's Grace Episcopal Church this weekend in honor of Fife. The labyrinth will be lit from sundown Friday to sunrise Monday. If you do not have an electric candle, some will be provided.
On Wednesday afternoon, a group of eight St. Helena teenagers were outside on the driveway at the Kelperis household, putting the finishing touches on a full-size mural of Fife and painting and decorating 21 donated wine barrels. Kostas Kelperis, a lifelong best friend of Fife's, wanted to emphasize that it was a group of "St. Helena kids" who were remembering their classmate and friend.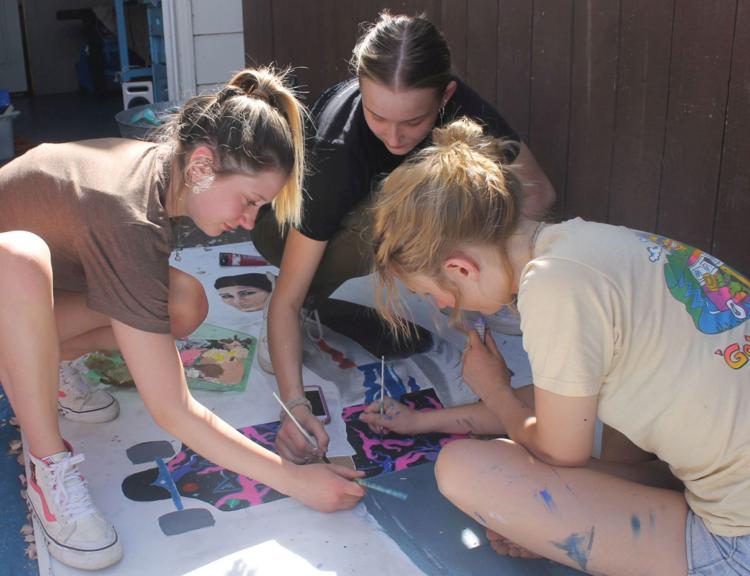 The painted and decorated wine barrels, both red and white – the colors of the Saints — will be loaded into the back of a flatbed truck to begin a Memorial Drive starting at 3 p.m. Saturday at the high school. The parade will loop through town and end at the high school, where 500 T-shirts in Fife's honor will be given away.
Kelperis, a 2019 SHHS graduate, said Ella Dunnington had the idea for the parade and T-shirts. "We wanted to do it quickly, so Emma is not forgotten at all," he said. "We're painting these in honor of her. The red ones will have her (jersey) number and hearts, while the white ones will have everything she likes," including coffee cups and skateboards. He added the mural will be hung up somewhere downtown.
Dunnington said she and her family organized the Memorial Drive for Fife, "because she's had an impact on every single person in this community, one way or another. I think it's important that we come together as much as we can right now, show our love and support for each other and for Emma."
This past fall, Fife was team captain of the girls varsity soccer team. "Emma has been on my soccer team for as long as I can remember," Dunnington said. "It's really heartbreaking that's she's not with us anymore."
The Saints ended the season in third place in the Coastal Mountain Conference with a 12-6 overall record and 10-4 in league. Fife was named to the CMC All-League's First Team.
On Wednesday afternoon, Dunnington remembered one November game in particular, against Clear Lake, where Fife played the hero in the first-round playoff game. "We went into overtime twice this year, when we had PK (penalty kick) shots. She really wanted to go into the goal, she was a really good goalie and really good athlete," Dunnington said.
After Fife scored one of the penalty kick goals, she volunteered as goalkeeper for the shootout, and blocked a kick, ending the match 6-4. "And then every girl on the field just ran out to her, because we had just won the game. It was a really nice moment," Dunnington said.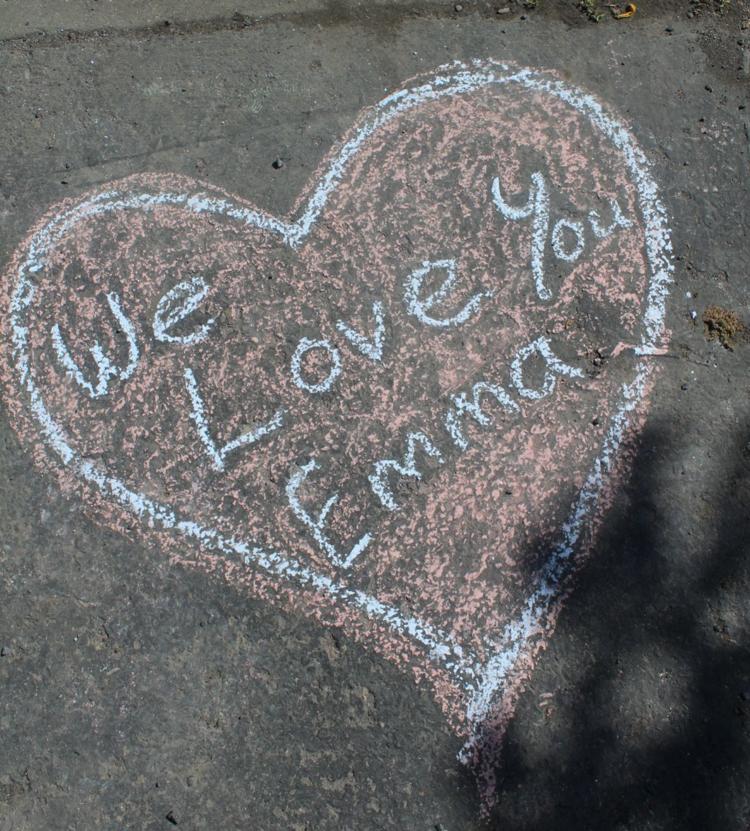 Isdahl said she and Fife had been "like sisters" since they were 2 years old. They talked every day, traveled to Los Angeles and New York together, and enjoyed skiing, boating and water skiing together.
"We literally did everything together," Isdahl said. "We were each other's halves." Isdahl added, "We always cheered each other on. Yeah, we fought like sisters fight, but we were still so close."
Dunnington said, "Emma was the type of person who always had a smile on her face. She could walk into a room and everyone would laugh. She had a really goofy personality and I never heard her say anything negative about anybody. She was really optimistic. No matter how much she was struggling, she always put a smile on and made everyone smile."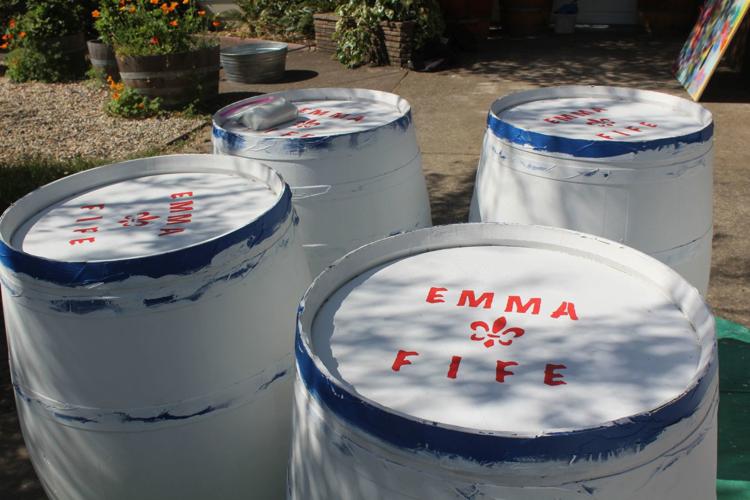 Kelperis said Fife had lived in St. Helena her entire life and epitomized St. Helena. "If you think of a St. Helena kid, it's Emma Fife in ripped blue jeans wearing her reflective jacket on a long board, skating down Madrona or Stockton Street. Literally, she is the pinnacle of St. Helena."
The teenager is the daughter of the late Dennis Fife of Fife Vineyards and Karen MacNeil, author, journalist, wine educator and consultant, who wrote "The Wine Bible."
He has plans to ask for donations for 1,000 Chinese lanterns, one for each St. Helena family. "Everyone can gather in their own circle, say one last thing to Emma and then send it up into the sky."
Reporter Jesse Duarte contributed to this story.
You may reach David Stoneberg at 967-6800 or editor@sthelenastar.com
Be the first to know
Get local news delivered to your inbox!