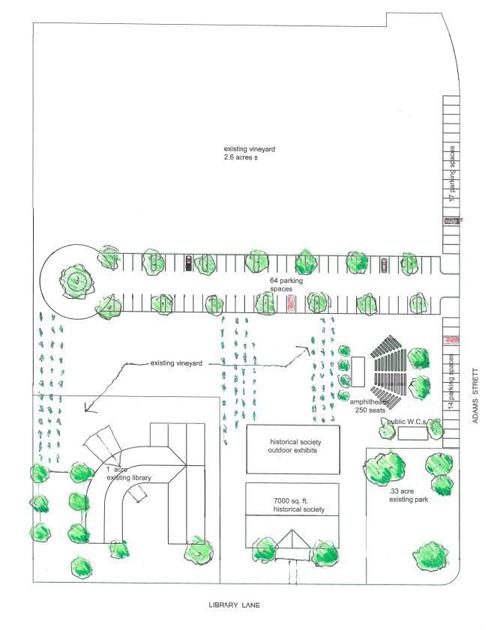 St. Helena resident Anthony Micheli envisions one of the city's most popular institutions — the St. Helena Farmers' Market — moving to the city's most controversial piece of land.
Amid a new effort to determine the future of the Adams Street property, Micheli is trying to rally support for his plan, which would provide space for the Farmers' Market and other community amenities.
"This would be something unique for St. Helena," Micheli said. "Nobody else in the county has something like this."
Micheli's plan includes a new 64-space parking lot on a narrow paved strip that would extend from Adams Street into the existing vineyard. Like the parking lot at Crane Park, it could be used for parking or activities like the Farmers' Market.
Micheli's idea seems promising, said Ed Smith, manager of the St. Helena Farmers' Market. The market has been looking for a good space closer to downtown, and Oak Avenue turned out not to be suitable.
"The Farmers' Market would really enjoy being downtown," said Smith. "I know there are a lot of ideas the city is looking at (for Adams Street), and hopefully this is one of them that would take hold."
Micheli's plan also calls for a 7,000-square-foot building and outdoor exhibit space devoted to the St. Helena Historical Society – to be developed at the society's expense – as well as a 250-seat amphitheater, public restrooms, 31 perpendicular parking spaces along Adams Street, and a 0.33-acre passive park at the corner of Adams Street and Library Lane.
The total of 95 parking spaces, which would also include two electric vehicle charging stations, would save the city a substantial amount of money compared with the cost of a parking structure, Micheli said. He proposes to cover the parking strip with a shade structure with solar panels on the roof.
The plan would leave space for the expansion of the St. Helena Public Library west of the parking strip and leave about 2.6 acres of vineyard east of the parking lot, which could accommodate a small hotel or whatever else the city wants to build there. Micheli said his plan would preserve the property's view of Mount St. Helena.
The site could also serve as the trailhead for hiking trails from Library Lane to the Napa River (0.7 miles), from the river to Wappo Park (0.5 miles), and around the perimeter of the Adams Street property (0.4 miles).
Micheli has consulted with architect Tom Faherty and acoustical engineer Jerry Hyde. He plans to present his plan to the City Council when it discusses the Adams Street property at 6 p.m. Tuesday, May 28, at Vintage Hall.
"I'm just trying to do something for the community," he said.
Be the first to know
Get local news delivered to your inbox!