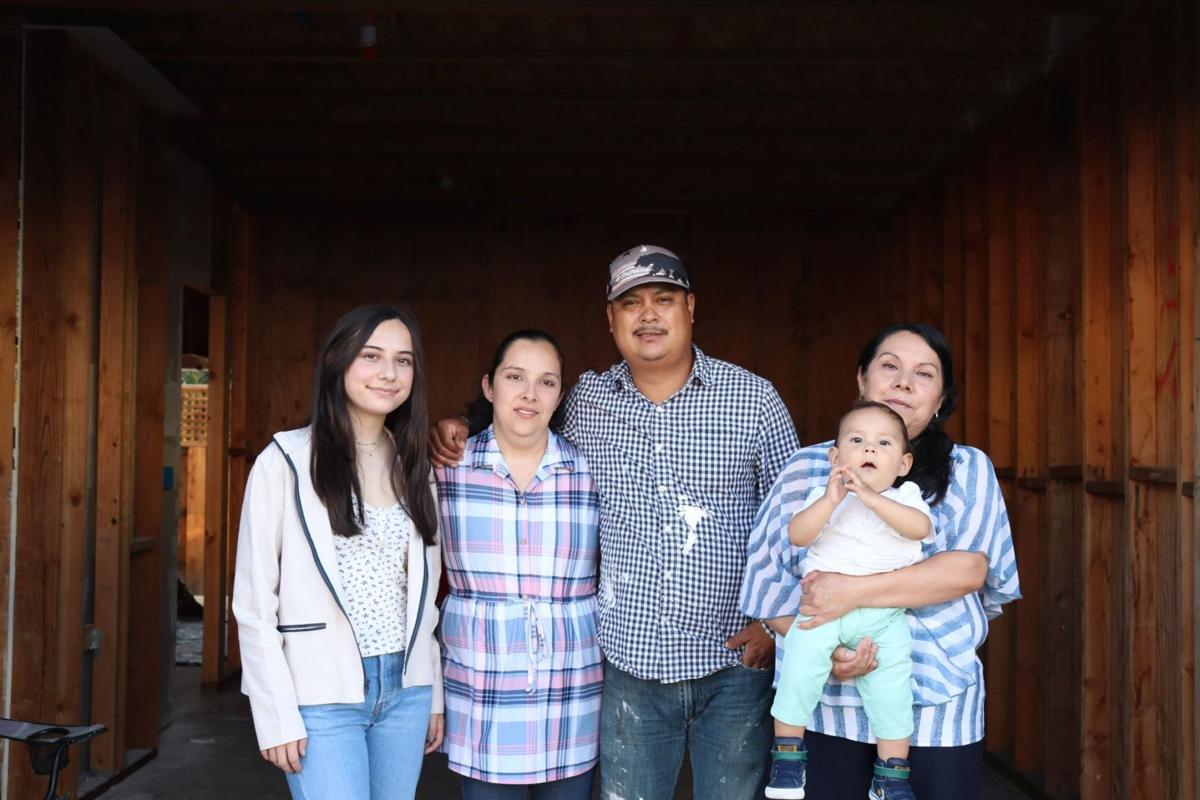 Editor's note: This is the second in a series of articles profiling the future residents of Brenkle Court, who are building their own homes as part of a self-help affordable housing project organized by Our Town St. Helena.
The Rodríguez family arrived in the Unites States in 1995 with the goal of building a better future for their daughters.
"It was just my mom, my dad, and the two oldest daughters," said Veronica Salto Rodríguez, the oldest of four siblings.
Martha Rodríguez, now the head of the household, can say with pride that all of her daughters are attending school and that she sees a bright future ahead of them. Veronica Salto Rodríguez is studying to become a teacher. Marylu Aviña Rodríguez is currently studying at USC, Cristy Aviña Rodríguez is at UC Berkeley, and Araceli Aviña Rodríguez is a senior at St. Helena High School.
Though Martha feels proud of her daughters' accomplishments, she also wanted to leave a legacy for them. "It's a dream of each parent too have something to give to our children," she said.
The nonprofit Our Town St. Helena is developing the Brenkle Court affordable housing project on McCorkle Avenue under a self-help model. The U.S. Department of Agriculture Rural Development Mutual Self-Help Home Ownership Project is providing low-interest mortgages to the project's eight families, who are providing their own labor to build the homes.
During the paperwork process, Martha recalls telling herself she would not believe it was a done deal until construction began.
"When I heard about this program at church, I had no hesitation about applying," she said. "I knew there had been a project like this before. We had applied to that one but didn't qualify at the time. I knew we just had to keep trying."
Having zero experience in construction, they each had their own hesitations and worries when it came to jumping into this project. When the first wall from the second story needed to be constructed, Martha remembers experiencing a fear of heights.
"I hammered away with my eyes closed for the most part on the first day," she said. "Going into the following week I told myself I didn't have to be scared, so when we came back, I made myself look down to feel comfortable with heights."
Without realizing it, Martha was overcoming a fear at the same time she was working on accomplishing one of her long-desired dreams.
Her daughters had hesitations too. Araceli was nervous about the possibility of messing up.
"Making sure that the house has a sturdy foundation is important, so not having the true construction experience was overall nerve-wracking," Araceli said. "At the end of the day, it is my mom's house, so we want it to turn out good."
One of the family's biggest supporters during this process has been Jose Luis Salto, Veronica's husband and Martha's son-in-law.
"When I started, I didn't know how the situation would be," Salto said. "I thought each one of us would be focused on building their own house. When I read the contract, I was surprised to know everybody would be involved in the construction of everybody's houses."
Salto's over 10 years of construction experience has come in handy for the project. He worked in construction for 10 years in Georgia and also after moving to St. Helena.
When asked about the first thing they'd all do once their house is finished, Martha said, "I would not care whether or not we have furniture yet. I'd be willing to sleep on the floor if needed. I just can't wait to be finished with construction and have a place to call home."