With ALS diagnosis, Napa couple renews wedding vows 41 years later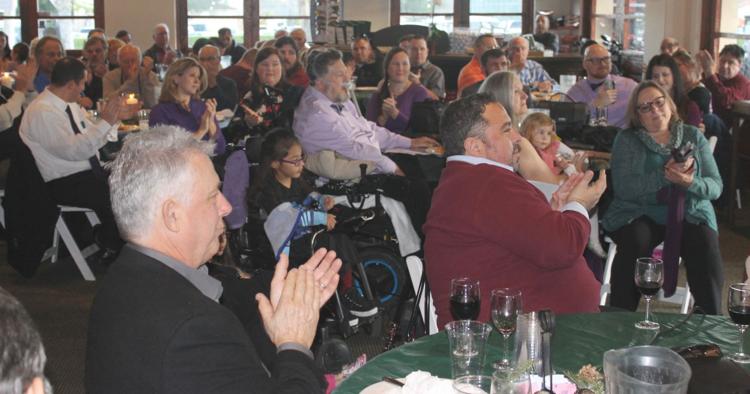 Almost 41 years to the day after they were first married, Napa residents Doug and Carolyn Ernst renewed their vows on Saturday, Dec. 1. It took place in the crowded Lakeside Grill at the Vintners Golf Course in Yountville.
It was not the usual renewal of vows, since it came at the end of a three-hour ceremony, the "First Annual Living Memorial of Doug Ernst," who was diagnosed with amyotrophic lateral sclerosis (ALS) in June.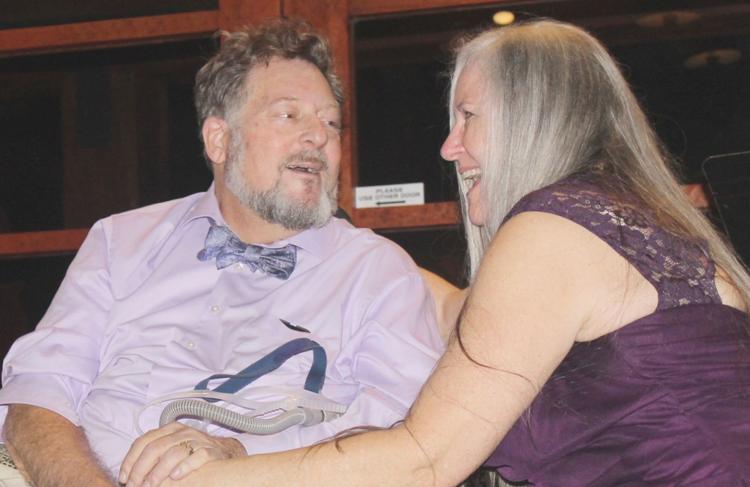 Doug's voice was soft and probably only a few of the people in the audience could hear his responses to the questions from Rick Majewski, chaplain of Kaiser Hospital in San Rafael. But everyone could see the couple holding hands and their long embrace after their vows. It was a touching moment, the capstone of the ceremony.
Although many people arrived at 3 p.m. or shortly thereafter, Doug Ernst, a former newspaper reporter and editor, was unusually late. When he came into the Lakeside Grill, sitting in a powered wheelchair, breathing with a ventilator, the crowd of family and friends applauded.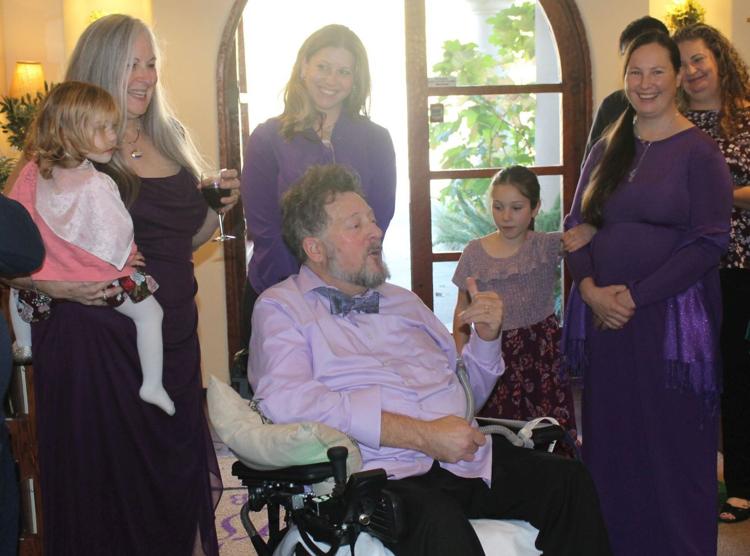 Ernst called for a microphone and told the crowd no one could leave until after he delivered his speech. After his oldest friend, Dr. Robert Hartwell, came up with the idea of a "living memorial," he said he had three fears: no one would come, those who did would "complain about the media in general," and his third and greatest fear "was a roast."
"So before we get started let me take a minute to apologize for my various typos and misspoken words, ill-advised editorial positions, late newspapers, wet papers and a host of other mistakes for which I may or may not have been responsible," he said. "I'd like to leave the earth with a clean slate so if any of you have other complaints for which you would like me to apologize, please send them to me in a self addressed envelope in the next 90 days."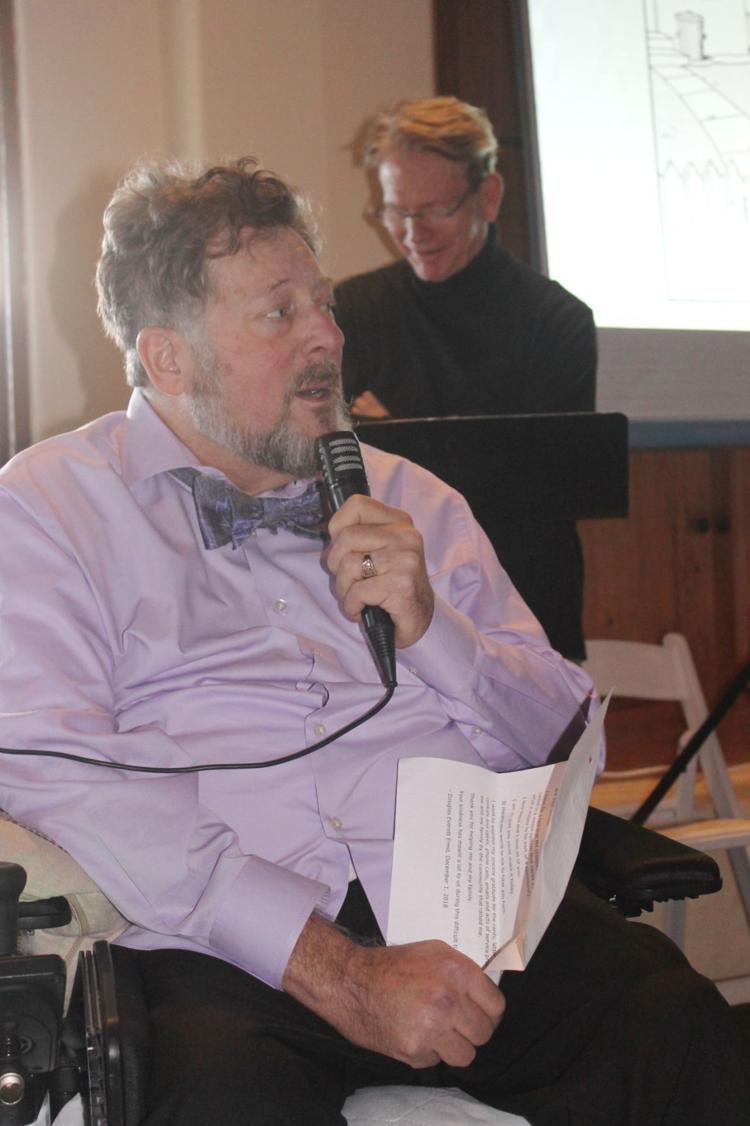 Ernst's health has deteriorated at an accelerated rate since he received his diagnosis of ALS, a nervous system disease that weakens muscles and impacts physical function. Although the ALS Association estimates 50 percent of people diagnosed can live for three to five years with the disease, it is fatal. As recently as September, Ernst was coordinating press coverage of Napa Valley College programs in his role as public information officer.
A GoFundMe account was set up to help the family pay for his medical bills and to remodel his Napa home. As of Tuesday, $7,680 of $100,000 had been raised.
Master of ceremonies
Dr. Robert Hartwell was the master of ceremonies for the "living memorial," and 11 people spoke of their memories of Ernst, including his wife and three of his four daughters, Becca Stoddard Ware, Shelly Mons and Katherine Beach. Hartwell said he and Ernst developed a deep friendship, one that has lasted a lifetime.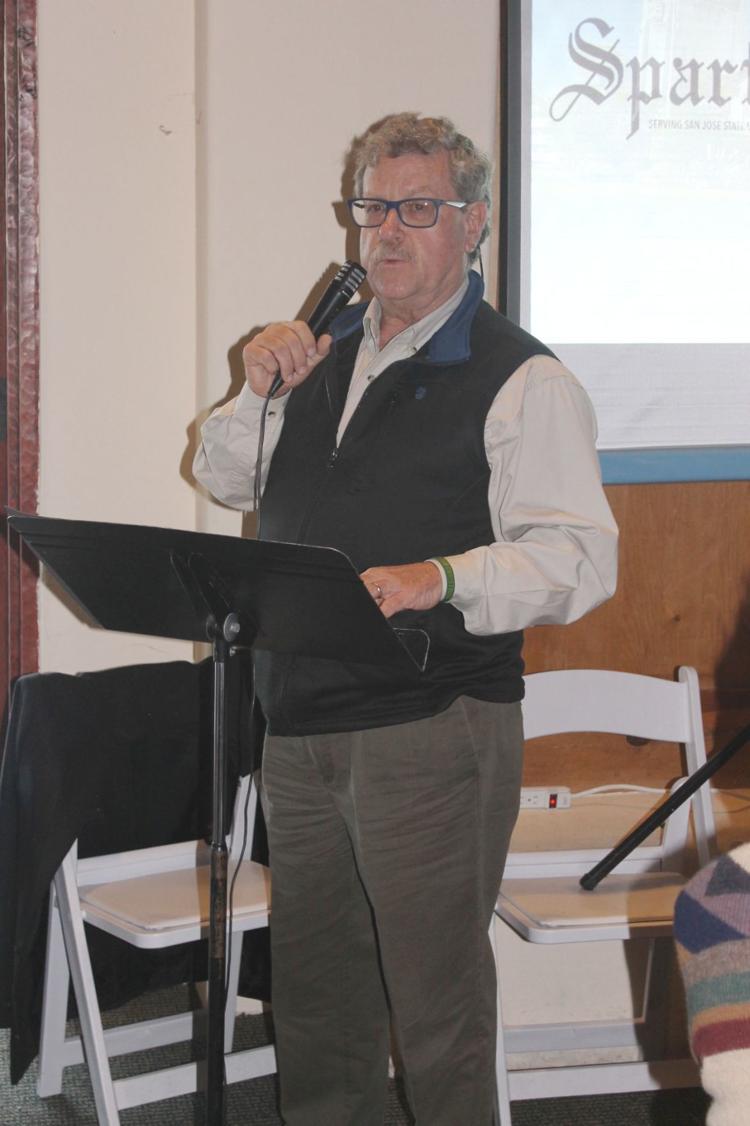 Others who spoke included Paul Moan, Chris Smith, Rich Heintz, Derek Moore, Chad Daniels and David Horobin.
Ernst grew up on Berkeley Avenue in Menlo Park, Hartwell told the crowd. Moan picked up the story, saying he first met Ernst in the summer of 1961, and years later Ernst asked him to be in a band he had named, "The Lavender Ostrich." Moan added, "It was a happy little name," although he admitted the band "sucked." At that time, there were three great rock power trios, Moan joked: The Jimi Hendrix Experience, Cream and The Lavender Ostrich.
San Jose State University
Speaker Chris Smith has been a columnist for the Santa Rosa Press Democrat for the past 41 years. Both he and Ernst attended San Jose State University, studying journalism and working on the student newspaper, the Spartan Daily in 1974.
Smith mentioned classmates that included Tom Stienstra, author, outdoorsman and San Francisco Chronicle columnist, Steve Lopez, journalist and columnist for the Los Angeles Times and others who "went on to big jobs," Smith said. "Then, there's me and Doug, who first worked for a weekly that was the size of your thumb." He said they both "went to the Wine Country and lived a good life," Ernst at the Napa Valley Register, while Smith has been a columnist, writing about "puppies and rainbows," he said.
In his office, Smith said he had mounted the entire front page of the Napa Valley Register from the day Ernst started as a reporter in 1978. In his current job, Smith said he has a certain level of "small town frustration," and on those days he would look at the Register and reflect, "No matter how bad this day is at the PD, thank God, I don't write for the Napa Valley Register." Then, looking at Ernst, he added, "This man has lifted up journalism in the Napa Valley."
Love at first sight
After graduation, Hartwell said Ernst got his first job as a cub reporter in Ione. That was when he set his eyes on Carolyn and he said, "It was love at first sight."
Carolyn Ernst confirmed the story. "A lot of people don't believe in love at first sight," she said, "While he was playing the drums, I kissed him on the back of the neck." Six months later, they planned their wedding and moved to Napa, where they were "blessed with four beautiful daughters," she said.
And, since the diagnosis, Carolyn said, "We've been blessed with this time given to us. We've been overwhelmed by gifts of joy from the community for Doug."
In his career, Ernst had spent 26 years at the Napa Valley Register and an additional seven years at the St. Helena Star. He started as a reporter in May 1978 and spent 15 years as editor and executive editor at the daily. He was laid off while he was editor and publisher of the Star and The Weekly Calistogan as part of a reorganization plan in September 2011.
After that, he ran his own public relations firm for five years and spent almost three years as the Public Information Officer for Napa Valley College.
'Doug always had my back'
Rich Heintz was Ernst's publisher at the Napa Valley Register. "We had a lot of interesting adventures together," Heintz recalled on Saturday. One time, "Doug sat on my desk and told me he had to go on a helicopter ride to finish a story. I went to the publisher's office to ask for money. Two weeks later, the story was published," Heintz said. What does it take to be a good reporter, he asked rhetorically. "Luck, intuition and a good expense report."
Derek Moore, a freelance journalist, lives in Napa. He said he is eternally grateful to Ernst, who hired him as a cub reporter, when he wore an earring and smoked cigarettes. The Napa Valley Register newsroom was one big room and Moore said, "People would call up and yell at Doug all the time. The newsroom would get quiet and we were treated to whatever complaint people had." Moore looked around the room and added, "Some of those people are in the room today."
Ernst has "a strong passion for local journalism," said Moore, who remembers wearing waders while he was working in the newsroom, waiting for the flood waters to rise. Ernst, he said, "never failed to put out a paper."
Summing up, he said there are three things a reporter wants: pizza on election night, an endless well of bad coffee and "an editor who had your back. Doug always had my back."