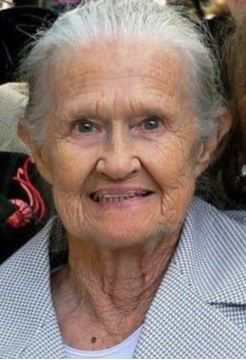 It is with profound sadness that we announce the passing of Audrine Wehinger, our loving mother, grandmother, great grandmother, great-great grandmother and lifelong friend, on February 2, 2020. She left us sleeping peacefully in St. Helena, California, in her 94th year.
Audrine was devoted to and survived by her son, Michael Thomason (Gabrielle) of St. Helena and daughter, Patricia Groggins of Angwin; granddaughters, Michelle Holguin (Gary) of Calistoga, Amy Thomason-Richardson (Tim) of St. Helena and Jessie Thomason (Pablo) of Middletown; great grandchildren, Tawny Holguin Toci (Keegan), Jake Holguin, Camelia Escobar Thomason, Ruby Rae Richardson and Carmen Escobar Thomason; great-great grandbaby, Tanner Toci. She also leaves many nieces, nephews, cousins and other much-loved family members and friends that will miss her smile, spirit and unwavering support. Audrine was preceded in death by her first husband and forever love, Claude Thomason of Calistoga, and her beloved parents and siblings.
Born in Patterson, California on May 22, 1926, Audrine, the eldest daughter of Andrew and Amy Bergman, was raised in faith and love with her six siblings. She took great pride in her Swedish heritage, always continuing to pass down tradition and family knowledge. She loved to sing hymns, participate in church choirs and trusting in her steadfast pillar of faith, she found courage and energy by continuing to be very active in church throughout life.
I have chosen the way of faithfulness; I have set my heart on your laws. Psalm 119:30
You have free articles remaining.
After graduating from Patterson High School in 1943, Audrine worked in town at the Evans Telephone Company as an operator for several years. At the request of her father, she waited to wed until her sweetheart returned from war in the Pacific. At the age of 19, Audrine wed Claude Thomason on January 12, 1946. After several years the young family moved to San Carlos, and later San Jose, where she enjoyed an impressive 29-year career with Pacific Bell Telephone Company as an Accounting Supervisor. Audrine was proud to belong to the Telephone Pioneers of America and was a Life Member of the Patterson Township Historical Society. Eventually, the wish to be closer to her son, daughter and granddaughters, led her to Napa Valley in 1984.
With quiet and profound strength, Audrine always saw the best in people, and would selflessly help anyone in need. She devoted much of her time and energy to being a caregiver, including for her parents in their elder years and any child she could "love on". Children were one of her greatest joys in life. Affectionately called Farmor (father's mother in Swedish) by her son's daughters, she became Farmor to many of their friends in the community as well. The example of an independent, determined and generous woman has been a source of admiration and inspiration to both her family and those she embraced as family.
The ultimate fan, Audrine was always in the audience to cheer her family on, whether it be music, baseball, football, basketball or ballet. In her later years, nothing got in the way of watching the game – any San Francisco Giants baseball game. Audrine won at the game of life, leaving her significant imprint of love from start to finish.
A celebration of life is to be held at Lonesome Duck Ranch on Saturday, February 15th, 2020.
We love you and the life you helped build for us.