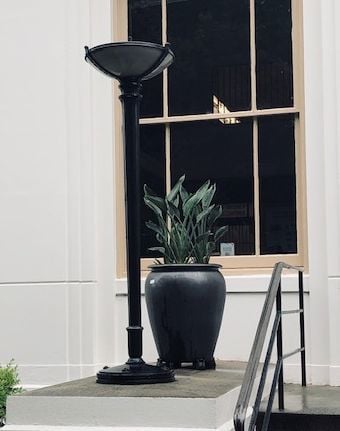 "We've been beautified!" exclaimed Kevin Gambill of the St. Helena Post Office. Read on to find out why ...
All hail the St. Helena Beautification Foundation for making a subtle and tasteful addition to the downtown. On Saturday, Susan Allen, Susann Ortega and Chuck Dake placed two Bird of Paradise plants outside the entrance to the St. Helena Post Office, in a pair of Art Deco pots. Susann says the pots were designed to match the Works Progress Administration-era architecture of the post office, which opened in 1941. "Hopefully everybody's enjoying it. I know I'm enjoying it," Kevin said. "It makes a big difference." Very well done!
Joan Westgate sends a charming note about St. Helena, the "Town of Wine & Roses." June is National Rose Month, and did you know the rose is America's floral emblem, as designated by President Ronald Reagan in 1986? There's a display of rose books at the St. Helena Public Library and a sign-up sheet for those interested in joining an informative Rose Club. Joan, a former Master Gardener who's been growing roses for over 60 year, has volunteered to lead the group as it gets started. What a lovely idea, Joan.
The St. Helena United Methodist Church wraps up its series of poetry and music salons with a look at God, creation and mysticisim in poetry through the ages at 7 p.m. Wednesday, June 26, at 1310 Adams St. The poetry will be accompanied by 21st-century solo cello pieces composed by John Adams, Philip Glass and Hans Henze, performed by Jeffrey McFarland-Johnson. A $15 suggested donation supports the church's music and art programs.
The June 12 Tip-A-Cop event, organized by St. Helena and Calistoga police and held at Pacifico Restaurante in Calistoga, raised $2,100 for the Special Olympics. Thanks to all who donated – and to the fine members of local law enforcement who know a good cause when they see one.
Congratulations to Chase Reynolds of St. Helena for being named to the Dean's List at the University of Rhode Island. Keep it up, Chase!
Mark your calendars for Sunrise Horse Rescue's Harvest of Hope at 4-9 p.m. Saturday, Sept. 14, at Blossom Creek Farm in Calistoga. Tickets are on sale now at SunriseHorseRescue.org.
Time marches on with relentless regularity, Dear Readers, including here in the pages of the Star. The AP stylebook is the Star's ultimate authority on matters such as punctuation (no Oxford commas necessary except to avoid confusion, Ph.D. instead of PhD), spelling (OK, not okay), and honorifics (no "Mr." or "Ms." – unless you're the New York Times and see fit to make up your own rules). A slightly distraught editor Dave Stoneberg, who's been following AP style for so long that its often persnickety standards are imprinted in the folds of his brain, tipped me off that the AP style mavens have changed one of their ironclad rules: The use of the % symbol is now acceptable after a numeral. Goodbye, 30 percent. Hello, 30%. So bear with good Mr. Stoneberg as he adjusts to the new rule. If you catch a stray "2 percent" in one of his stories, please be forgiving.
Catch the latest in Opinion
Get opinion pieces, letters and editorials sent directly to your inbox weekly!