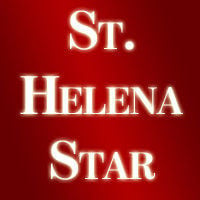 Have you ever driven the back way to Davis? You know, on Highway 128, via Winters. You know you've hit Davis when you see huge, smooth, bicycle lanes. Heck, they're practically bicycle freeways. All through the city, there are smooth bike lanes and cyclists everywhere. Drivers also understand that bikes have the right of way and respect it. Somehow, everyone co-exists and bicycling is the way to go there.
Same goes for Amsterdam, Copenhagen and many other cities in Europe. American cities, too! San Francisco, Austin, and even Los Angeles have made concerted efforts to make cycling safer and more pleasant.
Then there's Saint Helena...
I often ride my bike downtown from my house, and it's relatively OK, just as long as it's not rush hour on Spring Street. Then all bets are off.
Today was "Ride Your Bike To School" day, so I rode with my 9-year-old daughter to the elementary school. On my way home, I almost got killed by a high school kid who ran a stop sign at Tainter and Stockton streets. Teenagers speeding in Saint Helena is a subject for an entirely different letter, but still, I had the right of way, and if I wasn't paying attention, I'd be toast.
But bad drivers are only one small problem -- the main problem is terrible roads and laughingly bad bike lanes. After taking my daughter to school, I had to drop our truck off at Zumwalt for service. I tossed my bike in the back and dropped the truck off.
Then, I tried to ride home...
Have you ever ridden your bike on Sulphur Springs? Or South Crane? The pavement is so bad that I think I lost a filling from the vibration. Not to mention the ruts and cracks are so deep that I could have bent a wheel at any moment. It's the same on Grayson Avenue. It's horrible in a car, terrifying on a bike.
Then there's the bike lanes, or lack thereof. Forget about Main Street, it's downright insane to ride your bike anywhere on the main drag. There is a suggestion of a bike lane between Gott's and Zumwalt, but it's also so poorly maintained that I would only ride it out of desperation. Then there is the one "real" bike lane, on North Crane, by the Dr. Crane Vineyard. Yes, it's big! It's green! It's also exactly one block long and in such poor condition and covered with so much loose gravel that it feels like a bad practical joke.
Saint Helena is beautiful, we have great weather, most of the town is relatively flat, we have an excellent bike shop. We have most of the things that make for a great cycling town. Yet, we are a terrible cycling town, and it's embarrassing.