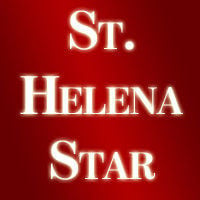 The Brady Markle study concluded with the following words (Underlined)…it is recommended that this long range expansion be directed across the railroad tracks on Hunt Avenue.
Armed with that conclusion from two graduate students from the University of Pittsburg who had taken a fancy to St. Helena and done a study on congestion and beautification of our town, Jim Pop convinced Safeway to abandon its location on Highway 29 where Gotts is now, and to buy Judge Shifflett's lumber yard (home of the current Safeway today). The year was 1966.
It seemed a safe assumption that from here on out the commercial expansion of St. Helena would be east, and not south of the bridge.
In the mid-'80s, when a doctor's center (now 999 Adams St.) was proposed directly across (south) from the Adams Street parcel, it appeared that the dream of extending Adams to the Silverado Trail was on its way to reality and strip zoning (resulting in a mile long Main Street) would be thwarted.
Now that the Library was built along with Norm Strouse's Robert Louis Stevenson Museum, the cornerstones were laid for eastward expansion.
In the late '80s a new General Plan was being considered.
Concurrently, the city was approached by the owners of the Park Loire parcel (36 acres at the end of Vidovich Avenue, south of Sulphur Creek Bridge) to change the zoning to commercial that they might put in a 43,000-square-foot Safeway.
That gave birth to the "Citizens for the General Plan" a group of concerned citizens — not just merchants — who wanted to prevent strip zoning and urban sprawl and wanted to hold development (except for service commercial) north of Sulphur Creek Bridge.
They recruited Jim Pop to contact Safeway and try to stop the travesty which city planner Tony McClimans said would take St. Helena to "Post automobile" status as opposed to "pre-automobile" — wherein people could conceivably walk to all the shops in town. "Post automobile" meant they would be driving to shopping.
Coincidently, KK&R's Bob MacDonnell had just purchased a home and vineyard on Rutherford Cross. They now owned Safeway.
One Saturday, after a tennis match, I told Bob about the town's concerns about strip zoning and a mile long Main Street. He sent his guy to Jim Pop to discuss options east of town. The Adams Street parcel was one choice.
One hitch: Safeway wanted the town to agree that no other competitor could then come in south of town and operate out of that (their) preferred location on the highway.
Of course, even if the council said yes, nothing could prevent further councils from reversing the decision. It put Safeway at risk.
Very nervous, Safeway did a study to see what the town favored. They found that 67% of the town found the current Safeway too small and cramped and 53% said they favored Adams Street over south of the Bridge down on Vidovich.
(Interestingly, to my knowledge, the study did not mention the size of the new proposed store, just the location).
The Chamber of Commerce opposed an out-sized store.
The Citizens for the General Plan had a solid victory. The Park Loire scheme was defeated. Were Safeway to expand, it would be east of town on Adams.
Working on the General Plan, in 1992 the firm Wallace Roberts and Todd produced a zoning map which put the Commercial Business District east of town and Service Commercial south of the bridge.
The Daly property on Adams Street was 5.7 acres and it had been split in half — the western part was Commercial and the eastern 2 acres was Agriculture.
It was their opinion that it was bad city planning to allow any single parcel to have different zoning on it. So they recommended that it all be commercial.
They (and this is key) also recommended that the parcel just east of it be rezoned "Public and Semi-public" so it could eventually become a new city hall, park, nonprofit center, whatever. Adams Street was to extend out to the Silverado Trail.
So the Adams Street parcel would be commercial, drawing traffic east of Main, and then the next parcel over (towards the Silverado Trail) could become the new town center someday.
That opened the door for Safeway to enter into an option agreement with John and Virginia Daly to purchase the property, pending approval of the General Plan.
Alas, the General Plan also had a limit of 10,000 square feet as the maximum size for any commercial building. Safeway originally wanted a super store of over 50,000 square feet.
That gave rise to the Citizens for St. Helena and 10 years of wrangling over whether a giant Safeway should be built or not.
Merchants feared that Safeway would destroy local businesses as they would have (under one roof) a flower shop, deli, bakery, drugs — you name it.
Citizens were aghast that a store over an acre in size would be built in our "small town."
The Star was flooded with letters, both pro and con.
Editor's Note: The first part of the series ran on June 27. In part 3, local real estate agent Jeff Warren details how the city bought the parcel.
Catch the latest in Opinion
Get opinion pieces, letters and editorials sent directly to your inbox weekly!