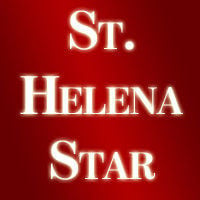 Next to the city government, no organization has a more crucial role to play in downtown St. Helena's resurgence than the Chamber of Commerce.
That's why we invited Marcus Marquez, the chamber's board chair, to update our board on what 2019 has in store for the Chamber.
Under the leadership of Marquez and Executive Director Amy Carabba Salazar, the Chamber deserves credit for easing up on political advocacy, pulling off the successful Jingle All the Way skating rink at Lyman Park during the holidays, moving the Chamber's Welcome Center downtown, and providing a much-needed public restroom.
Marquez said Jingle All the Way was a financial success, earning a little more than the $100,000 it cost. He wants the 2019 event to be better integrated with downtown businesses, which seems like a good idea.
Meanwhile, the Chamber is organizing the May 11 Neighborhood Table on Adams Street, similar to Calistoga's annual Harvest Table. Marquez also told us about two more community events that are in the works.
The Chamber's role isn't just as party planner, with much of the city's $210,000 Chamber contract going toward destination marketing and operating the Welcome Center. But it's obvious that community events are taking up more of the Chamber's focus and financial resources than ever before.
Part of that is because of pressure by the City Council, which in turn is under pressure from people in the community who've always been skeptical of the city's Chamber contract. Those people don't like the idea of city funds being used to bring more tourists to town, so they want the Chamber to put more emphasis on events that locals can enjoy.
We think it's time to rethink that philosophy and reorient the Chamber of Commerce more toward commerce.
Empty storefronts, declining retail sales, disgruntled merchants, out-of-touch landlords, and a few high-profile restaurant closures are all signs that the downtown needs help. The city hired a consultant to recommend solutions, removed some administrative roadblocks for potential businesses, teamed up with the Chamber to support Jingle All the Way, and has stated it is working with merchants and landlords on other solutions.
However, the Chamber's plans for contributing to that revitalization effort remain, even after our interview with Marquez, murky. We hope the council works with the Chamber to refine its role and assign specific deliverables to the Chamber in terms of marketing and promotion.
Marquez failed to offer any details or specifics when he said the Chamber's role is to support businesses, help them get their message out, interface with Visit Napa Valley, operate the Wellness Center, work with the city, and maintain open lines of communication and collaboration between businesses and the community.
Those are all good generic goals, but the first one is the most important and needs to be defined, especially right now.
The Chamber's activities should be aligned with its core mission of attracting high-end tourists to sleep, eat and shop in St. Helena – and empowering individual businesses to market themselves to those same customers. Is the Chamber's social media-heavy approach the most effective way to reach those customers, either directly or – as Marquez said – through hotel concierges?
Recruiting desirable businesses to fill empty storefronts would generate positive energy downtown and make St. Helena more attractive to visitors. How aggressively should the Chamber be recruiting those businesses?
According to Marquez, the city and the Chamber have a strong working relationship, so they should be able to work together and answer those questions. However, focus and will are required.
We applaud the Chamber for following the council's directive to produce more community events, but we don't want those events – enjoyable and well-planned as they are – to overshadow the Chamber's core mission of attracting the right type of tourist which has been defined as crucial to our economic success.
It's time to put the "commerce" back in the Chamber of Commerce.
The Star editorial board consists of editors David Stoneberg and Sean Scully and community volunteers Norma Ferriz, Christopher Hill, Shannon Kuleto, Bonnie Long, Peter McCrea, Gail Showley and Dave Yewell.
Catch the latest in Opinion
Get opinion pieces, letters and editorials sent directly to your inbox weekly!