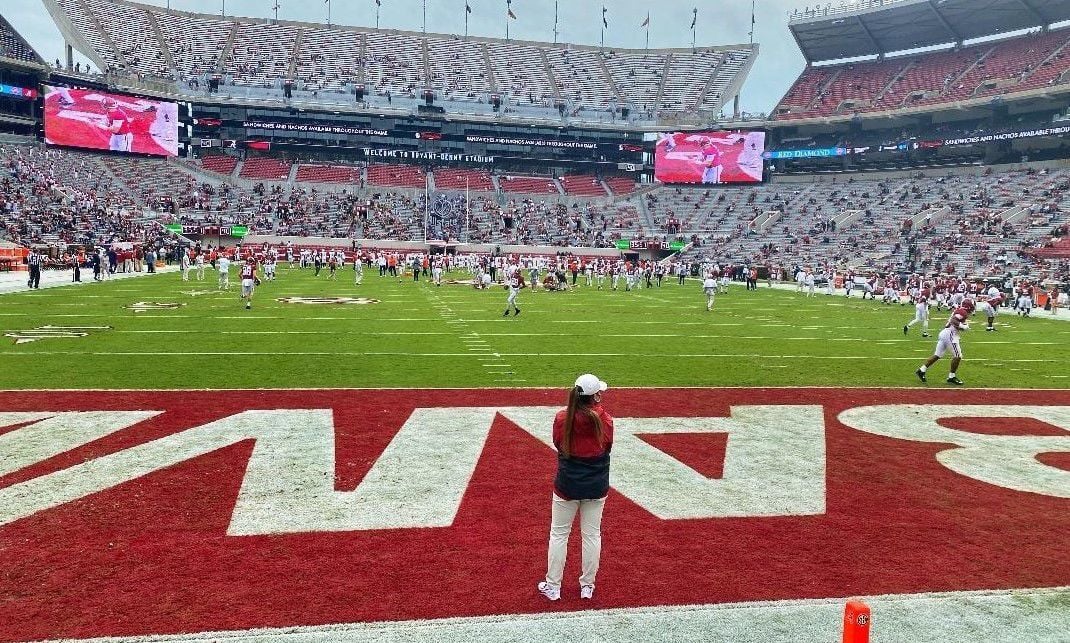 Hopefully no Alabama football players get hurt during Monday's national championship game against Ohio State.
If they do, though, you just might get to see 2013 St. Helena High School graduate Jennifer Martin in action on ESPN.
A full-time intern football athletic trainer for the university since May 2019, she's already getting to work her second national title game. Alabama fell to Clemson in last year's title tilt, 44-16, but No. 3 seed Ohio State denied a rematch by routing the No. 2 Tigers, 49-28, in the Sugar Bowl on Friday.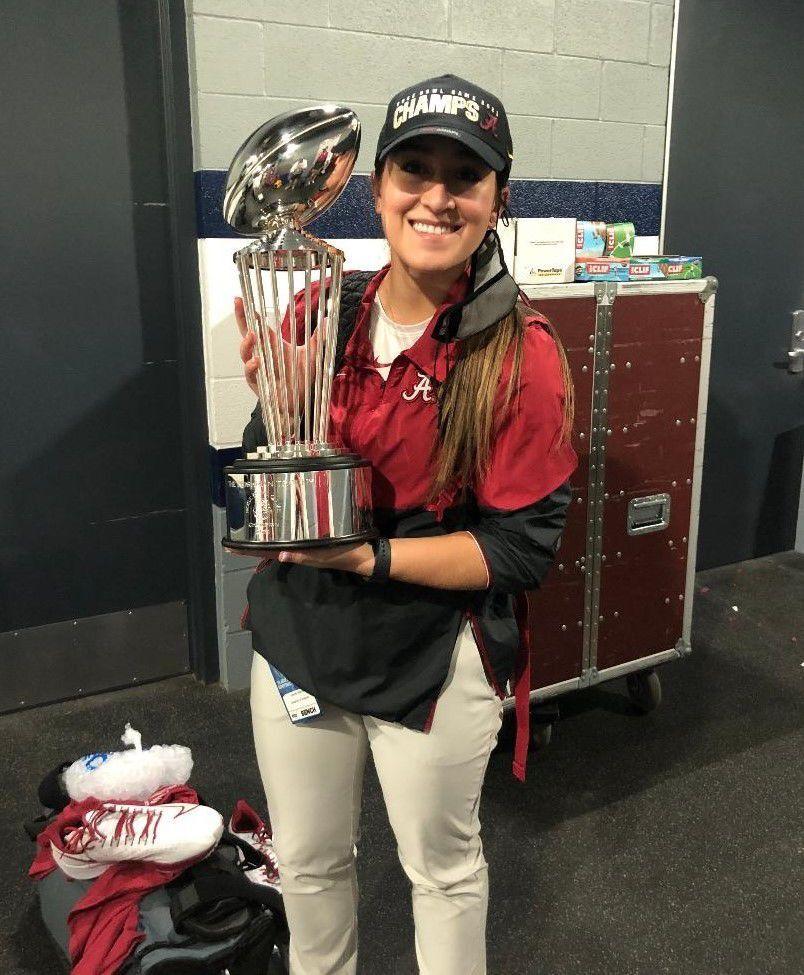 The top-ranked Tide had secured their spot with a 31-14 win over No. 4 Notre Dame in the Rose Bowl earlier in the day and will face the Buckeyes at 5 p.m. Monday in Miami Gardens, Fla.
"My experience here has been amazing," said Martin. "I work with a well-respected sports medicine staff. Alabama sports medicine is committed to becoming the leader in sports medicine services in the country."
Martin's second season at Alabama has been far different than the first, with the COVID-19 pandemic now a daily concern. Even head coach Nick Saban has twice tested positive for the coronavirus, in October and November, though he had to miss only the Iron Bowl rivalry game against Auburn on Nov. 28.
The coach has been an inspiration for the trainers as much as the players, Martin said.
"Under the direction of Coach Nick Saban, each department is held to a very high standard, which is what makes this team very successful," she said. "Our sports medicine staff provides the best health care for each athlete. I continue to grow as an athletic trainer by taking on new responsibilities, including coordinating COVID-19 testing, contact tracing, athlete care, and return-to-play management.
"My involvement has allowed me to experience a wide variety of administrative and clinical situations, including post-surgical rehabilitation, concussion protocols, sickle cell positive athlete management, and aquatic rehabilitation."
Martin grew up around football. Her brother, 2016 St. Helena alumnus Mark Martin, played in the Carpy Gang youth football organization all the way through his senior year with the Saints.
"He had the opportunity to play at the next level, but he found his fit studying viticulture and enology at Fresno State," his sister said. "I grew up watching his practices and games and listening to my dad (Dan) coach him. My dad was a football coach at Calistoga High school before I was born and played football at Santa Rosa Junior College and Montana Western University.
"My dad was my biggest influence when it came to sports. We watched football every weekend, which is where I learned plays, positions, etc. I understood football at a young age."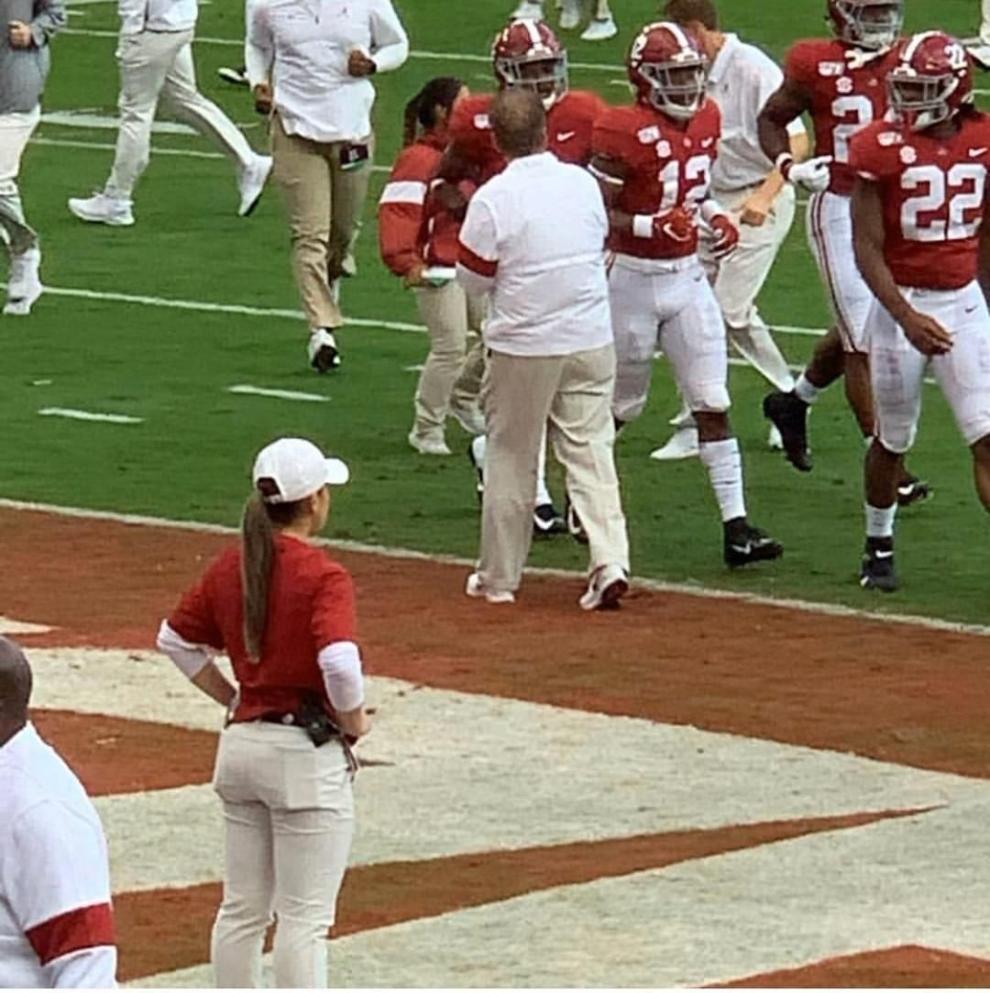 Martin played four seasons of volleyball for SHHS, three at the varsity level. She was a sophomore on the 2010 team that put St. Helena in the Northern California playoffs for the first time in seven years. Led by Madelyn Densberger, the 2010-11 Napa County Volleyball Player of the Year, Girls Basketball Player of the Year and Female Co-Athlete of the Year, the team finished 29-5 and went further than any Saints since the 1982 and 1984 state championship teams.
In the North Coast Section Division IV playoffs, they beat No. 10 Healdsburg, No. 2 Berean Christian and No. 3 Salesian before falling to Marin Catholic in the final. By virtue of reaching the section championship match, St. Helena earned a spot in the NorCal tournament and shocked top-seeded Ripon before losing to Notre Dame of Belmont in the quarterfinals.
Martin received All-North Central League Honorable Mention that season. She also played four years of softball and one season of basketball. She made the All-County Softball First Team as a catcher after batting .397 with four doubles, two triples and a home run in the cleanup spot.
"She had the big hits when we needed them," said Tom Norris, the Saints' softball coach at the time.
Outside of high school, Martin played for the Evolve Volleyball club of Napa and four summers for Branagan Insurance in the Napa Valley Girls Fastpitch Association at Napa's Kiwanis Park.
While attending Santa Rosa Junior College from 2013 to 2017 and earning associate degrees in Kinesiology: Athletic Training Preparation and Natural Sciences, Martin was a two-sport athlete. She played two seasons of softball and, after redshirting as a freshman, two seasons of volleyball.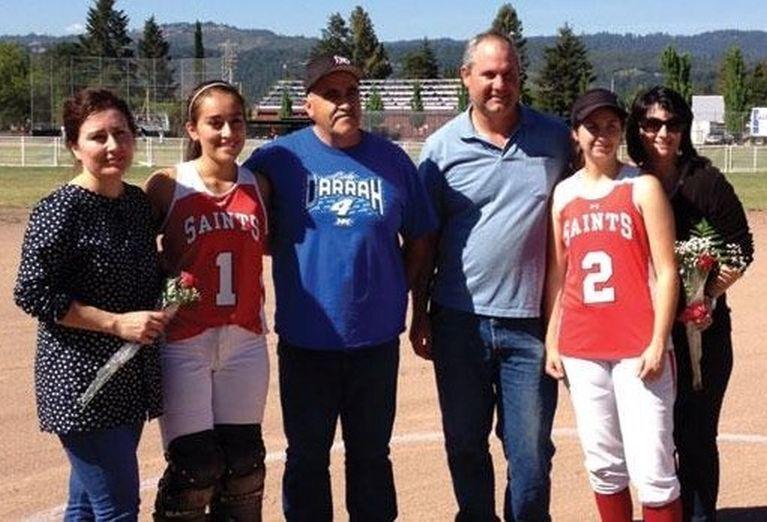 "In high school, I knew that I was interested in kinesiology and wanted to work with athletes from a rehabilitation standpoint (but I also) had my injuries as an athlete at Santa Rosa JC, which is where I learned about athletic training," she explained. "An athletic trainer is a healthcare professional that provides prevention techniques, examination, diagnosis, treatment and rehabilitation of emergent, acute or chronic injuries and medical conditions.
"I began to volunteer as a student athletic trainer and gained the skills I needed to be accepted into an athletic training program."
Martin was more then accepted. Santa Rosa Junior College would name her its Athletic Training Student of the Year.
She was accepted into Sacramento State University's "rigorous" two-year athletic training program, and earned a bachelor of science degree in kinesiology-athletic training.
"As I gained my experience as a student athletic trainer working multiple sports, I always loved working football. I love the fast pace and how it keeps me busy on the field," Martin said. "I knew that if I wanted to be a good athletic trainer and have a successful career in football, I needed to gain as much knowledge as possible.
"I began to apply for internships and, in the summer of 2018, I did a two-month internship with Alabama football. I loved it; I found the environment to be a great fit for me. There I learned the discipline it took to work with a high-profile team. I was asked to apply for the full-time intern athletic training position. After my graduation, I moved to Tuscaloosa."
She's learned to work with players who are not only at the top level of college football but are on the verge of making the NFL. Some are already in the NFL.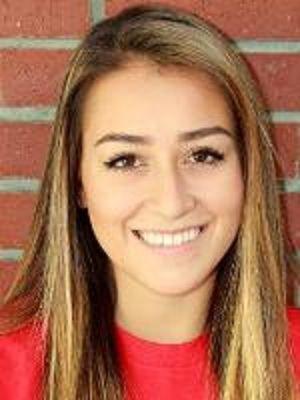 "As an athletic trainer I am fortunate to work with every player on the team from a medical standpoint. In the offseason, previous players always return to train and rehabilitate acute/chronic injuries (so) I get the experience of working with collegiate and professional athletes here," Martin said.
The stakes are high, but she enjoys everything about it.
"I love how everyone here treats each other as family," she said. "It's a great environment to be around."
Martin doesn't feel like an outsider with the nation's No. 1 ranked football program, either.
"As a female in a male-dominant work environment, there is definitely some pressure," she said. "I hope to set a good example for future female athletic trainers to show that we can be successful in this profession and provide high quality healthcare.
"As a healthcare professional, the standard is no different between a female and male athletic trainer. More and more females are being hired in the football collegiate level and in the NFL. I think teams have realized that hiring the best candidate for a position is what's most important, male or female.
"It's been an amazing experience here and am very lucky to experience the special opportunity of competing for a national title."
WATCH NOW: JAN. 7 IN SPORTS HISTORY
Andy Wilcox's favorite Napa Valley Register sports stories of 2020
Napa Valley Register sports editor Andy Wilcox picks his most-memorable sports stories of 2020.