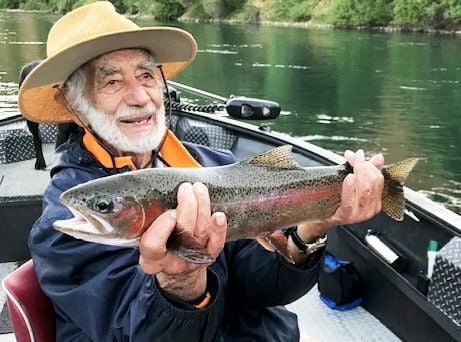 Go For The Fish … get caught by Mother Nature's "Big Show." Look at this list of sightings on the Sac at Redding. We were surrounded by lovely natural things to look at as we fished our way down the Sacramento River last week.
A dozen day-old baby geese dressed in their bright "Easter color" yellow. They only stay yellow for three days before it turns kind of mustard-y. Their Canadian geese Mom and Dad were standing by in protection mode as those little puff balls swam close to shore. Interestingly, a bunch of "aunt and uncle" geese were close by in reserve — to help ward off danger to the kids. (Kind of like the elephant herd helping new Mothers.) But, in spite of this solid defense, probably half of the little ducks will be lost to feral cats, birds and beavers. BTW a baby goose is not a gosling till 1 year old.
Two osprey nests — each with two young birds looking over the edge. These nests are high in dead trees high on the bank to give ospreys a clear look at the river and some places to get lunch. I promise you; there are no home designers in the osprey nest business. All you see is a huge random bundle of sticks — kind of thrown together.
Ospreys do like trout … Years ago, Doug Roberts and I spotted a mature osprey swooping down near a shallow ridge in the river to grab a trout. Problem was — he had a fish that was almost too heavy for him to carry. So, he quickly crossed the river to land on the far bank — and heaved a big sigh of relief. Ospreys have waterproof feathers so they can dive right into and below the water to catch a lunch. Eagles, with wings that get soaked and hamper flying must grab their fish prey off of the surface so they can stay dry.
The Redding Sundial Bridge is one of my favorite marketing stories. It is a unique walking bridge that crosses the Sac at Redding. It is a working sundial. Redding was having trouble attracting vacationers and visitors to come stay a while to spend some money in town. A bunch City Fathers were lamenting this situation at a meeting one night years ago — when someone said, "let's build a special bridge — there is a bridge guy in Europe that is hot right now." When skeptics questioned his idea saying that this famous person wouldn't bother to come to Redding, the proposer said, "What the hell, let's call him up." Well, you guessed it, the famous bridge guy designed and installed a beautiful attraction that worked. For years, you couldn't pick up a travel or life-style magazine without seeing the Redding sundial bridge in full glory. We fish under it every trip on the way downstream at about 5:45 a.m. when the translucent floor is lighted.
And for most of the rest of the drift a river turn will give you another look at it.
Majestic Mount Shasta flashes its snow-capped peak at us as we fish thru the turns down river. It's kind of startling to look up and see this ice mountain as we lather on the sun screen at 94 degrees down on the flats.
Of Course - There Are Trout … to catch. This stretch of the river holds good numbers of resident wild rainbow trout. They love the icy cold water that flows out of the bottom of the Shasta Dam just upstream. We have been fishing that same stretch for the past 27 years with the same pro river guide, Kevin Brock (800 995-5543).
Their green bodies help to accent the spotted back and that "rose/copper" colored gill plate that starts the "rainbow" along their flanks. It's Mother Nature's finest artwork. By regulation this is a catch and release section of the river — and that suits me fine. They go back in the water quickly with the bigger ones waiting for a quick photo before dunking.
How was the action? … You tell me. My former colleague at Beringer and fishing partner, Doug Roberts and I caught and released 45 trout in two days of drifting the river. Doug got off the pegs quickly and caught the first fish — he probably caught the most fish. But I came thru each day with the biggest fish topped by a 5-pounder on Day Two. Put this trip on your bucket list for next May. If Kevin is booked when you want to go, fish with his protégé' Dakota. We have without missing a beat. Send me pix of your big ones for my column.
Just On The Sac? … No, every water has its own collection of critters and beautiful scenes. How about a flock of 500 huge white pelicans on Clear Lake?
Big Lies Continue … to come from those rich old white guy fake farmers down south of us. It started years ago when a big Bakersfield farmer with a 100,000 acres of orchards, I'm told, bought newspaper ads shouting out that it was striped bass that were eating all the salmon — so just kill all the stripers and the salmon threat goes away — so we can send more cheap water down to him. Yes, stripers are a non-native fish here — introduced in 1879. So, give me a break — stripers and salmon have had 142 years to learn how to get along with each other.
And now, another "big lie" that I just read about in the latest email from Restore The Delta: Northern California is not "flushing water to the ocean" despite what Fresno politicians say.
Barbara Barrigan-Parrilla is the Executive Director of "Restore The Delta". Read her informative emails and donate to Restore The Delta at barbara@restorethedelta.org. Thanks.