American Canyon wins 5th Annual Napa Valley High School Cook-Off in surprise toss-up judgment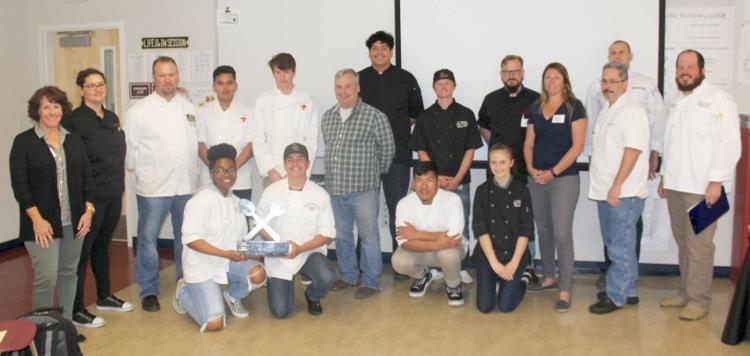 A tie score threw the judges into conference during the 5th Annual High School Cook-Off in the St. Helena High School Culinary Teaching Kitchen on May 5.
In the end, American Canyon came in first and El Molino High School from Forestville placed a close second. It was the details, according to the judges, that finally counted.
Four high school culinary classes participated in the cook-off: St. Helena High School, Napa's Vintage High School, American Canyon High School, and El Molino High School.
Each team was required to submit their set of recipes including the cost of all ingredients, along with a tally of quantities, calories, saturated fat content, and sodium content. They also were required to provide their own ingredients with the proviso that the total cost could not exceed $20 for any dish. Then each two-person team had exactly one hour to deliver four identical plates before a team of professional chefs.
St. Helena's team recipe was for eight tacos with raw Chorizo. Their effort earned them fourth place in the competition. Vintage served fish tacos with black bean salsa to earn third place. El Molino served shrimp spring rolls with a pineapple parfait.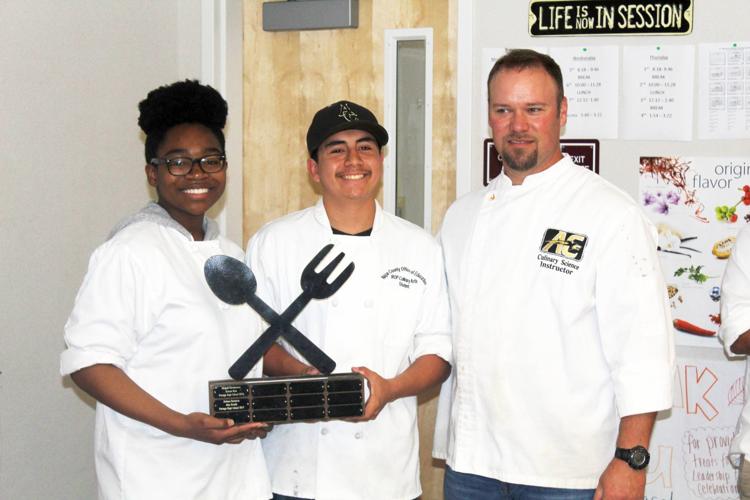 But the winning recipe was delivered by American Canyon, which plated a roasted chicken dish with spring onions, buttery potatoes and sage pesto.
The entries were judged on a 100-point scale in the categories of taste (30 points), presentation and cost (20 points each) and 10 points for nutrition, time and sanitation (the cleanliness of the workstation and the cooking process during and after preparation.
But then there was a conundrum facing the judges after tasting and scoring all the teams. El Molino and American Canyon both had the exact same scores. This forced the judges into a huddle to determine – based upon their vast professional experience – the winner and examine even more detail.
The El Molino team was just slightly over the target cost of $20 per plate. But American Canyon was longer than the 60-minute time limit in delivering their dishes. (According to one judge, the team had forgotten to turn on the oven, and it cost them several minutes to finish the dishes.)
In explaining their decision, the judges had to decide which criteria was more important: Time to table or cost to restaurant patron. Chef Alex Lovick explained their final decision.
"In my experience, a customer will be patient if a dish is a bit late to the table," he said. "But delivering that dish within the parameters of cost is essential to both the customer and the management. Both dishes were delicious, however, which made the decision so difficult."
The judges for this event were Merrick McKeig, faculty at Napa Valley College; Alycia Harshfield, director of the California Restaurant Association Foundation; Brandy Dreibelbis, Director of Nutrition Services, for the Napa Unified School District; Christopher Johnson, chef, Embassy Suites Napa; Ron Rhiver and Jeffrey Miller, chefs for Andaz and Alex Lovick, chef, Inglenook Winery.
The St. Helena High School team included Jordi Ramrez and Liam Milliken. The Vintage High School team consisted of Alex Megallon and Renny Aguilar. El Molino's team was fielded by Sofia Sloan and Jahmye Daly.
The winning American Canyon High School team consisted of Nneka Chinaka and Zeke Gomez. Their high school will have the privilege of displaying the High School Cook-Off trophy in its display case.