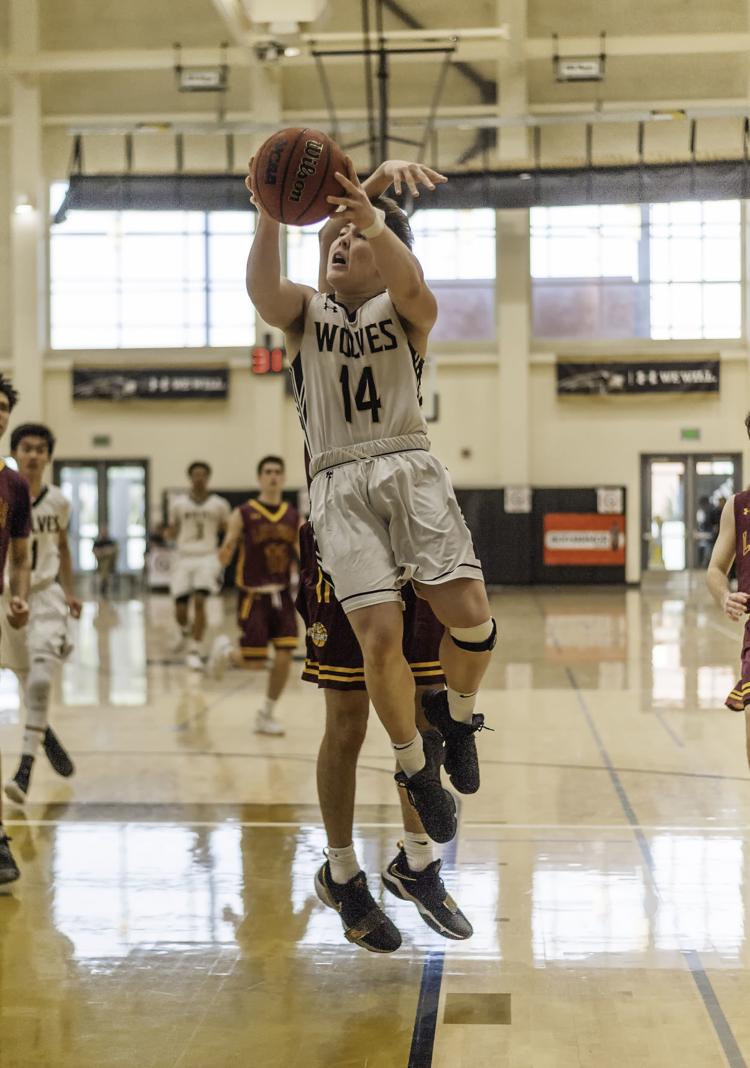 Las Lomas opened the game on a 9-2 run and didn't look back as host American Canyon fell to the Knights, 79-51, in the second game of the third annual Crush in the Valley boys basketball showcase Saturday afternoon.
The Wolves got behind early and weren't able to stand up to the pressure from Las Lomas at either end of the court. The Knights of Walnut Creek are rated as the 15th best team in California and 75th overall in the nation, according to Maxpreps.com.
American Canyon did receive an impressive showing from captain Malik Ghiden, however, as the senior wing scored a team-high 22 points while pulling down seven rebounds.
"It was a big learning experience today," Ghiden said. "Las Lomas plays harder than any team in our league and playing them was a great example of how hard we need to play to win our conference."
American Canyon is in the thick of a competitive Solano County Athletic Conference season, currently sitting in third place behind Vanden and Benicia. The Wolves have played a tough nonconference schedule this season against the likes of Grant, St. Patrick-St. Vincent, Wood and, now, the Knights.
"What is important about playing a team as good as Las Lomas is seeing what it takes to be a great team," Wolves head coach Brett Wedding said. "We can learn from them how we should be playing. When a team makes you work that hard on defense and offense, it is going to make you a better team."
Las Lomas was deadly from all points of the court. Sharpshooter Jason Holman led the way with a game-high 24 points. Point guard Robert Prince dazzled with behind-the-back passes and quick, accurate throws all afternoon, as the senior scored only two points but added five rebounds and seven assists.
"I was really excited we were able to play here. It is a good time for Las Lomas Basketball. I've got a group of seniors that have paved the way for us," Las Lomas coach Brian Dietschy said. "I think today was a carryover from last night, where we had a big emotional win over Campolindo. I was nervous we were going to have a letdown today after last evening."
Las Lomas led 18-11 after the first quarter and was able to keep American Canyon scorers not named Ghiden in check all game. John Wade III was the only other Wolves member to finish in double figures, as the senior guard scored all 10 of his points in the second half.
"There was a different atmosphere in the gym today with the showcase and it was great to be a part of," Ghiden said. "Some of the best players in the nation will be playing here and that is amazing to see."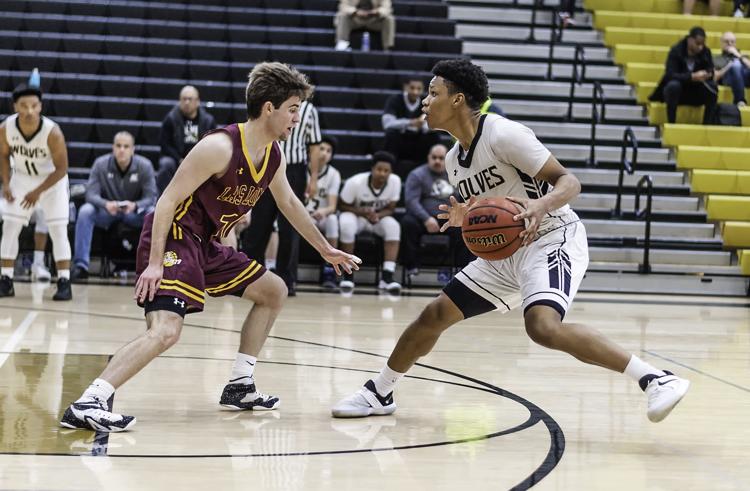 The Wolves trailed 43-20 at halftime, but were able to focus up and come out stronger in the third quarter. Giving the hosts a strong burst was senior guard Joee Gantan, who scored eight points in quick fashion after halftime.
American Canyon wasn't able to stop Nathan Robinson, however. The 6-foot-4 post player was active in the paint, scoring 22 points for Las Lomas. The Wolves did get strong rebounding from junior Billy Biondini, who pulled down six boards. The eventual result was never in doubt during the second half. But the Wolves played like a different team and went toe-to-toe with the East Bay public school power, despite missing senior LaVar Seay due to an injury.
"My goal for the rest of the season is to keep playing hard and work towards playoffs this season," Ghiden said.
American Canyon looked to bounce back Wednesday against Benicia in a game that was a must-win for the Wolves if they wanted to get back into the SCAC title race.
They closed the first half of SCAC play with a 3-2 record by beating Fairfield on the road Friday night, 80-74. Davin Lusung had a career-high 18 points along with three steals, Gantan had 16 points, Wade scored 15, Ghiden had 14 points, and Cameron Williams scored eight. Seay had seven rebounds and Markest Johnson had five steals.
It's the first year the showcase is being hosted by American Canyon instead of Napa Valley College.
The first game of the day was between Bella Vista Prep of Phoenix and Trinity International of Las Vegas and likely featured many future NCAA Division I players, each team sporting a couple of 7-footers. Terry Armstrong led the way for the Bears from Arizona, as the 6-foot-6 junior shooting guard had a game-high 29 points while slamming down some thunderous dunks throughout the game. Armstrong is ranked as the 68th best junior in the country and the No. 1 player in Arizona.
Bella Vista Prep rolled 91-66 over Trinity International, which was led by high-flying players Deon Stroud and Daishen Nix. The duo, who combined for 37 points in the game, are two of the top players in Nevada.
"It is great to have this showcase in our gym," Wedding said. "That first game of the day had players that we don't normally see around here. They were on a different level of speed and athleticism. Hopefully this is a great for our community and great for American Canyon High School."
The No.1-ranked prospect in the 2020 class, Jalen Green of San Joaquin Memorial in Fresno, headlines the event. Many experts compare his game to that of a young Kobe Bryant, and the 15-year old recently slammed down a between-the-legs, 360-degree dunk in a game.
"We played San Joaquin Memorial last year in the state playoffs," Dietschy noted. "I am excited to see how much better Jalen Green has gotten."
Not far behind Green is Kyree Walker of Hillcrest Academy in Arizona. Walker was named the freshman of the year by Maxpreps.com last season, as the then-freshmen led Moreau Catholic of Hayward to a runner-up finish in the CIF state playoffs.
"I can't wait to see everyone here," said Ghiden. "From Kyree Walker, to Jordon Brown, and Jalen Green, I want to see the high flyers in person."
Walker is known for being an animal on the court, as the 6-foot-6 sophomore is the main point guard for Hillcrest Academy. Before his eighth-grade year, when he lived in Atlanta, a few scouts were comparing the young guard to LeBron James.
Charles Bassey of Aspire Academy of Kentucky is ranked second in the 2019 class and is seen as one of the best post players in all of high school basketball.
"To come in with our high school team to this event is just a rare thing," Gantan said. "I am appreciative that we could be a part of this thing."