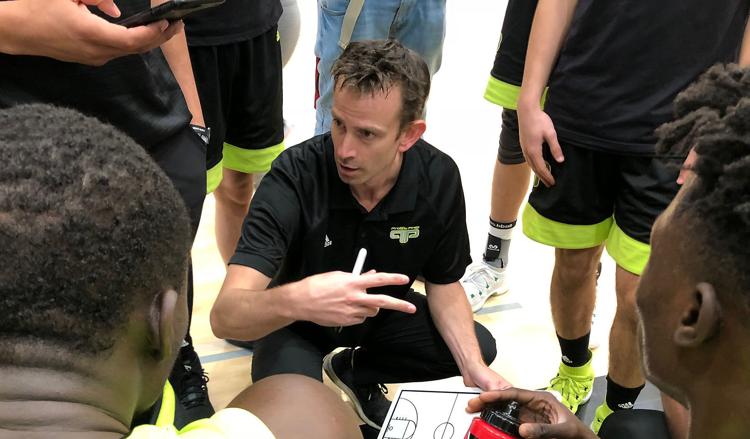 The annual Crush in the Valley basketball event at American Canyon High over the weekend showcased many of the top high school teams in the west, including Napa's Prolific Prep.
To no one's surprise, the Crew (19-6 overall) had no trouble dispatching its opponents, rolling 71-51 over Kentucky's Aspire Academy (12-8) on Saturday, and to a 104-76 victory over Hillcrest Prep (16-7) of Phoenix on Sunday.
"We're moving the ball really well on offense and, when you do that, and you have shooters like Nimari Burnett – he had 22 in the first half – and when you have finishers who can finish at the rim, the game looks pretty when it's like that," said Prolific head coach Billy McKnight.
Prolific Prep's McDonald's All American Games selection, Jordan Brown, sat out the weekend games with a sore back. But his teammates did just fine in his absence.
Burnett came out on fire and hit his first six shots – four from downtown – on his way to a game-leading 32 points against Hillcrest Prep.
"I was just feeling it today," Burnett said after the game. "In the warm-ups, everything was going down. I wanted it and I was ready to play. I work on my 3-point shots all the time. It's a lot of what we do in practice. We won the game today because of all the threes we hit."
He wasn't wrong, but Prolific rocked the rim numerous times with thunderous slam-dunks that seemed to take the wind out of Hillcrest. When the Crew is on a role, it goes something like this: Swish, slam, swish, slam, swish, slam. You get the idea.
"Things were getting really chippy in this game," McKnight observed. "A lot of fouls were being called on both teams and the game kind of slowed down. When things get chippy, I try and calm things down."
Apparently, Hillcrest coach Nick Weaver takes the opposite approach. He was ejected from the gym after two technical fouls in the first eight minutes of the game. Probably just as well, he wouldn't have liked what he saw the rest of the way.
One interested spectator who was enjoying the action was starting Vintage High guard, Jared Rendon, still savoring Friday's Big Game victory over crosstown rival Napa.
"I'm here to support my friend, Sekou Toure, and the rest of the Prolific guys," he said. "They came to our game Friday and I'm returning the favor."
When asked if he saw a difference between the game and Monticello Empire League play, he observed: "It's way more intense. These guys are bigger, faster, stronger. It's crazy how much the game speeds up at this level. These don't seem like high school players at all. They're huge. They're men."
Does Rendon feel like he could play at this level – he was ready for the challenge.
"I think I could hang with these guys. I'd like to play for a prep school one day," Rendon said.
Appropriately, it was Burnett who started the rout against Hillcrest with a long three from the corner. That got Prolific Prep going, and before the 1,500 or so in attendance could settle in their seats, the Crew had raced out to a 10-point lead.
Hillcrest recovered to keep the game somewhat competitive until halftime, but still it was Prolific up 47-32 at halftime. These games were played in halves, like college ball, rather than four quarters like a typical high school game.
After Prolific Prep forward Jeenathan Williams opened the second half with a pair of free throws, it was Burnett again with nothing but silk from beyond the NBA three-point range. When the lead hit nearly 30 points at 67-39, McKnight emptied the bench and largely let his reserves finish off Hillcrest. Toure scored the 100th point of the game for the Crew with a minute to go on the way to the win.
Rounding out the Prolific Prep offense, Williams scored 22 and Toure had 20. Onyinyechi Eyisi had 13, Amadou Sow 10, and Alimamy Koroma seven.
On Saturday, the Crew gave visiting Aspire Academy a 71-51 schooling.
"Aspire had a lot of really good guys, and there were a lot less fouls called, which made for a lower score," said McKnight.
Williams led Prolific Prep with 21 points and Burnett chipped in with 19. Toure and Eyisi had 10 each, and Sow added six.
Prolific Prep is off this week and then heads to Louisville, Kentucky for another Grind Session event, the Wizard Crystal Ball Showcase, Feb. 9-10, hosted by Aspire Academy and featuring 12 top national teams.