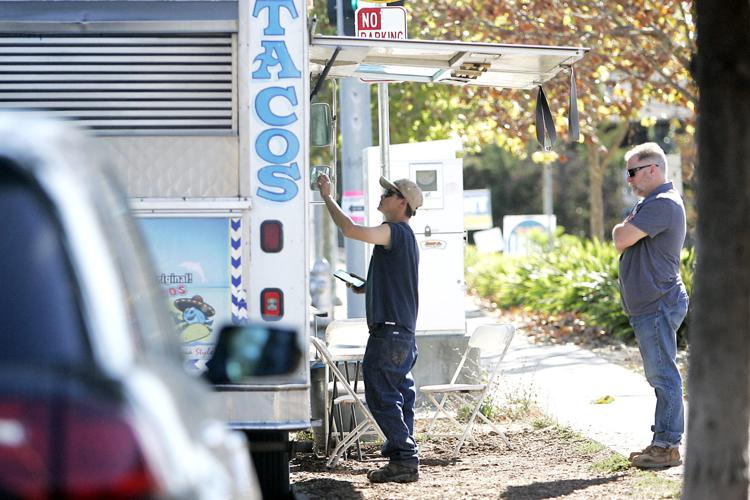 As a fad for more and fancier eateries on wheels apparently has run its course in Napa, so has a drive that began earlier this decade to update the city rules that govern them. Yet even with an ordinance that planners concede is outdated, food trucks continue to ply their trade on local streets.
A longstanding rule requiring lunch wagons and other rolling vendors to move their vehicles every 15 minutes remains on the books. However, planning officials say there is no city effort to aggressively enforce the rule – and that overhauling that part of Napa's peddling law is a low priority.
"These rules are dated – they were meant for vendors who would walk around and sell items, not for those who set down and sell," said city assistant planner Jose Cortez recently, pointing to older forms of vending like ice cream trucks.
Section 10.36.180 of the Napa municipal code restricts peddlers from standing any vehicle, wagon or pushcart from which food, produce or other goods are sold "on any portion of any street within this city," unless the vendor lingers no longer than 15 minutes at any site and stays at least 1,000 feet away for at least 24 hours.
Despite such strictures, lunch wagons in recent years have continued doing business on local routes such as Soscol Avenue, where such trucks routinely are stationed for full work days on the curb or on patches of private land just off the roadway.
As with other kinds of code enforcement, Napa tracks complaints about alleged food-peddling violations but does not go on patrol to find such scofflaws, according to Cortez. "Actively patrolling it would be time-consuming; we do respond to complaints but to proactively enforce it is kind of tough," he said last month.
Napa Police officers have the power to cite food truck operators lingering in public rights of way longer than 15 minutes but instead simply advise them of the ordinance and ask them to move in most cases, according to Sgt. Mike Hensley.
"We explain the time limit and (that) they need to keep in mind that we may not actively patrol, but if someone calls to complain we will be asking you to move," he said Wednesday. "I don't see many food truck citations get written; most (operators) have been very cooperative after we explain the code. We want to give them alternatives and help them be successful."
The absence in recent years of obvious action on food-truck regulations is a sharp turnabout from 2011, when vendors, the Planning Commission and the City Council debated who to govern the estimated 14 mobile eateries then doing business in Napa. City officials pondered requiring vendors to set up hand-wash stations and portable toilets, as well as allowing mobile food stands to do business as close to 300 feet to a school or park instead of the still-current limit of 1,000 feet.
The discussion unfolded as new players with fancier culinary offerings – reflecting an increasingly diverse menu at food trucks elsewhere in the U.S. – entered the Napa market, including Crossroad Chicken, the deli-on-wheels Pastranomy and Cousins Maine Lobster, a rolling purveyor of lobster rolls. Meanwhile, Food Truck Fridays, a monthly gathering of mobile vendors, began in September 2010 on downtown First Street and attracted a guest list of as many as 400 people.
In the years since, however, some of the rolling eateries have closed down, and the city shut down Food Truck Fridays after six months over code violations. The lower profile of food stands may have eroded interest in overhauling Napa's food truck laws, according to city senior planner Michael Allen.
"The stakeholders went away and inquiries for such events also waned," he said in an email last week. "Our focus turned toward other endeavors and updated regulations didn't go anywhere, so the city's regulations remain unchanged."
In the past three years, the only such request to reach city offices was the permit granted to the Gasser Foundation to open a temporary food-truck corral on vacant building pads of the South Napa Century Center, according to Allen. Mobile vendors at the corral, which opened in July 2016, formed a de facto food court as the shopping center off Gasser Drive was gradually built out and populated with permanent eating places.
Among the more established rolling eateries in Napa is Tacos La Esperanza, which has dished out tacos, burritos and other lunch fare since 2006 from a curbside spot in the 1500 block of Soscol Avenue. The taco truck did not receive any complaints for violating the 15-minute rule until this June, according to owner Rene Gonzalez.
However, Gonzalez worried that an increased concentration of food trucks near his favored spot on Soscol could increase city scrutiny – especially with other vendors searching for new locations after South Napa Century Center's corral closed Oct. 31. The Gasser Foundation, which developed the shopping center, had fostered the corral as a temporary food court to serve customers before permanent restaurants signed leases at the complex.
"What we're afraid of is now that other trucks are parking on Soscol, they'll complain about us again," Gonzalez said earlier this month.