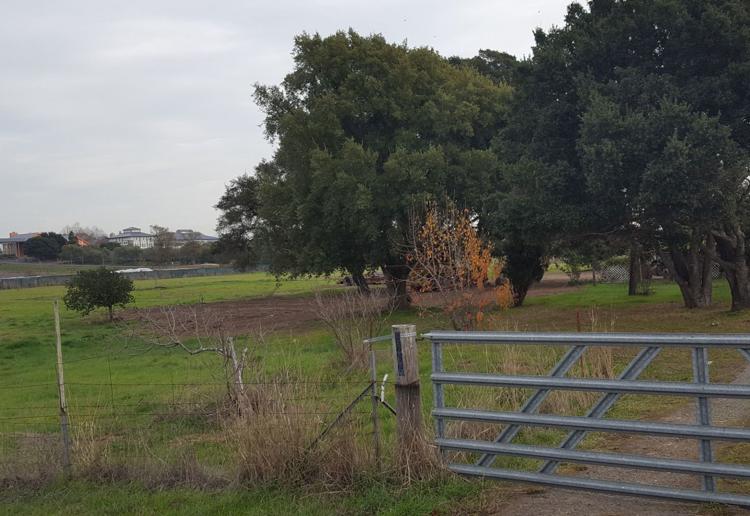 Stone Bridge School presents a conundrum for Napa County. A school that promotes agriculture wants a home in a rural area where the county discourages development to preserve agriculture.
The Napa Valley Unified School District might relocate Stone Bridge School to 7.6 acres along Old Sonoma Road near Dealy Lane. The present school is about a mile away in the Carneros farming region and sits over an earthquake fault and gas line, prompting the move.
Napa County can only offer advice, given that the school district is a public agency and the county has no veto power over its decisions. The county Planning Commission took up the issue on Wednesday.
The result: the county will send a letter to the district saying a school at 5266 Old Sonoma Road would be inconsistent with the agricultural zoning and other county policies. But the letter doesn't state county opposition.
"This school and this kind of school is a great concept," Commissioner Terry Scott said. "I support this concept totally. It speaks to the heart of the Napa Valley, which is agriculture."
And yet…
"Schools seem more urban to me," Scott said.
Stone Bridge School is presently located amid Carneros farmland at 1680 Los Carneros Ave. It is a charter school for grades kindergarten through eighth that includes a small organic farm and vineyard where students do the planting, the weeding and the harvesting.
"We really think it's important for kids to have their hands in the ground," school Administrator Maria Martinez said.
On Dec. 12, the NVUSD Board of Education voted to buy the Old Sonoma Road site for $1.8 million. It directed district officials to execute a purchase agreement and open and close escrow. The purchase is contingent upon certain factors, such as complying with state environmental laws, the board's resolution said.
A few weeks ago, district officials talked about closing escrow around April. District Superintendent Patrick Sweeney said Wednesday the date has been extended until June.
Sweeney made it clear in a letter to the county this isn't a done deal, saying the district is "evaluating the possible acquisition" of the property.
The school board wants to move the school for safety reasons because of the earthquake fault and the PG&E line, which passes under the school as it runs from Marin County to Solano County. Sweeney said attempts to find a big-enough site within the city of Napa failed.
But Napa County has strict laws to protect farmland and any proposed development in rural areas can prove controversial.
The Napa County Farm Bureau is concerned that a Stone Bridge School along Old Sonoma Road would conflict with nearby farming operations. Farmers would face such issues as trying to avoid the drift of chemical sprays onto school grounds.
"We believe Napa County agricultural lands are not appropriate for school siting," Cio Perez of the Farm Bureau wrote to the county.
The present Stone Bridge School is also near farmland. But a school called Los Carneros School first came to that site in 1949. Perez said state regulations make it much more difficult to farm near schools these days.
Jennifer Putnam, executive director of Napa Valley Grapegrowers, also addressed the commission. She talked about the 50th anniversary of the agricultural preserve this year. Though the Old Sonoma Road site is outside of the preserve, it has agricultural watershed zoning that promotes farming.
"This is about zoning," Putnam said. "This is about setting precedent. We discourage this type of growth-inducing development."
Commissioner Jeri Hansen found it "unfortunate" that a school that promotes agriculture is receiving a chilly reception from agricultural groups. She wondered if an acceptable alternative site can be found or if the groups and district can work out the areas of disagreement.
"This should be kind of a lovefest about this. It's too bad that it isn't and we're grappling with these issues," she said.
Another wine industry group, Napa Valley Vintners, is neutral on the proposed Old Sonoma Road site.
The county received more than 20 letters from people opposed to the school relocation. Most of them live in The Orchard, a residential development at the Carneros Resort & Spa next to the Old Sonoma Road property.
Resident Barry Murphy foresees traffic problems as parents drive students to school. He is afraid of backups as cars wait to make a left turn across two-lane Old Sonoma Road, where the speed limit is 45 to 50 mph.
"No private developer would be allowed to have a project of this size on that site," Murphy told commissioners.
He and other neighbors said the school district didn't reach out to them.
"We know that there are neighbors who aren't real pleased with us moving to this location," Sweeney said. "We're planning to have a meeting with them at the end of February."
The county's Planning Commission-approved letter to the district said a school would be inconsistent with the agricultural designation under the county general plan. The area has groundwater problems. A school could generate Old Sonoma Road traffic inconsistent with agricultural uses.
Sweeney said the district will study water supplies, a septic system and traffic.
"We're in the school business," Sweeney said. "Safety is our number one priority, so if doesn't work for traffic, we'll not go to that site. If it doesn't (work) for water, we won't go that site. If our septic system has to be spread out so wide that it's going to affect the footprint of the school building, we will not use that site."
County Supervising Planner Charlene Gallina said that the School Board by a two-thirds vote can exempt the Stone Bridge School project from the county's zoning and general plan requirements.