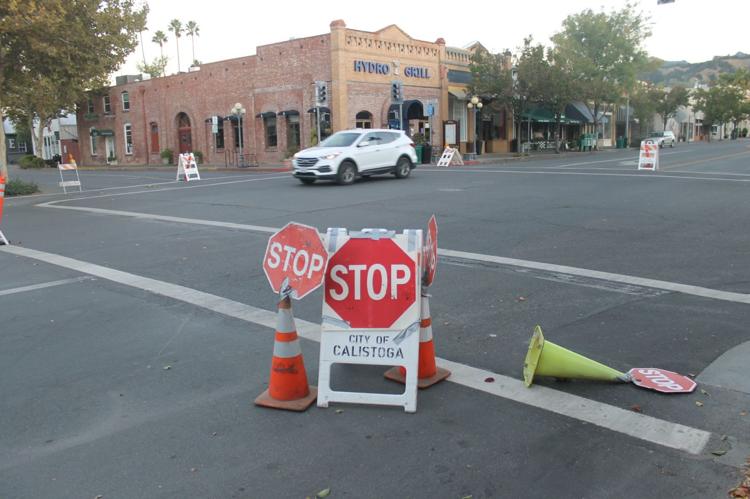 2018 was a busy year for Calistoga. Among the stories that made the headlines were increased water rates, a fiasco with PG&E, the city's purchase of a portion of the Napa County Fairgrounds, and city council elections. Here's a recap:
PG&E cuts power to entire town
The entire town of Calistoga was without power Oct. 14 -16 during PG&E's first deliberate power safety shutdown in Napa County.
The intentional shutoff affected about 5,700 customers in Napa County, and was called because of the extreme risk of fires due to strong winds and exceptionally dry conditions, PG&E said.
There was much confusion among residents and business owners as to when, or even if, the power was going to be turned off. Subsequently, Calistoga public schools were forced to close, and Calistoga stores and restaurants were out of business until late Monday, losing tens of thousands of dollars in inventory and business.
PG&E subsequently brought in and installed expensive back-up generators for the town as a temporary fix, should it need one.
PG&E also reiterated that company would not reimburse individuals or businesses for losses during such power shutoffs.
Water rate increase
A water rate increase of 15 percent went into effect the end of April, after much deliberation, rate studies, public hearings, community meetings, and four new plan options by the city.
Rates will also go up 14 percent in 2019, and 10 percent for the next three years. Wastewater charges also went up 15 percent, and will go up 13 percent in 2019, 10 percent in Fiscal Years 2020 and 2021, and will end with a 3 percent increase in the final year of the plan.
Napa County Fairgrounds sale
In November, a much-anticipated agreement was reached between the City of Calistoga and the county to buy a portion of the Napa County Fairgrounds, which is located in Calistoga.
The city intends to purchase 34.3 acres of the 70.6-acre property, paying $225,000 per acre, which includes the Calistoga Speedway, Calistoga RV Park, Butler Pavilion, Tubbs Building, Cropp Building and the great lawn. Napa County will retain ownership of the remaining 36.3-acre portion of property, which includes Mount St. Helena Golf Course and the Tucker Building.
No plans for the property have yet been disclosed by the city, and the mayor has said any plans will be discussed publicly.
Management of the property, which until Dec. 31 was the responsibility of the Napa County Fair Association, has been taken over by the county, and all current contracts with the fairgrounds are being continued.
Due diligence on the sale will be completed by spring when more concrete plans could be in place, county officials said.
Don Williams, Gary Kraus win city council seats
In a race for two open city council seats, new challenger Don Williams took one seat by a wide margin with 47 percent of the vote, and Gary Kraus narrowly won the other over fellow incumbent Jim Barnes by 37 votes in the November election.
While the Kraus and Barnes campaigns emphasized city government experience, Williams' campaign called for new leadership, more restrained development, and more equitable water rates.
The election essentially polarized the city, with those who advocated halting commercial development to maintain Calistoga's small-town character versus those who maintained slow but steady growth is the path to keeping the town fiscally healthy.
Eighty percent of residents also supported a new Transient Occupancy Tax (TOT) to support affordable and workforce housing development.
Incumbent Mayor Chris Canning, who ran unopposed, also won re-election.
Brannan's Grill, Goodman's closes, more to come
Marking the end of an era, Brannan's Grill in downtown Calistoga closed its doors July 29.
Co-owners Ron Goldin and Mark Young decided to sell the restaurant after two decades, citing a list of challenges including the lingering impact of last October's wildfires, decreased sales, problems finding and retaining staff, and the impact of negative social media reviews as factors driving their decision.
Goldin also announced the sale of Checker's Restaurant late in the year, but that deal fell through.
Goodman's retail store, also an institution that was formerly in operation in St. Helena since 1879, closed at the end of November. Owner Amber Ebling cited a lack of enough shoppers and high rents as the reasons for closing the store.
Sugar Train, in the historic train cars, also closed in December. Rabbit Rabbit Fair Trade announced it will be closing, Tanit restaurant will be closing, and Man's Supply Store and Blackbird of Calistoga will close at least temporarily due to seismic-retrofitting of their building.
Calistoga Girl's Volleyball win section title, makes run to state
The Calistoga volleyball team made history this season, winning its first North Coast Section title and qualifying for the NorCal state tournament. The Wildcats, playing as the eighth seed in NCS playoffs, completed upset after upset before defeating Jewish Community School of San Francisco in the championship game in front of a packed house at Calistoga High School.
With their section title secured, the Wildcats automatically qualified for the NorCal playoffs, where their magical run came to an end in the first round.
Still, it was the first section title for any girls sport in Calistoga history and the first for any sport since 1999.
Affordable housing gains in 2018
Residents began moving in to a new 30-unit Senior Apartments project on lower Washington Street in August.
In 2015, the city of Calistoga paid $950,000 for the 0.74-acre parcel to be developed as housing for those 62 and older.
The Senior Apartments were advertised as being 564 square feet with energy-efficient appliances and a 70-square foot balcony or patio, in one- and two-bedroom units. Rents are based on income and start at $485 per month.
Another new housing project for 78 apartments was unanimously approved by the Planning Commission on Dec. 12.
The project will be located on vacant land on Lincoln Avenue between Calistoga Motor Lodge to the north, and the John Deere dealer to the south, between Silverado Trail and Brannan Street.
Francis House opens
After sitting vacant for more than 50 years, the fully restored Francis House on Myrtle Street opened in September.
Owners Dina and Richard Dwyer spent three years lovingly, painstakingly, renovating the historic building back to its original splendor. Extensive renovations included a seismic retrofit and adhering to historical restoration guidelines.
It was originally built in 1886 as a family home for prominent local merchant James H. Francis.
From 1919 to 1946, it served as the Calistoga Hospital. After that, changes in ownership, natural disasters and the passing of time contributed to the fading of the property. It was closed down by the state of California in 1965 and has remained vacant until now.
The five-room inn also received a 2018 Preservation Design award from the California Preservation Foundation.
PUC hosts Camp Fire victims for tournament
Pacific Union College helped victims of the Camp Fire. In November, the school volunteered to host Paradise Prep's basketball tournament in Angwin and donate all proceeds back to the heavily damaged school.
For the students of Paradise Prep that comprised the boys and girls basketball teams, the weekend tournament provided a much-needed break from reality – even if just for a moment.