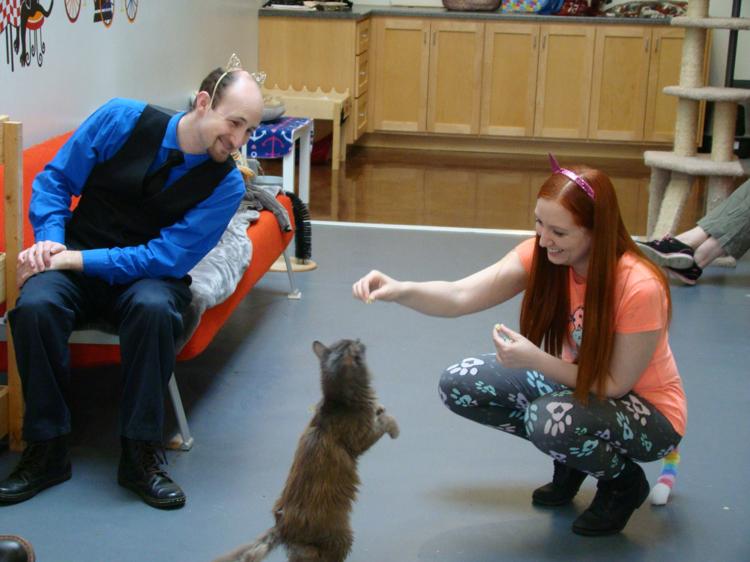 Most birthday celebrations don't include tuna and salmon cupcakes, but this was no ordinary party.
Volunteers gathered at Ella's CatHouse & Catnip Bar in downtown Napa on Saturday to celebrate the cage-free, no-kill adoption center's first anniversary and the 110 cats who've found their forever homes in the process.
"We didn't know what to expect when we opened," said Julia Orr, director of communications at Jameson Animal Rescue Ranch (JARR) which operates Ella's. "This was a new venture for us and the city of Napa, so to have found homes for more than 100 cats in our first year – we are very pleased. We think this is a special place, and we are so happy that the community has welcomed us."
The Ella's CatHouse volunteers celebrated with chocolate cake, but volunteer Willow Duggan prepared tuna and salmon cupcakes for Ella's current residents.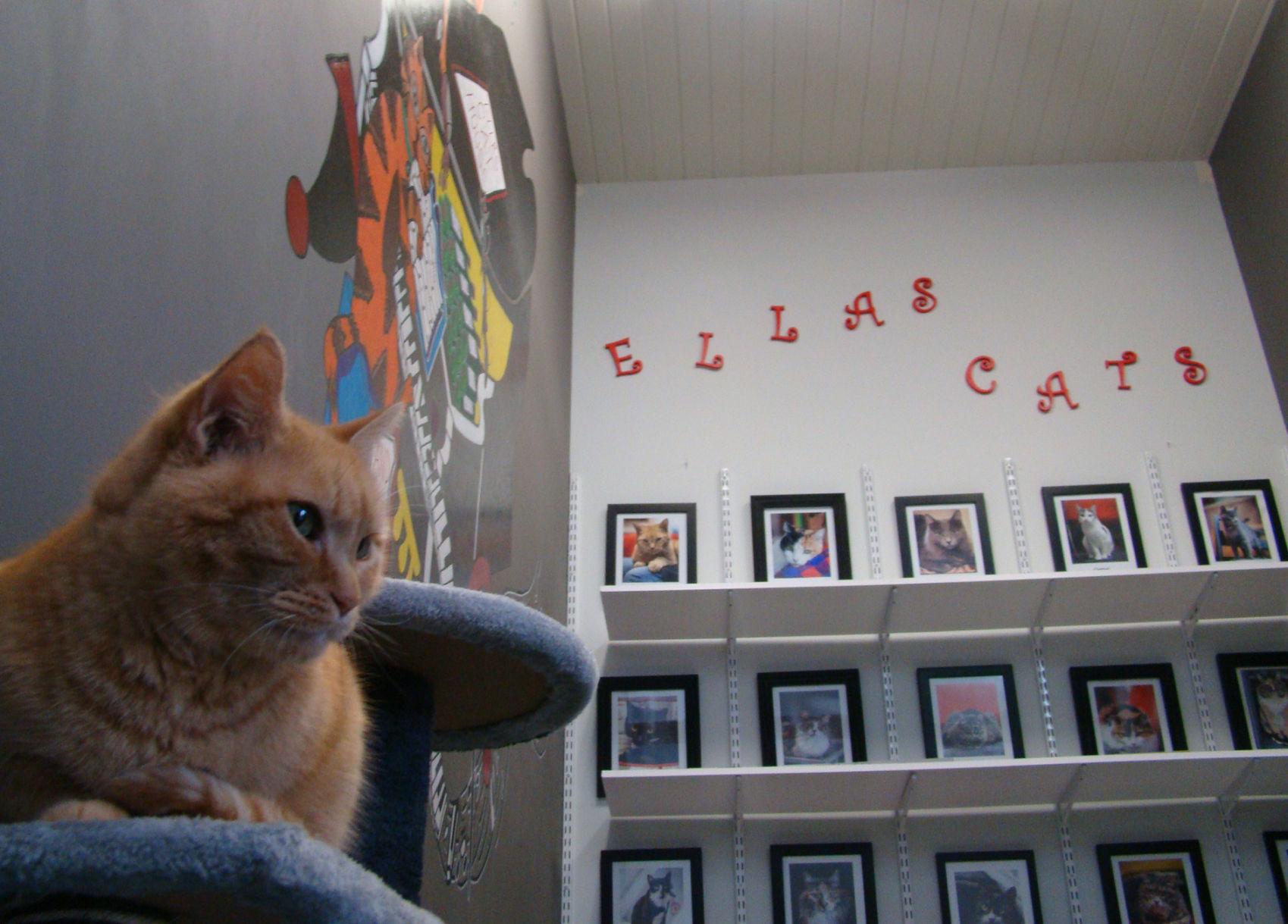 "Do you want to try a cupcake," Duggan asked Beans, a fluffy gray cat that's up for adoption. The cat caught a whiff of the treat's fishy aroma and burst into a song of enthusiastic meows. Duggan set a tray down in front of him, and the cat methodically moved his nose from treat to treat until he found the one he wanted.
Duggan visited Ella's CatHouse the day it opened last year and adopted a cat. She signed up to be a volunteer soon after.
"I've always loved animals, but I've always had a thing for cats," said Duggan, who currently has four cats with boyfriend Jason Rogers, who also volunteers at Ella's. "I just think that there is something very therapeutic about having a cat to cuddle with. And I love it here because we get to work with the cats and help them find their forever families."
Duggan admitted it's bittersweet when cats get adopted because she and her fellow volunteers develop bonds with the cats. But on the flip side, it is satisfying to know a cat is going home with a loving family.
Sylvan Mance has been volunteering with JARR for three years and takes shifts at Ella's one to two times a week, so he knows that bittersweet feeling all too well.
Mance said his day job keeps him away from home a lot so it's not feasible to have a cat of his own, but he's able to get his cat fix at Ella's by visiting with the current crew. Ella's houses up to 15 cats at a time, and Mance said he's happy to offer a nuzzle or scratch behind the ears to whoever needs a little love.
"Sometimes I just lay on the floor and let the cats crawl all over me," Mance said. "I've been told I'm a cat whisperer. I don't know if that's true, but I've always liked cats. They're beautiful, agile, friendly and playful. It never feels like work when you are here."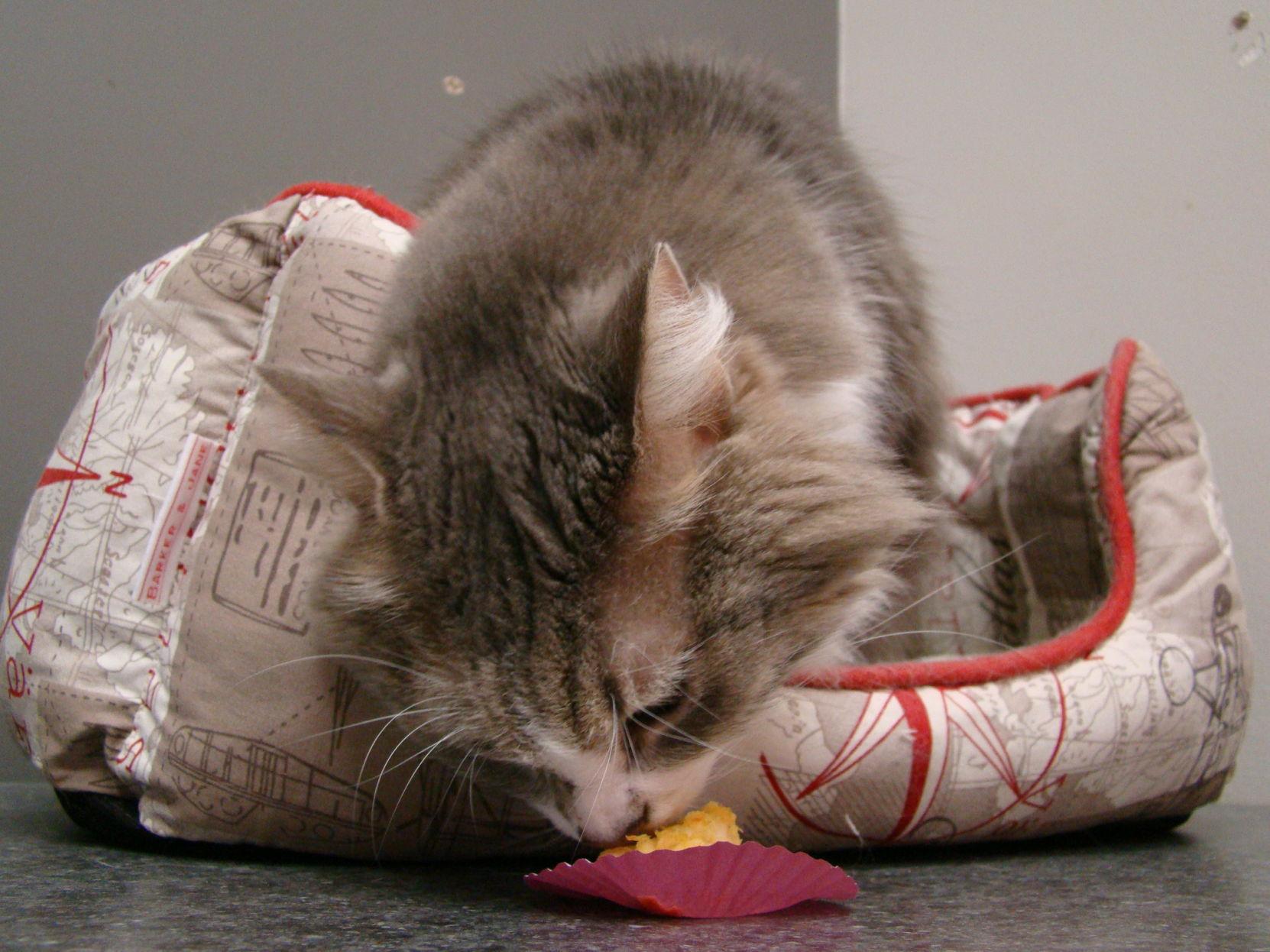 Ella's CatHouse is currently accepting new volunteers. Those interested can apply online at jamesonanimalrescueranch.org/get-involved or call JARR volunteer coordinator Heather Lake at 858-204-8594.
Curt Pajer and his wife Vanessa Conlin, a JARR volunteer, owned Ella, the cathouse's namesake. Pajer volunteers at the cathouse and stopped by Saturday to join in the celebration.
"Ella was such a loving cat. I think she'd be happy to see how successful this place has become," Pajer said. "She was nice to every cat she met, even if they weren't nice to her. She was a sweetheart."
Ella's CatHouse & Catnip Bar, 1009 Caymus St., Napa, is open Friday through Monday from noon-6 p.m. Info, 501-0016; jamesonanimalrescueranch.org/cathouse.