Unlike Sonoma County, Napa schools stay open during 'unhealthy' air from Butte County fire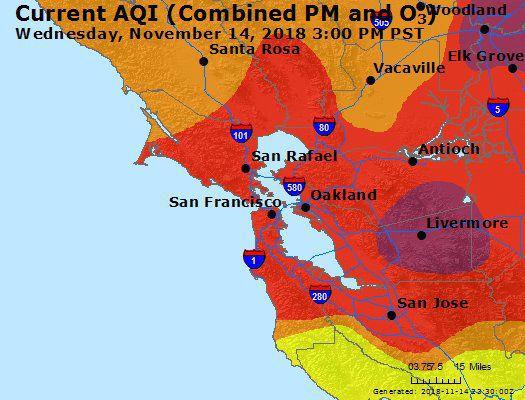 A smoke-filled sky and unhealthy air quality did not result in school closures as of Wednesday by the Napa Valley Unified School District, in contrast to neighboring school districts in Sonoma County that decided to shut down due to the local effects of the Camp Fire in Butte County.
Last October, NVUSD closed all schools for two weeks while local wildfires raged in Napa County, producing air quality index (AQI) ratings that were red (unhealthy) purple (very unhealthy) or maroon (hazardous).
Although the AQI reached 161 in Napa on Tuesday, putting it in the red, the school district chose not to cancel classes. Instead, they advised schools to keep students and staff indoors during lunchtime, breaks and Physical Education.
In nearby Sonoma County, where the AQI reached 172 (red) in Santa Rosa on Tuesday, all but two school districts cancelled classes, according to Jamie Hansen, communications director for the Sonoma County Office of Education.
Sonoma schools were also closed on Friday, Hansen said, when the AQI hit 226 (purple). There was no school Monday in Sonoma or Napa because of Veterans Day.
Barbara Nemko, Napa County superintendent of schools, said the decision to keep Napa County public schools open came after she and the five district superintendents met with Dr. Karen Relucio, the county's public health officer.
"Dr. Relucio pointed out that this year is different because the fires are not burning in our county and no one is being evacuated. She advised us to consider what the best decision would be causing the least amount of disruption for the majority of the people," Nemko said in a letter to the Register.
"Because the quality of the air was registering unhealthy, (which means between 150 and 200 on the air-quality index), she recommended that schools remain open and teachers be advised to keep the children indoors for most of the day and forgo prolonged exercise outdoors. This would minimize disruption and follow the National Environmental Protection Agency guidelines for school response to air quality," Nemko said.
NVUSD spokeswoman Elizabeth Emmett said Wednesday that "air quality is a big" concern for the district, but it is one of many factors that officials consider before deciding to cancel classes.
Closing schools impacts working families, too, according to Emmett. "When the air is bad, some kids are better off at home, and some are better off at school depending on their living situations," she said.
However, cancelling classes wouldn't impact NVUSD financially even though the state of California bases education funding to districts on average daily attendance of students.
"I spoke with the State Superintendent of Public Instruction Tom Torlakson, and he assured me that the schools would have gotten a waiver if they had closed, and will get a waiver for student absences during this period where parents may have kept children home from school because of asthma or other respiratory conditions," Nemko said.
Last October, the district shut down for 10 school days after a disaster declaration was declared for Napa County. That declaration resulted in the state restoring any lost funding to NVUSD.
NVUSD sent out a message late Tuesday via ParentSquare, stating: "We are continuing to closely monitor the air quality for American Canyon, Napa and Yountville, and until the effects of the Camp Fire in Butte County subside, we will make daily announcements regarding school for the next day."
The announcement noted that the district established guidelines last October for determining school closures. Those guidelines were "more stringent" than those of the EPA "because ours were built" during the wildfires disaster when the AQI ranged from red to purple, the message read.
It also stated: "When AQI is red, the EPA does not recommend that schools close." The EPA, according to NVUSD, advises moving longer or more intense activities indoors or rescheduling them to another day or time.
On Monday, high school football playoff games scheduled for American Canyon and St. Helena were postponed and rescheduled for Saturday, Nov. 17, due to continued poor air quality across the Bay Area and surrounding counties, according to the CIF North Coast Section office.
Emmett said Wednesday that the 2017 district guidelines "didn't give us much operational flexibility" after the October 2017 wildfires. "We're going to be revisiting" those guidelines this year, she added.
In Sonoma County, education officials unveiled new guidelines on Tuesday that said school districts "may cancel classes" if the AQI is listed at 275 or above. That would fall in the purple category of very unhealthy.
Meanwhile, NVUSD is preparing for more "smoke events" now that huge wildfires are becoming more common in California, according to Emmett.
Based on feedback received this week at NVUSD, "some are happy we had school, and some are not happy about it," Emmett said. "There's going to be different points of view."
Wednesdays' AQI in Napa was 112 as of noontime, putting it in the orange, one step below red. "We're happy to see that," said Emmett.
Orange is considered unhealthy for "sensitive groups," according to the EPA. That includes people with heart or lung disease, older adults, and children should reduce prolonged or heavy exertion, the agency advises when the AQI is orange.