Distracted driving is bad, Napa police say. But does anyone care?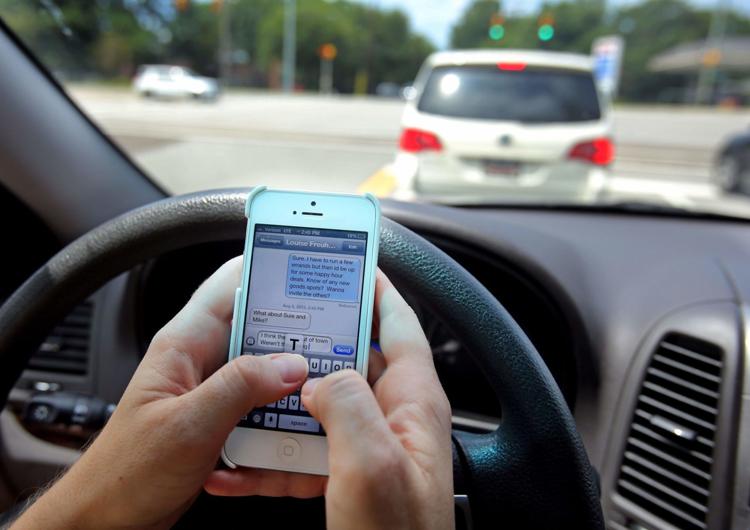 Some people who realize an officer has caught them using their cellphone while driving try to get slick.
There's the phone dropper, said Sgt. Kris Jenny of the Napa Police Department's traffic division, and there's the person who tries to act like they were itching their head instead of holding a phone to their ear.
Others are oblivious — especially of officers who pull up in a vehicle other than a traditional, black-and-white cop car, he said.
They might be on Facebook, snapping selfies or steering with their knee while taking pictures of their view, Jenny said.
A new state study found that drivers' cellphone use appears to be slightly less frequent than it was a few years ago, but Jenny is skeptical that people have kicked or will kick the habit. Kids have an even stronger connection to their devices than adults, he said.
"In my opinion, it's remained the same," Jenny said. "It's a habit that they weren't willing to change."
Researchers at California State University Fresno examined drivers at 204 locations across 17 counties, statewide.
They found that 4.5 percent of drivers were observed using their phones last year, which was slightly higher than the 3.6 percent of drivers observed doing so in 2017. Still, 2018 drivers appeared to use their phones less frequently than the 7.6 percent of drivers seen using their phones in 2016, a year before the most recent cellphone law went into effect, according to an Office of Traffic Safety press release.
State law dictates that drivers cannot hold their phones, and must touch their phones only with the swipe or tap of a finger to activate or deactivate a function, according to the traffic safety office. The phone must be mounted to the dashboard.
In 2018, Napa police ticketed 405 drivers for using their phone while driving and 504 for texting while driving.
First-time offenders are fined $162 and at least $285 for a second offense.
Still, it can be difficult to prove a driver was using their phone if they won't admit it and there were no witnesses. Officers can obtain a warrant to check someone's phone and see what they were doing at the time of an incident, Jenny said.
But even though Napa's top collision factors are drunk driving, speeding or failing to yield, phone use can have deadly consequences.
In 2011, 18-year-old Dayton William Lane Moore was killed when his Toyota Highlander veered off the side of Highway 29, struck a metal streetlight, then crashed into a tree and fence near the intersection of Sierra Avenue.
It was determined that he was texting at the time, said Officer Aaron Medina.
Research shows that looking at phones significantly increases the likelihood of a crash or collision. Medina pointed to a first-of-its kind study in 2014 that found that the effect of texting on the brain can last beyond the time the phone user is texting.
A Louisiana State University researcher found drivers' performance was significantly altered for more than 3 seconds after texting. The amount of time doesn't matter whether it be texting or talking, which did not have the same effect. Texting for two seconds or two minutes are just as likely to result in a collision..
Law enforcement has long known that phone use can hinder a person's ability to drive safely. Officers looking for drunk drivers sometimes pull over a sober person who was using their phone instead, Jenny said.
The telltale signs of distracted driving?
Abrupt braking and corrections, a head turned down, a face illuminated at night or a left hand on the steering wheel, since most drivers are right-handed, Jenny said.
He suggested drivers who find themselves distracted while looking for directions install a smartphone app such as Waze, which can guide a driver without their input.
But none of this may matter if drivers aren't afraid of the consequences.
Jenny pointed to an April enforcement operation of distracted driving laws in which police stopped a total of 74 drivers, pedestrians and bicyclists and issued 50 citations in total. The operation was announced in advance on social media and through the news media.
To his surprise, Jenny learned that people knew about the crackdown but didn't seem to care.
"It was not just like two or three people" who heard about the operation in advance, he said. "It was the majority of people that we cited."