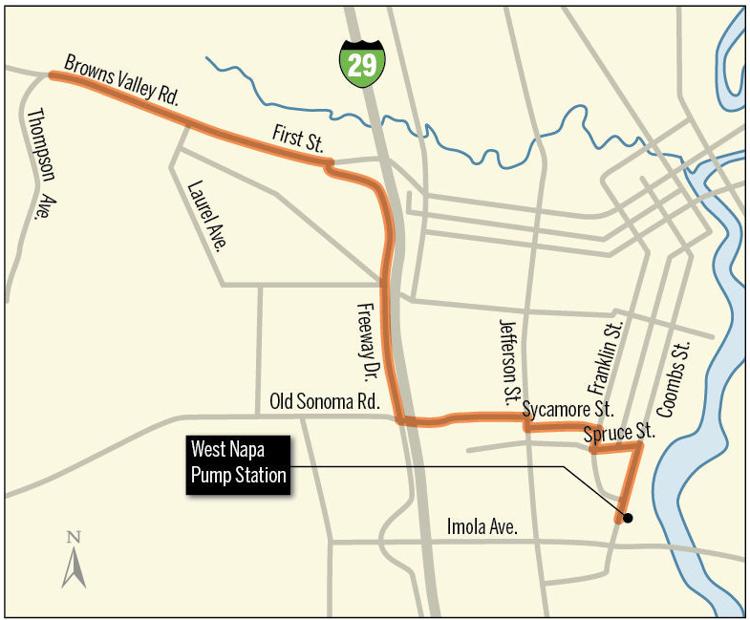 Napa Sanitation District plans to move ahead with its big Browns Valley sewer line project on several busy city streets starting this spring, despite a price tag $4.7 million higher than expected.
The district will delay some valve and piping projects at the treatment plant to fill the financing hole. Officials consider the Browns Valley Trunk Project and its three miles of new sewers a priority.
Wastewater from west Napa presently flows through downtown sewer pipes on its way to a pump station near Imola Avenue, and from there to the wastewater treatment plant. The Browns Valley Trunk will take west Napa flows directly to the pump station, bypassing the downtown pipes.
Napa Sanitation District officials said having less flows in the downtown pipes will make a difference during big winter storms, when groundwater enters the pipes through cracks. When sewer lines get swamped, wastewater can bubble out of manholes.
"We have pipes in our system that are over capacity," NapaSan General Manager Tim Healy said. "When we get heavy rains, those pipes can overflow. The Browns Valley project will take pressure off those lines."
Construction of the Browns Valley Trunk project is to start in May and be finished in fall 2020, with drivers having at times to put up with some traffic inconvenience such as reduced lanes.
"I think there certainly will be traffic impacts," Healy said. "When you're putting a large diameter pipe in the middle of town, it will certainly have some impacts."
The district will do everything it can to alleviate traffic inconveniences, he said. One goal is to get as much work done as possible during the summer when school is out. Another is to avoid doing work by the Napa Premium Outlets during the Christmas season.
The new sewer line is to extend from Browns Valley Road near Thompson Avenue east on First Street, south on Freeway Drive past the Napa Premium Outlets to Old Sonoma Road, east under Highway 29 and then to a pump station near Imola Avenue via Sycamore Street, Spruce Street and Coombs Street.
Work won't happen simultaneously in all locations. Healy said most likely the project will start at Coombs Street and Imola Avenue and work westward.
Partial lane closures could be required on Browns Valley Road, Freeway Drive, Old Sonoma Road and Coombs Street, the project environmental report said. Highway 29 will not be closed, but rather a tunnel will be created beneath the highway near Old Sonoma Road with pits on each side for a trenchless undercrossing.
Contractors must, if feasible, maintain access to all driveways and private roads by placing steel plates over trenches, the environmental report said.
About 90 trees may have to be pruned along the project's path and five incense cedars and raywood ash removed at the intersection of Old Sonoma Road and South Freeway Drive, the report said.
On Wednesday, the Napa Sanitation District Board of Directors awarded a $23.3 million contract to JMB Construction. The highest of four other bids received was $32.4 million. The engineer's estimate was $18.6 million.
That means the low bid is $4.7 million higher than the district estimate.
''It's a pretty tight bidding market right now," Healy said. "If you look around, contractors are pretty busy and construction costs are going up on all kind of projects."
The district had considered putting the project out to bid in late 2017. It delayed to seek state financing to save an estimated $10 million over the 30-year life of the loan.
The Browns Valley project will bring sewage to the West Napa pump station, which pumps sewage under the Napa River into a 66-inch diameter line along the east Napa River leading to the sewage treatment plant in the airport industrial area. But therein lies another story.
This 66-inch pipe that runs for three miles was built in 1967. While the exterior is sound, the interior has deteriorated with concrete wall loss and exposed rebar, a new district report said.
As a result, 1.3 miles of the line has no remaining useful life and 1.7 miles has 10 years to 15 years of remaining useful life. Rehabilitating the pipe could cost $25 million, compared to a $100-million-plus cost to replace it, the report said.
In short, another major sewage line project appears to be in the offing.