Sometimes, a simple gift can set the course of a lifetime. Such was the case for Lis MacDonald when she was given a box of Caran d'Ache watercolor pencils.
"I was 6 years old when I received this gift from my grandfather that I still treasure today," said MacDonald, whose artistic work is on exhibit at the Napa County Library this month.
As a young girl, MacDonald added a "wonderful" watercolor landscape from a magazine to the inside lid of her color pencil box, where it still is.
Though many of the colors have been replaced over the years, the original metal box is intact, and has been well used by the artist wherever she goes.
Born in Denmark, MacDonald has lived in many places. At age 13, she moved to Montreal, Quebec, where she learned English. She moved to California with her family when she was 17.
MacDonald, a self-taught water media artist for over 20 years, is also including works using alcohol inks, a medium she has recently discovered, at her library exhibit.
"I was ecstatic when I found out my work was chosen for the library," MacDonald said. "I feel honored to have been selected."
MacDonald will share her artistic process at a wine-and-hors d'oeuvres reception at the library on Friday, March 9, from 6-7:30 p.m. Her art talk is scheduled for 6:30 p.m. Admission is free.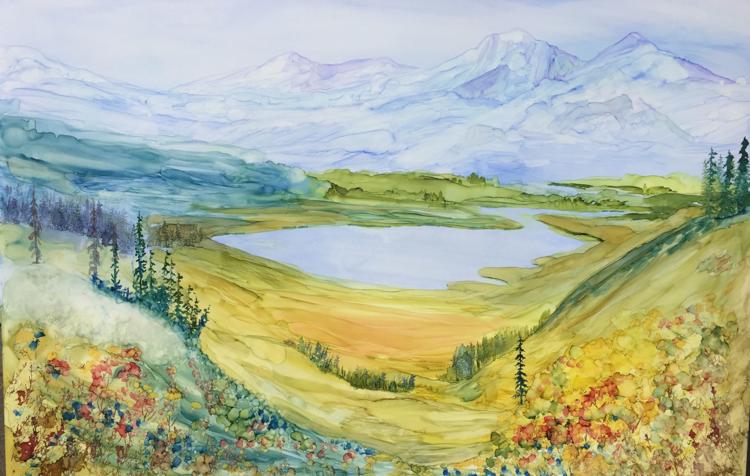 Recently, as she showed a visitor through her Napa home, MacDonald pointed out a large oil painting on the wall, that she did of her grandfather, Valdemar Jorgensen.
Besides being the person who first encouraged her art, her grandfather was the head of General Motors Corporation in Copenhagen and "very active" during World War II against the Germans, she said.
Though MacDonald enjoys oils and acrylics, she is best known as a water media artist.
"Watercolors are challenging because you really have to plan the center of interest with them," she said. "Oils are easier than watercolor because you can scrape it off."
MacDonald said she wants people to get "involved" with her paintings.
"I like it to be abstract enough for people to get lost in the painting, for there to be some mystery," she said.
When gazing at her paintings, she wants the colors to help "de-stress" the viewer and bring them a feeling of "tranquility, excitement and happiness."
"I try not to paint dark paintings," she said.
Behind her home in a cheerful art studio created from a Tuff Shed, MacDonald demonstrates the pouring and tilting techniques she uses for her mono prints of abstracted landscapes.
She lets the colors run. Once they dry, she uses a small air blower and alcohol from a fine-tipped tube to manipulate the surface. Contrails appear across a yellow sky as the alcohol displaces patches of color.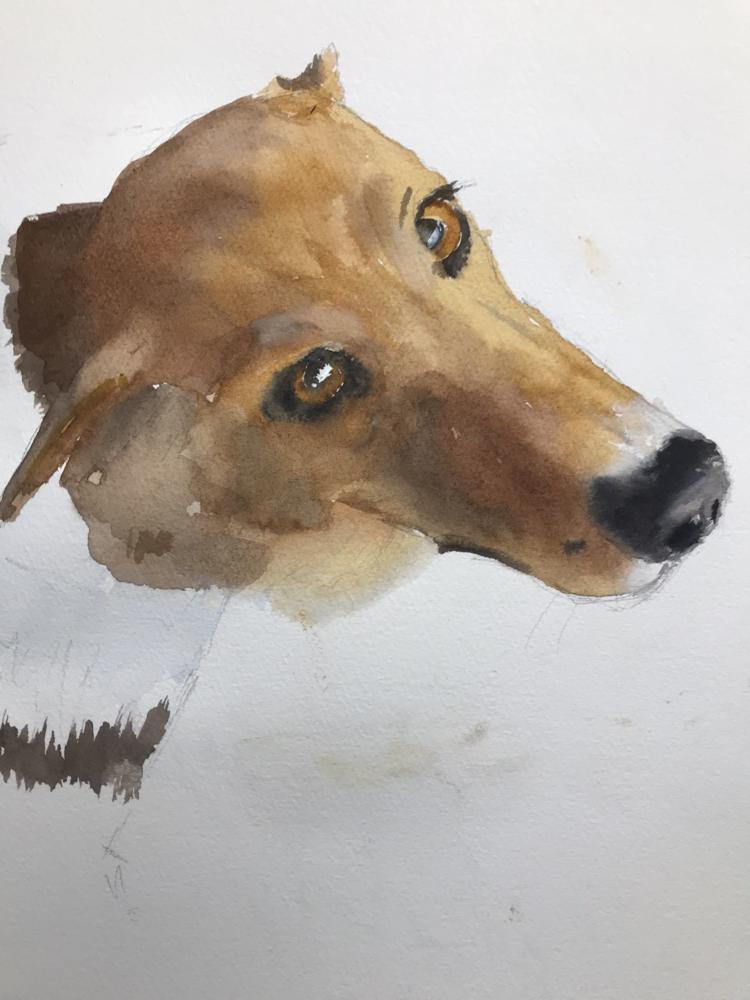 As a "pre-planner" who sketches before painting, MacDonald said she is finding a sense of freedom with her alcohol inks.
"This is just a really fun thing I've discovered" she said. "The alcohol ink paintings have fostered my increased creativity as there is no pre-planning. I allow the inks to blend and gradually develop the design."
"I continue to work with watercolors but also work with gouache, casein and acrylics, and have tried different grounds besides watercolor paper, such as Yupo and wood panel.
For years, MacDonald has done lots of sketches using pen and ink and quick value studies before beginning large paintings. This has been particularly useful for her many dog portraits.
As a dog lover who volunteers at the Napa County Animal Shelter, she has been painting various breeds of dogs for the last 10 years. Part of MacDonald's exhibit is her watercolor series, "Animals of the Napa Animal Shelter."
Even though MacDonald had always loved art and was often sketching – something her grandfather noticed – she wasn't at all inspired by the art instruction she received as a young person in school.
"I took the usual art classes in school, as they were required then, but the assignments never caught my imagination," she said. "I was bored beyond belief."
In high school in Montreal, her focus turned to science and she dreamed of attending McGill University and becoming a physician.
After moving to California, MacDonald became a nurse for 15 years before returning to school to become a nurse practitioner with a graduate degree.
At one point, she was asked to teach a class in physical assessment, which she gladly accepted. This opportunity led her back to art when she was unable to find anatomical drawings of the skeleton to use in class, so she decided to make these drawings for her students.
"I got back into drawing and completed the entire human skeleton and made them into overhead transparencies," she said.
Once the "art spirit was awakened" she began pursuing everything about drawing and watercolors and related media. She bought and borrowed books on the subject and took classes at the San Diego Watercolor Society.
MacDonald studied everything related to drawing, watercolors and related media, and credits much of her learning to other artists.
As she rediscovered her drawing and sketching skills, MacDonald became enamored with the watercolor paintings of Gerald Brommer, Stephen Quiller, Tony Couch, Nita Engle, Frank Webb, Dale Laitinen, and more. She studied with these artists in workshops.
Art in the library is sponsored by the Friends of the Library and the Napa County Library Foundation. The public is welcome to view the art and meet the artist who will give a talk about their work, process and inspirations.
A jury of local artists, a library commissioner and art in the library coordinator Stephnia Pramuk view all entries and make selections for the year. The judging is blind, without identifying factors that could identify the artist.