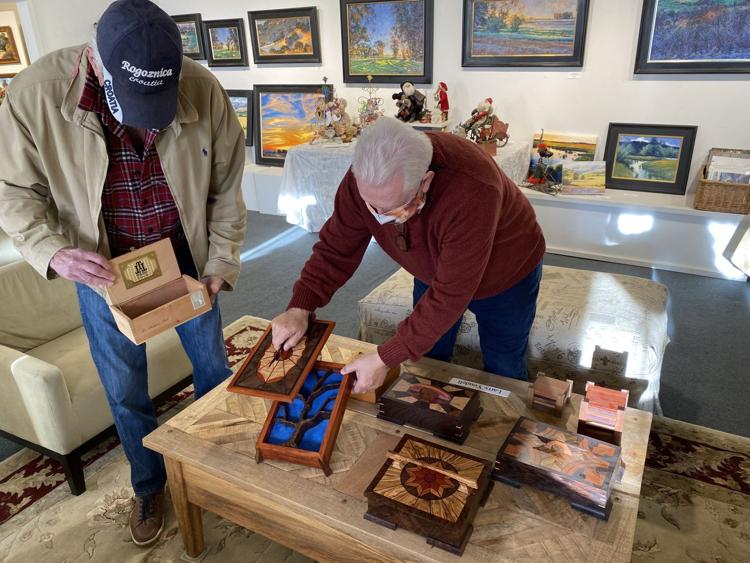 While a lot of holiday traditions have been upended this year, this one is continuing: the Handmade Holiday Extravaganza 2020, featuring gifts and decorations made by artists from around Napa Valley.
Hosting this show is the Jessel Gallery, which continues to welcome visitors, as it has for 35 years, .
Though the gallery, like all businesses, has been experiencing major challenges over the last 10 months, it is still a cheerful haven for pandemic-weary yet safety-conscious holiday shoppers. This year, visitors entering the enormous gallery wear masks and practice social distancing. Online shopping and curbside pickup are also available.
"Shopping local and giving heartfelt gifts from local artists is the way to go this year and this is a one-stop shopping place to do just that," said Pat Stabile, shopping on a Sunday afternoon with her husband, Jerry.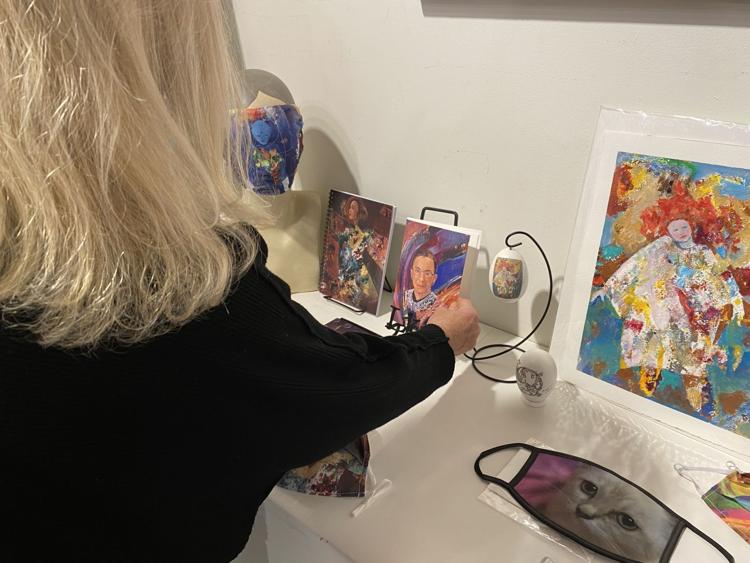 "Beautiful ornaments for Christmas are very reasonably priced and one-of-a-kind, thoughtful gifts," she added. "Today was a wonderful shopping trip filled with such a diversity of artwork. Jessel's new paintings, prints, cards and even beautiful face masks are stunning."
"Our visit to Jessel Gallery was invigorating," Jerry Stabile, a retired art instructor, added. "(Jessel Miller's) new works are colorfully energetic, pairing intuitive abstract style with her decades worth of composition and portraiture."
Inside the gallery, Miller, dressed in her painting clothes, was setting up a holiday collection that had just arrived from Joan Tsudama.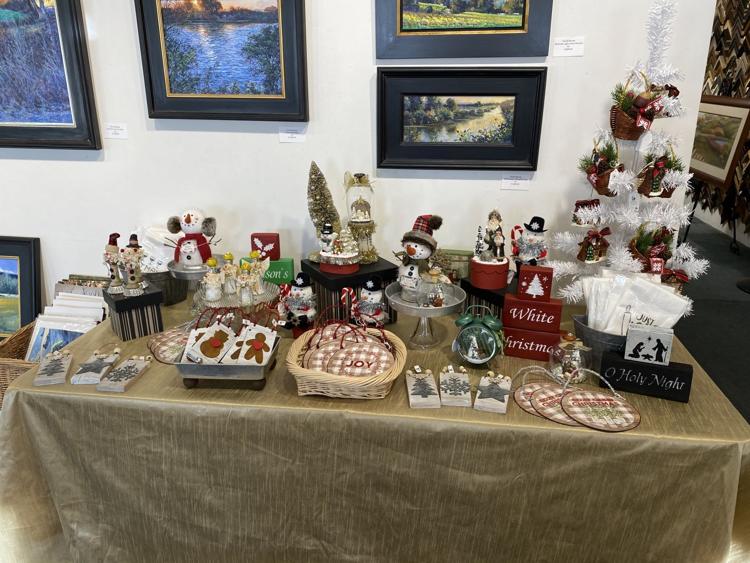 "When Joan's things arrive in the gallery, Christmas is here," Miller said. "She just brings the Christmas spirit."
A table covered with Tsudama's ornaments rekindles happy memories of Christmas past – Santas on boxes and vintage tins, snowmen, reindeer, stars, and angels. The table also had gift items such as kitchen towels with messages such as "So Much Wine, So Little Time."
Many of Tsudama's ornaments are made of wood such as her gingerbread men and her Santas who hold signs with the word "Believe." One shopper commented that the small tree on the table decorated with sparkling old-fashioned cabins, reminded her of a childhood visit to her grandma's house during the holidays.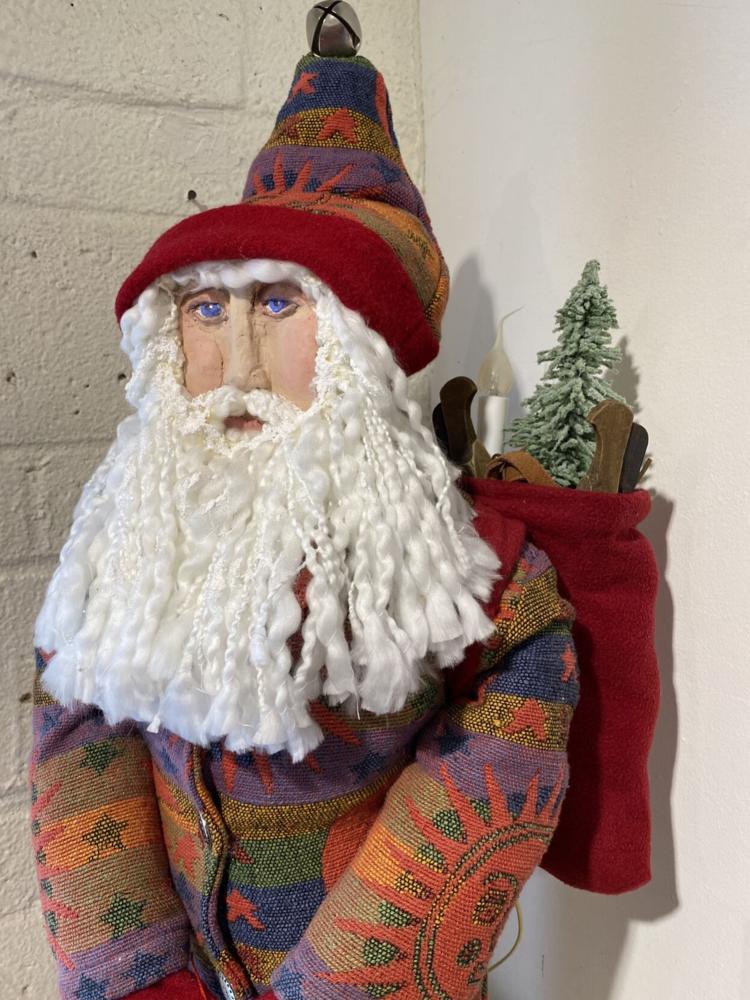 Tsudama has been doing her Christmas shows at Jessel Gallery for 15 years. This year she also collaborated with Miller on creating two impressive large Santas. Miller said, "Joan's finish work is amazing and her attention to detail hits the mark every time."
In a phone interview with Tsudama, she talked about the "joy" she finds in creating Christmas ornaments and gifts.
"I don't do it for the money. I do it for the kudos. Having somebody like what I make feels good," Tsudama said. "I like to please people."
She said she is irresistibly drawn to her glitter-strewn workroom whenever she wakes up at three in the morning to work on something that came to her in a dream or sudden inspiration.
Tsudama has already begun working on her Christmas ornaments for next year. On the way home from setting up her collection at Jessel Gallery, she stopped at an estate sale in search of items for upcoming creations. There, she found an old Planters Peanut tin that had been used to hold nails and screws. She bought it, giving the nails and screws to her husband and will add a tree to the old tin for an upcoming decoration.
After moving to Napa 35 years ago Tsudama, who has a background as a florist, began making crafts for shows when she found some free time in her schedule.
"I was a stay-at-home mom because my husband was a fireman with long shifts," she said. "With my son sleeping a lot I asked myself what I should do with my time."
A friend suggested making things for a holiday show. Since then, Tsudama has been creating holiday items. She likes to sew so initially she worked with fabrics.
"In those days you'd get your ideas from magazines, books and friends," Tsudama said. "Now we get ideas from Pinterest – from computers. Sometimes I do demonstrations at Jessel's but I can't now because of Covid. They are always fun to do. People like to see how I make things and how much time it takes."
Now a grandmother who watches her grandchildren for her daughter who is a nurse, Tsudama does about four shows a year and creates all year long.
She strongly believes in recycling and repurposing. By "developing a different way of looking at things" she keeps items from going into the dump.
"There's a purpose for everything," Tsudama said. "There's a second life for everything."
Tsudama tries to add something vintage to each piece she makes, whether it is from old baby shoes or vintage music sheets.
The wooden decorations in her collections are all "leftover wood," taken from a fence that fell down in the 2014 earthquake. Tsudama is reusing this wood by making something from it each year since the quake. She also uses a lot of kitchen things that she finds at thrift stores and estate sales.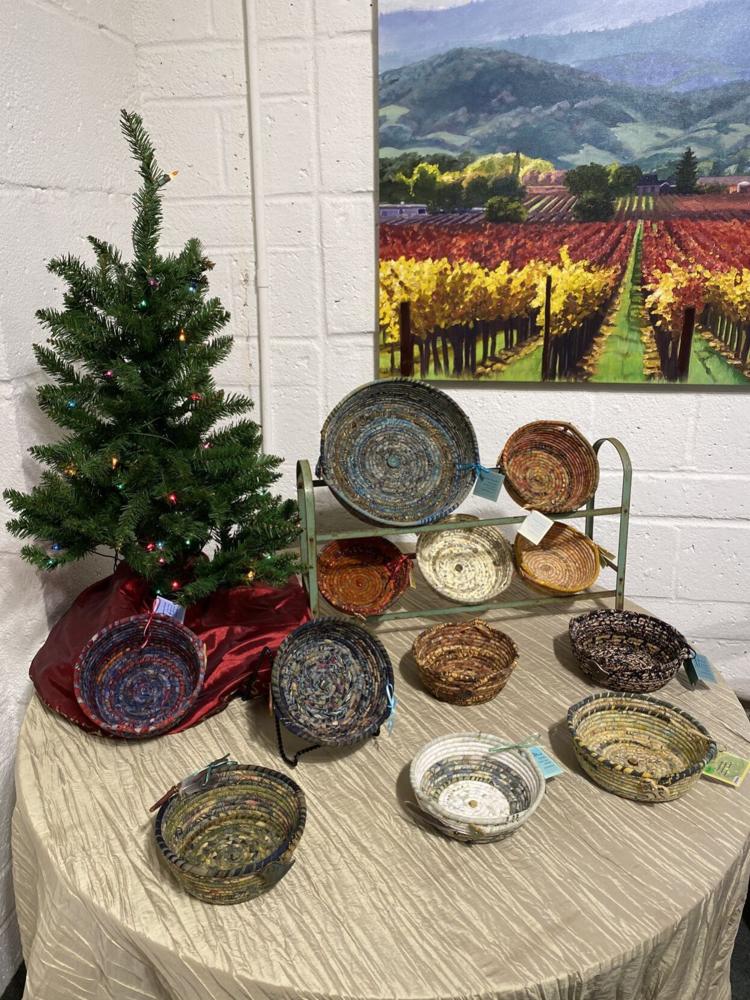 Tsudama is not the only artist to bring Christmas into the gallery for "Handmade Holiday Extravaganza 2020."
Among the other items for sale include:
— Kate Canon's beaded holiday ornaments and fused glass fish spoon rests.
— Marcia Garcia's "Common Threads" handmade baskets
— Watercolor artist Diane Pope's animals and flowers in prints and on birch wood prints, checkbook covers, card cases, pillboxes, glass plates and owl posts.
— Joy West's hand-dyed silk and rayon scarves that can also be used as table runners.
— Patti Wessman's glass art that includes antique Moroccan lanterns, Sea Fans and plates.
— Susan Shew's mixed media mobiles
— Larry Youdell's wooden boxes, with their artistic work inside, which make lovely jewelry boxes.
A little positivity
Because she believes everyone "could use a little more positivity this year," Miller is offering a number of affordable items with reproductions of her artwork. "Jessel's Jewels," petite original paintings, are also low-priced for original work.
Though some of Miller's paintings, such as her original "Face of Truth," is priced at $10,000, a print of the same painting costs only $32.
In addition to prints, she has made her paintings available on products such as masks, cards, puzzles, coffee mugs, stationery, lifestyle bags, home décor and apparel.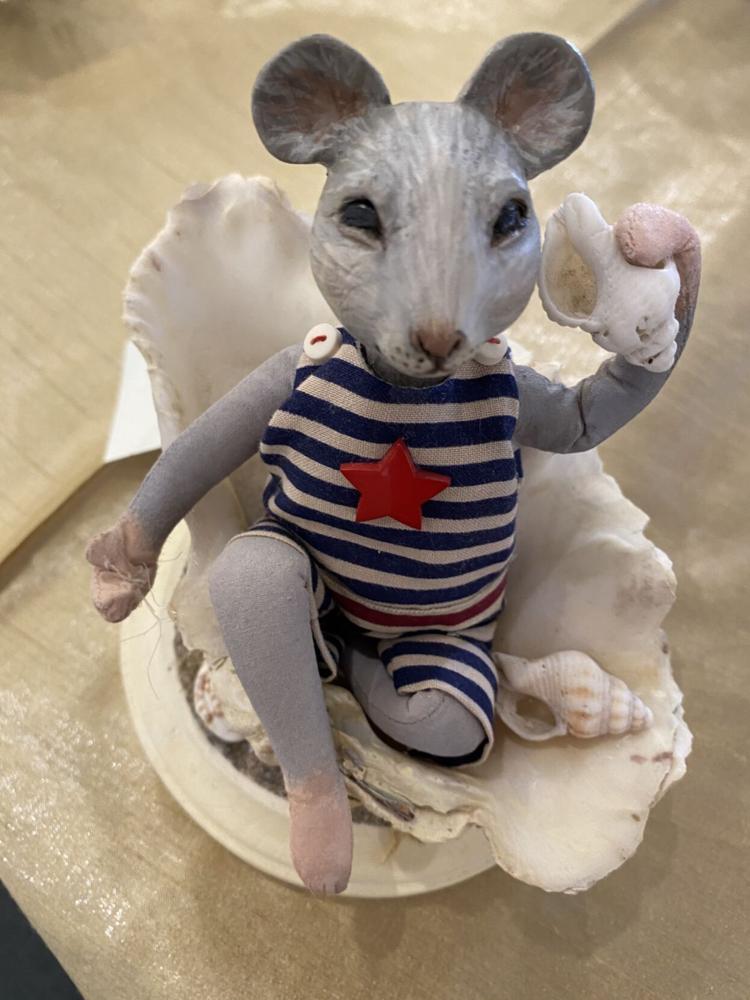 This year, in addition to the holiday collections from local artists, the gallery also has several outstanding Christmas collections assembled by art collectors, such as artist Fran Nielsen's whimsical collectibles from her mother's estate.
And as her own gift, Miller is giving anyone who spends $100 at the gallery this holiday season a complimentary set of "Jessel's Mustard Trilogy," a $50 value.
Jessel Gallery is open seven days a week from 10 a.m. to 5 p.m. at 1017 Atlas Peak Road, Napa. For more information, visit Jesselmiller.com or Jesselgallery.com, or call 707- 257-2350.
WATCH NOW: AMERICANS ARE STILL EXCITED ABOUT THE HOLIDAY SEASON
CHECK OUT NAPA VALLEY BRASS SOCIETY