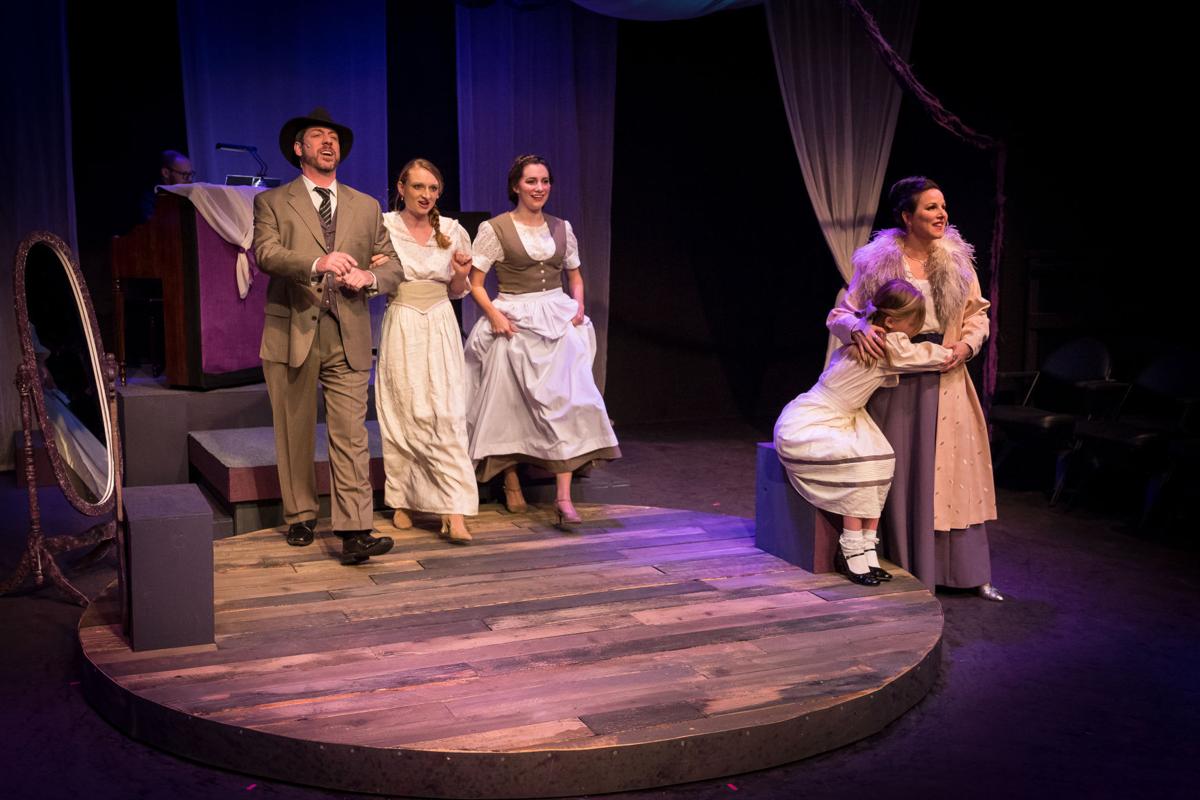 The summer night smiles three times, the aging Madame Armfeldt tells her granddaughter, Frederika. "First on the young, second on fools, and third on the old."
And there is no dearth of fools in Stephen Sondheim's "A Little Night Music," which opened last weekend at Lucky Penny in Napa. But as director James Sasser says who really has not made a fool him or herself for love? Or who would not? "We will often go to the most embarrassing lengths and put ourselves through the most ridiculous journeys for love and/or sex," he observes. "Why do we do it? Is it worth it?"
Sasser also plays Frederik Egerman who might figure as chief Fool in this study of love. A middle-aged lawyer in search of his lost youth, he has married an 18-year-old girl, Anne (Katie Motter), who only reminds him how old he is.
Anne, as he sees her, sparkles, bubbles, glows and twinkles. "She flutters, she twitters," he rhapsodizes in "You Must Meet My Wife." But here is the rub: he is singing about her to his long-lost love, actress Desiree Armfeldt (Dyan McBride).
"What is she, a bird?" Desiree responds.
Anne is not so much a bird as a bird-wit, a giggling little narcissist who does love having lots of pretty new dresses as a result of her marriage, but, after 11 months, still can't bring herself to consummate it. This is the chief reason Frederik seeks out the worldly, but compassionate, and oh-so-attractive Desiree, when she, on tour, comes to his town. (It would be wonderful if she weren't so wonderful, Frederick regrets.)
Anne is far more inclined to tease and flirt with Frederik's acutely sensitive, 19-year-old son, Henrick (Robert Francis) an impassioned divinity student, devoted to God, and suffering from lust for the attractive housemaid Petra (Brittany Law) and love for his twitty step-mother.
Nor is Desiree exempt from romantic complications. She's been filling her lonely nights with the company of the handsome, but brainless, Count Carl Magnus Malcolm (Phillip Percy Williams). And his long-suffering wife Charlotte (Jenny Veilleux) can't help loving her philandering hunky chump.
And all of these characters, wrapped in a Greek chorus of servants, converge for one night, midsummer in Sweden, at the country home of Madame Armfeldt, Desiree's mother, who has known her own share of love, or at least highly acceptable substitutes in her own long life.
Lucky Penny Theater tackled an ambitious project in staging Stephen Sondheim's musical, based on another classic, Ingmar Bergman's "Smiles of a Summer Night."
The 1974 play generally gets lavish revivals. Sasser and his cast and crew have to fit all of the antics of lovers and would-be lovers into the small space of the Lucky Penny Theater.
They do it by means of clever, theatrical sleight of hand. A superb duo of Craig Burdette on piano, and Ami Nashimoto on cello provides the accompaniment. They are center stage on an dais, and below them action takes place on and around a wooden circle that rotates when needed. A reminder, perhaps, that despite everything, the world keeps turning?
It's an elegant, effective simplicity that inspires the genuine intimacy of this production; there's not really a fourth wall because there's no room for it.
Frederik's attractive muddle and Desiree's poignant yearning for a life off of her stage take on a multi-faceted depth in this light, and these two polished actors (and wonderful singers) play off their confusion delightfully against the antics of the others.
Veilleux adroitly captures the contradictions of her love-sick countess, droll and sarcastic, world-weary and wounded; while Phillip Percy Williams, last seen at Lucky Penny in a thrilling performance as Jim in "Big River," reveals a comic savvy as the dim-witted, dueling count, and also very fetching boxers.
Katie Motter and Robert Francis, Frederik's bride and his son, make a compelling case for the notion that love is wasted on the young.
The supporting cast of singing, dancing servants is top-notch. Daniel, Quezeda, Thomas Hinesley, Kathi Brotemarkle, Amber Marsh, Jessica Gerson and (on Feb. 9) Charles Jaeger move so gracefully in and out of the set, as observers and players, they create a thread between the cast and audience. Brittany Law's solo of the "I Shall Marry the Miller's Son" is a stand-out, absolutely exquisite.
Rounding out the charm is the duo of Ellen Brooks, as the grandmother and Charlotte Kerns as her granddaughter, discussing life and love.
All in all, they provide a lot for a summer night to smile upon during these cold nights in Napa.
Stay up-to-date on what's happening
Receive the latest in local entertainment news in your inbox weekly!