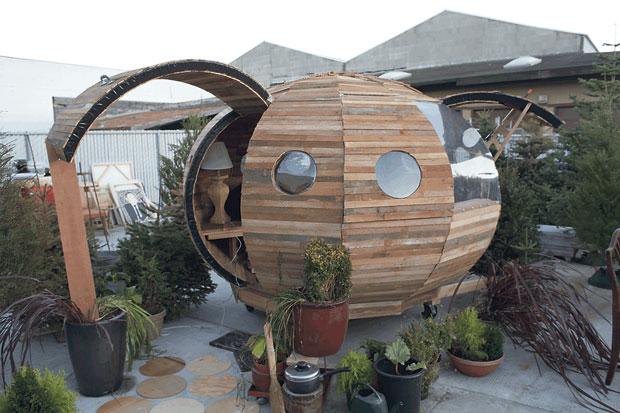 "Zombie-Proof House," a meditation on anxiety and hope in a troubled time, opens this weekend at di Rosa's Gatehouse Gallery.  
This major group exhibition, organized by di Rosa curator Robert Wuilfe, explores recent history and potential futures as they relate to collapse, political upheaval and shared responsibility. 
Taking its tongue-in-cheek title from the recent predominance of zombies in language and pop culture, the exhibition approaches seemingly insurmountable issues with a sometimes darkly humorous sensibility. 
Artists include: Anthony Discenza, HalfLifers (Torsten Z. Burns and Anthony Discenza), Suzanne Husky, Inka Hoots (Joshua Short and Joel Dean Stockdill), Packard Jennings, Robin Lasser and Adrienne Pao, Whitney Lynn, Julio Cesar Morales, Lucy Puls, and Carol Selter.  
Zombie-Proof House includes work in a range of media including sculpture, video, photography, interactive installations and a new artist-designed web project. 
While mindful of post-apocalyptic images and end-of-the-world scenarios, the exhibition also tries to expose some of the absurdity of paranoia and fear, grounding itself in the present and resuscitating the idea of hope and resistance. The artists in "Zombie-Proof House" examine the individual and shared roles in times of crisis. 
Notions of shelter, architecture, borders or fortification are central in much of the artwork in the exhibition. The artists create environments and scenarios for the viewer to reflect upon recent crises, apprehension about the future and the potential for finding a better way forward. 
They engage with science, politics, economics, activism and pop culture, providing windows onto issues that affect both individuals and society at large. From examining the personal losses of the financial crisis or questioning anti-immigrant rhetoric, to addressing the climate crisis, or providing step-by-step guides to political protest, the projects in Zombie-Proof House ask viewers to recognize that a future guided by fear is not inevitable.
Di Rosa will present a selection of video works by artists in "Zombie-Proof House" at SPAD's storefront exhibition space at 5512 San Pablo Ave. in Oakland. 
Projected onto the window of a vacant storefront, these contemporary video works will be visible every evening after dark to passersby and drivers along San Pablo Avenue. The projections will debut at a party on 
SPAD promotes art while facilitating urban development in the Golden Gate District in North Oakland. Converting abandoned storefronts in long-neglected neighborhoods into functional, alternative art galleries, SPAD confronts inner-city blight and strengthens community relations, while showcasing cutting-edge art. More information is available at their website sanpabloarts.org.