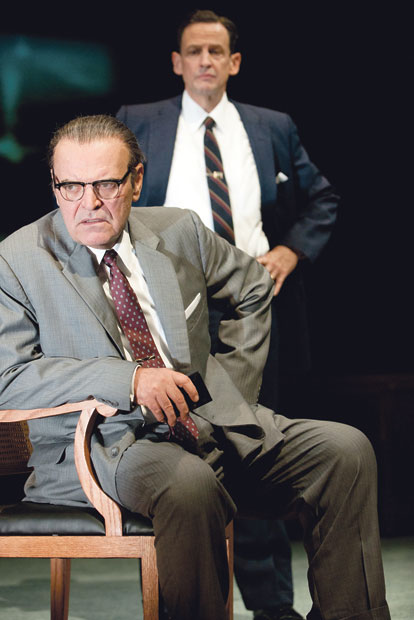 ASHLAND, Ore.— Pulitzer Prize-winning playwright Robert Schenkkan's new play, "All the Way," which focuses on Lyndon B. Johnson's first year as president, had its world premiere last weekend at the Oregon Shakespeare Festival in Ashland.
Directed by Bill Rauch, artistic director of the festival, the production is the fourth commission from American Revolutions: the United States History Cycle to premiere at the festival and the second this season.
"Robert's participation in American Revolutions was a foregone conclusion," Rauch said. "Robert has devoted his playwriting career to uncovering truths in American history, and he tells the story of how we aspire — and often fail — to live up to our ideals as a nation."
In describing the play, Schenkkan said, "This play, like so many of the history plays of Shakespeare is a meditation on power. It begins in November 1963 with LBJ's sudden ascension to the presidency following Kennedy's assassination and ends 12 months later with LBJ's historic landslide victory over Barry Goldwater. I see this period as a hinge point in American politics. Everything changes. And the modern political landscape is wrenchingly born."
In 1964, the year that LBJ is looking toward an election, he has also dedicated himself to the passage of the Civil Rights legislation that has languished in Congress, stirring the hopes, passions and fears of a country headed toward monumental change.
"All the Way" is playing in repertory at Oregon Shakespeare Festival with another American Revolutions commission, "Party People." This highly theatrical production uses music, poetry and dance to tell stories of the work and politics of the Black Panthers and Young Lords, parties that emerged in the mid to late-1960s.