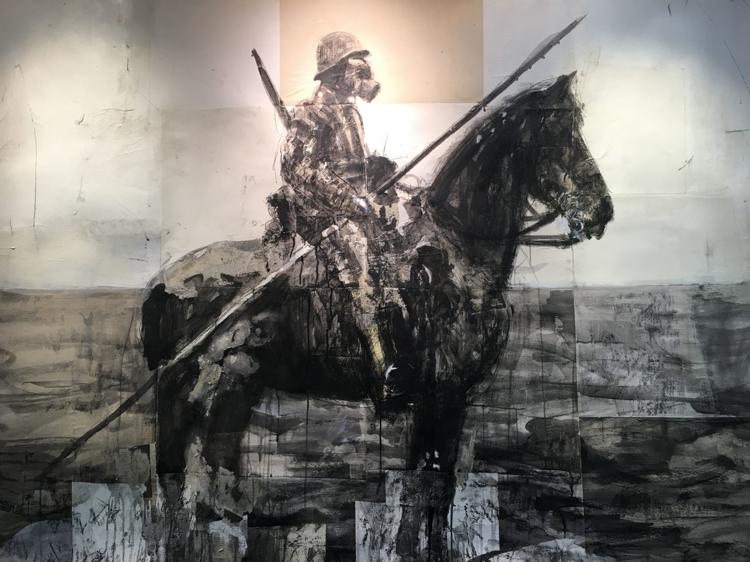 Like looking through an old photo album lovingly put together by a long deceased relative, the art on the walls of the Napa Main Library this month remind a viewer of the importance of horses and the extreme youth and vulnerability of servicemen during World War I.
Liz Stohlman's World War I Cavalry series highlights the relationship between horse and rider as they prepare to ride into battle. Together, horse and rider fall into routines that previously had been unimaginable.
One piece reveals the face of a young cavalry man as he puts on a gas mask. Other work shows cavalry men with faces completely covered by their gas masks, worn to protect both men and horses from inhaling the toxic gases that were being used after their introduction as a weapon of war in 1915, a year after the war began.
Time-lapse drawings showing Stohlman's hands working on this series can be seen on YouTube by typing Liz Stohlman WWI Cavalry series.
Stohlman, a recent graduate of CSU Sacramento, is a painter whose work includes drawing, ink and collage.
She will share her process at a wine and hors d'oeuvres reception for her exhibit on Friday, Nov. 8 from 6-7:30 p.m. An artist talk is scheduled for 6:30 p.m. Admission is free.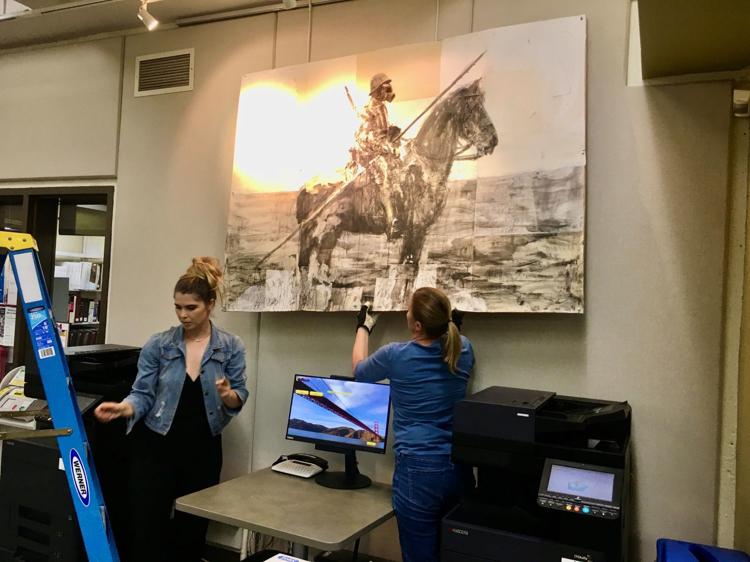 Over the weekend, as Stohlman and her mother were hanging the WWI Cavalry series in the library, they talked about her art.
"Liz started doing art as soon as she could hold a crayon," said her mother, Kim Stohlman. "She was in structured art classes from the time she was 4-years old. She sat down and totally participated."
"When she drew a picture of a stuffed animal — and I still have it in my house — her teacher said she'd never before seen a 6-year old who could foreshorten," said Kim Stohlman. Foreshortening refers to the technique of depicting an object or human body in a picture so as to produce an illusion of projection or extension in space.
For many years, her parents hired a private art teacher to come to the home to give their daughter art lessons because the Granite Bay art classes she was taking were too far away from their home in Folsom.
Stohlman, who started horseback riding lessons at age 8, expressed gratitude for the parental support and encouragement she received for her twin passions.
To this day, when she is not in the studio creating art or working for the Department of Social Services in Folsom where she grew up, she spends her time in and around the equestrian world, riding and training horses.
"Horses and art are my biggest passions. I ride horses, love horses and love art," said Stohlman, who every day rides her horse, Degas, named after the famous French Impressionist artist Edgar Degas.
You have free articles remaining.
When creating art, she is so engaged that time flies by quickly but not as fast as her "speeded up" YouTube videos, she admitted, chuckling.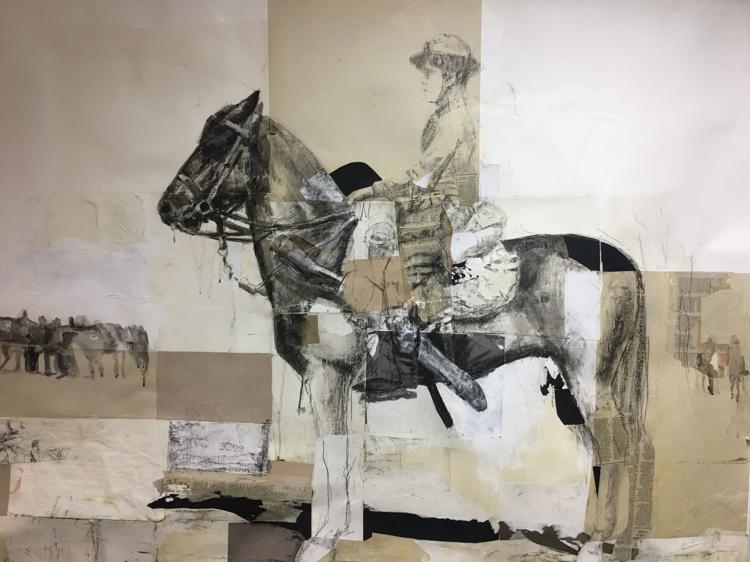 In this body of work, Stohlman has used the horse, both physically and metaphorically, as a vehicle to transport the rider to another time and location.
Since she has loved art and horses since early childhood, she said it was natural for her to "transform the image of the horse and rider into a metaphor for changes over time."
"They transport one another across an emotional journey of amassed layers," she said. The build-up of collage elements in some of her pieces suggests a "tactile accumulation and recording of time," allowing obscured forms to materialize.
"Though the theme of the series is specific to World War I, the work transcends the specific moment and shows us the loss of innocence and the process of continual transformation," she said.
Wanting to "reference a historical point in time where horses were an important form of transportation," Stohlman googled WWI Cavalry and was captivated by the black and white images she found online. Inspired by these old photos, she created her series.
"Looking at the pictures, I found them so haunting. Even if they survived the war itself, it changed the men," she said. "It was a loss of innocence. I started researching this imagery. I was really drawn to it."
Her work not only emphasizes the importance of the horse to convey military men, it emphasizes the "beautiful relationship that can be salvaged between horse and rider as they prepare to ride into the horrors of battle."
Since completing this series last year, Stohlman has moved away from images of war – but not the time period. Instead of mounted soldier she is drawing jockeys and horses from the same era.
"I haven't figured out why I'm interested in this time period," she said. "I like the black and white photos with their high contrast that I see from this era. They kind of lose some detail."
Art in the library is sponsored by Friends of the Library Foundation. The public is welcome to view the art and meet the artist who gives a talk about their work, process and inspirations.
A jury of local artists, a library commissioner and the library commissioner view all entries and make selections for the year.
The judging is blind, without identifying factors that could identify the artist.