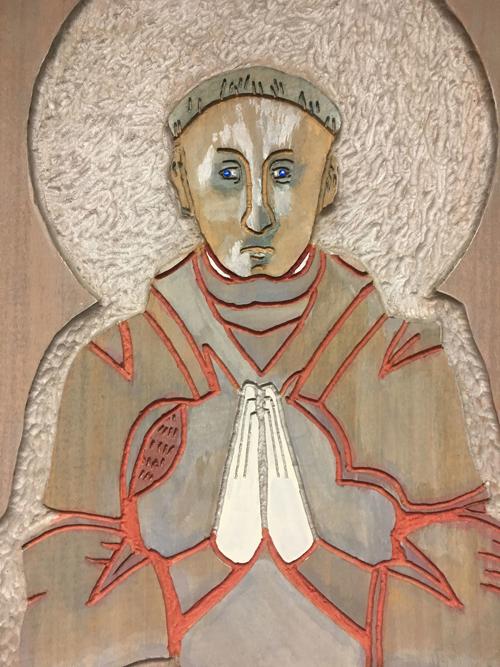 Viewing Garey Porter's art could awaken memories of browsing through travel brochures or touring European castles and churches, filled with ancient art.
Using hand tools plus a Dremel power tool on pine, Brazilian rose wood and mahogany, Porter chisels out the likeness of actual people who lived toward the end of the Crusades and throughout the Renaissance.
Porter's woodcarvings can be seen at the Napa County Library this month. A wine and hors d'oeuvres reception for the exhibit is from 6 to 7:30 p.m. on Friday, May 10. An artist's talk is scheduled for 6:30 p.m.
"History inspires me more than anything else," Porter said in the library as he was hanging his art.
Porter combines his fascination with history and his love of art to "creatively preserve history" in wood. The origins of his "unique" art form began unexpectedly in the abbeys in England.
While he was stationed at an Air Force base in England, near Cambridge, he and his wife, Diana, visited a nearby abbey.
There, on the abbey floor, they came across brass plates of historical figures. Moved by seeing the centuries-old art form of brass effigies, he and his wife, visited all the other abbeys during the two years he was stationed there.
After obtaining permission at each abbey, he used special paper to make "rubbings" from the brass plates.
"I got down on my hands and knees on the cold, cold floor — it was always freezing there – to get the rubbings."
He used a wax stick over the paper to obtain the image by rubbing.
"It is like when we were kids," he said, explaining the process. "You know how we would put a paper over a leaf and rub across it with a crayon? After doing that we'd get the image of a leaf. It's like that."
The brass effigies were made by guilds long ago. The brass was originally painted in bright colors but is worn down. The color doesn't show, and you can no longer get "rubbings" from them.
"I had never seen any of these saved to wood, so I decided to carve them," Porter said. "I call it 'monumental art from monumental brass.'"
Porter now has more than 75 papers with the images of historical figures from brass rubbings that he made nearly 50 years ago. He has made templates from these, which he uses for his wood carvings.
So far, he has made 30 wood carvings and plans to continue making more. About half of his carvings are at the library. Others have sold and some are at various museums and galleries throughout California.
He is bringing some of his "rubbed" papers to the library to show to the people who attend his art talk.
As a child growing up in the Bay Area, Porter loved art and enjoyed visits to the de Young Museum with his parents. He was thinking about going to art school. until life threw him a curve that altered his plans, as it did for many Vietnam-era veterans.
"In 1969, my draft number was 34 so I knew where I was going," he recalls. "I did not want to have to put my feet in a jungle in Vietnam, so I joined the Air Force. I was lucky, I didn't have to go there."
Instead, he was sent to a base in England, where he explored history and serendipitously obtained the rubbings that he uses for his woodcarving art.
From his home near Yosemite, Porter divides his time between his art and his grandchildren. His wife tells him he should keep track of the time he spends on his carvings. He estimates that some of his taller carvings (around 5 feet tall) take about 100 hours and sell for around $1,500.
He prefers carving on soft wood like pine. After about half an hour of carving on a hard wood, such as mahogany, he said his arms and hands begin to hurt.
"Wood is an amazing medium to work on," said Porter, who has spent much of his time over the last 10 years carving.
He laughs at the irony of his early work with wood in school.
"I didn't do well in woodshop in high school. I had to make a box that didn't turn out well. I failed woodshop," he said shaking his head, unable to contain his laughter.
Before applying stain, India ink and acrylic, Porter completes carving the entire body of the historical figure. If he doesn't like the way it looks, he can sand it out but that is difficult.
Though he couldn't go to art school, he has read many books on art and artists.
"That's (reading books) how I came to do the faces because a flat face, as you get from a brass rubbing, has no dimensions to it," he said.
"If you look at her face," he continued, pointing to one of his pieces, "her eyes will follow you from left to right. She watches you wherever you go. I took the idea on how to make the eyes do that from one of my art books."
His figure of Georges De Niverlee, circa 1262, now at the library, is on loan from California Council of the Blind in Sacramento.
"I did an art show for the blind and visually impaired," he said. "I encouraged people to feel the art and touch it."
Porter guided the hands of a blind girl across the head and torso of the woodcarving so she could feel the image. He said he will never forget the look on her face as she felt the art or the grateful tears in her eyes.
"People who purchase these have a piece of history. It is unique from any other art form," he said. "You can look up every one of these people.
Among his historical subjects are William Shakespeare and other "significant historical figures."
One of the characters he finds most interesting is Sir Thomas Boleyn, the father of Queen Anne Boleyn, who was beheaded by her husband, King Henry Vlll.
"There have been plenty of times I've asked myself why am I doing this? The answer is I want to set an example for my kids and grandchildren," he said. "If you've got a dream, don't give up on it. I don't want them to give up their dreams.