Far above the grass-covered landscape, dotted with a few homes, a girl is suspended in the sky on a swing held by a cloud in "Dare To Dream Big." This oil on canvas by Frank Trozzo is one of 25 of his paintings currently on exhibit at the Napa Library.
In "Winging It," Trozzo has caught Greek mythology's Icarus, wearing wings, midleap over water.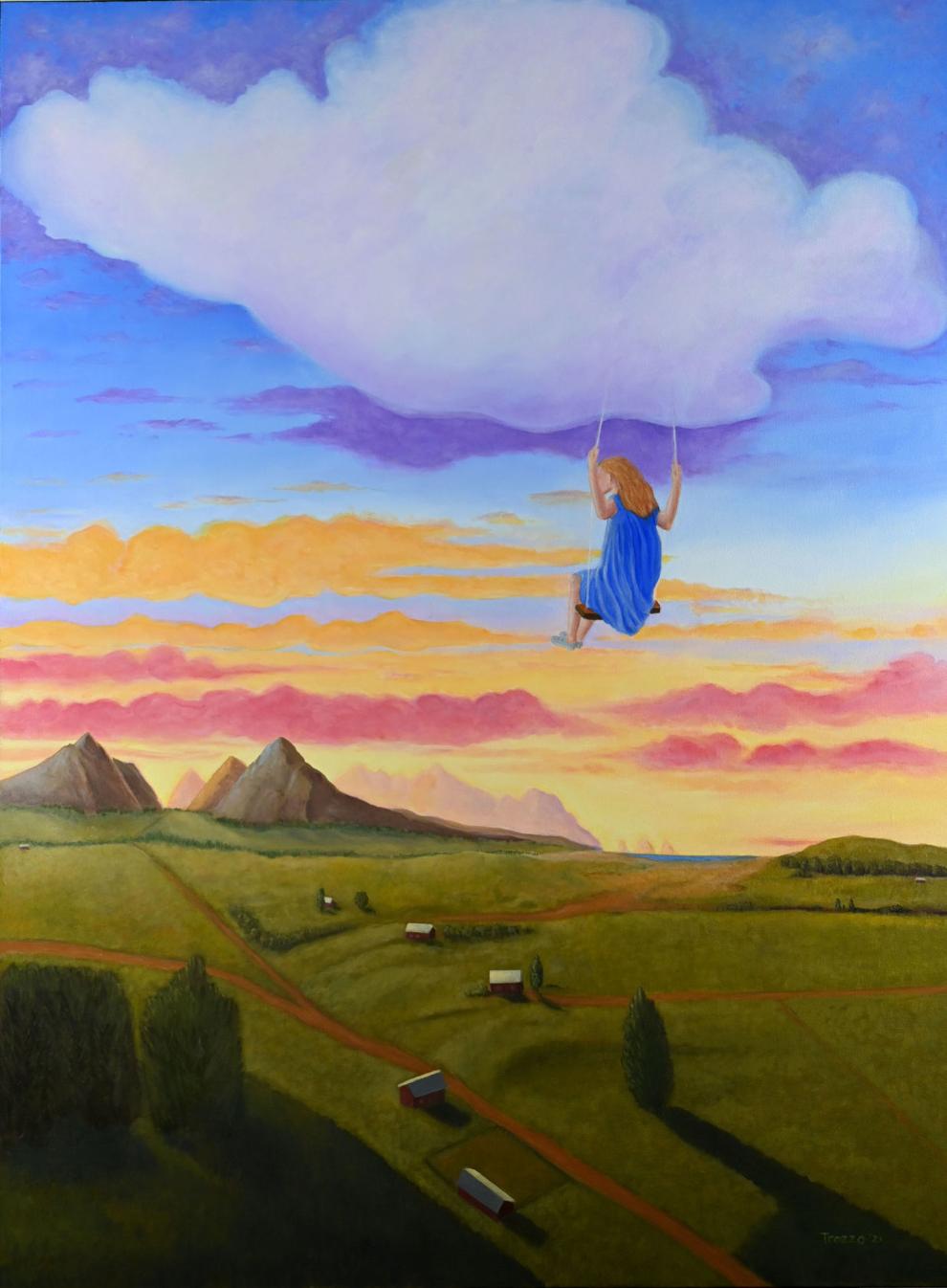 Of the 25 paintings in this exhibit, 19 are new and three have never been seen before, Trozzo said last week during an interview in the now-open library. This show includes paintings from his "Color of Music" series and his wildlife series as well as his metaphysical paintings.
"Art is what makes us human," Trozzo said. "It affects our emotions. It connects us to one another. It connects us to our history. It connects us with the divine. No other animal on the planet makes artworks or has any use for them."
Trozzo will be giving an art talk via zoom Friday, March 12, at 6:30 p.m.
Support local news coverage and the people who report it by subscribing to the Napa Valley Register.
"I'll be live talking about my work, my inspirations and methods," Trozzo said. "So, I'm inviting everyone to sit back with a beverage of their choice and join me."
Trozzo is an award-winning symbolist painter who uses myths, metaphors and archetypes. His subjects are often animals, figures, symbols and geometry.
"I'm inspired by nature and wildlife, historical beliefs and our inner nature," Trozzo said. "I believe there is a divine spark in all of us and I try to bring that out in my paintings."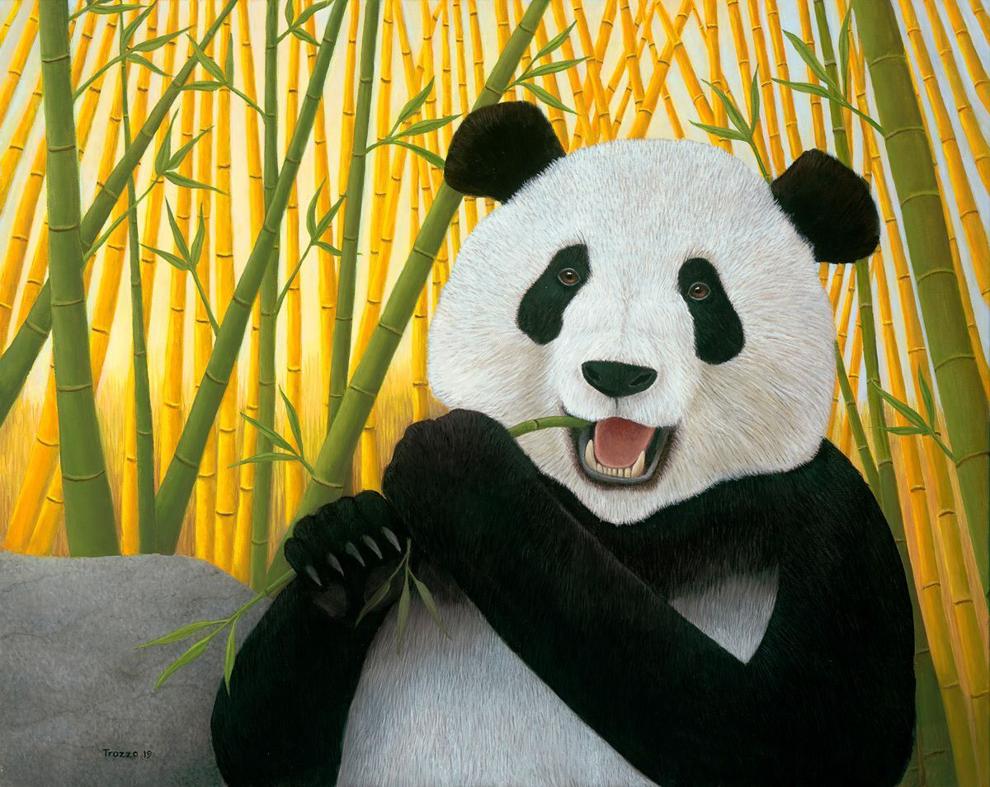 Trozzo's artistic talent was recognized by his parents early in life. Born and raised in Washington, DC, he began drawing and painting at a young age.
"As a child, I would sit and draw for hours," he said.
He received his bachelor of arts degree in art and education from Virginia Wesleyan College and did further studies in metalwork, sculpture and jewelry at the University of Maryland, California College of Arts and Crafts and the Fachhochshule fur Gestaltung in Schwabish Gmund, Germany.
When he came back from Germany, Trozzo opened jewelry stores in San Francisco and made custom designs in gold and platinum for his clientele throughout the 1980s.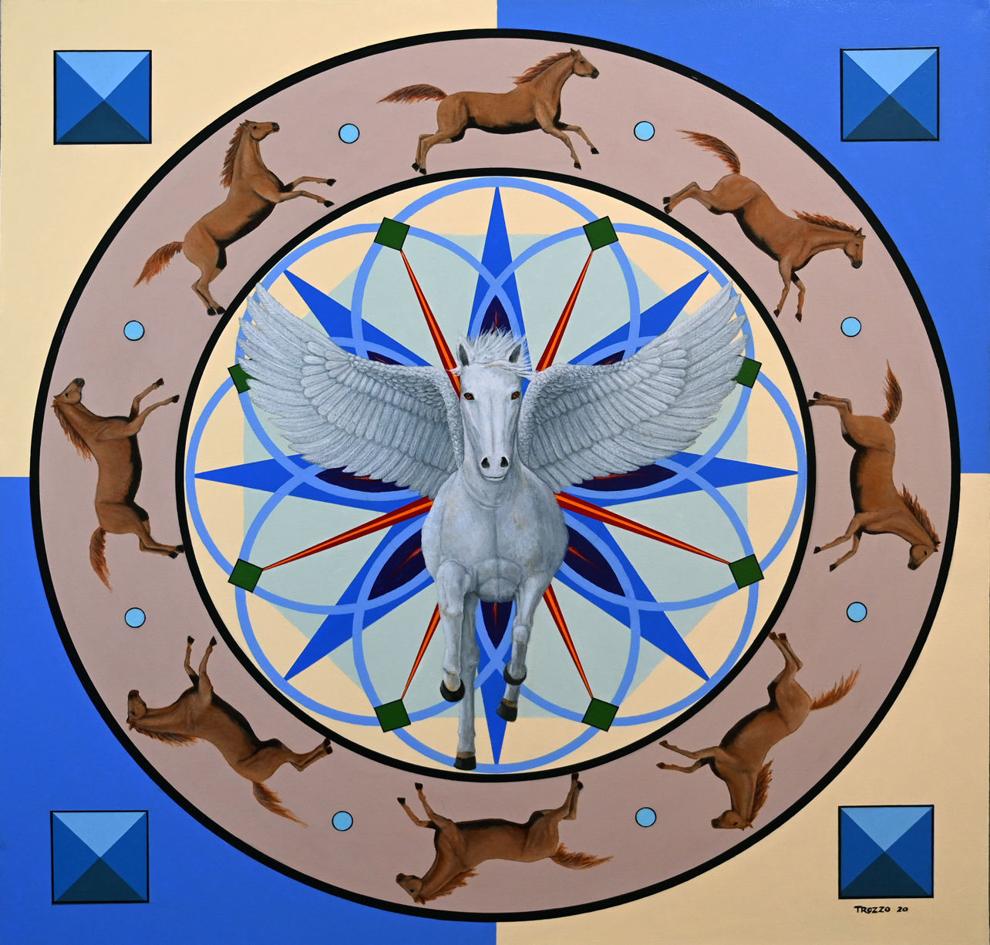 "Sculpture and jewelry have similar processes and I was able to sell all the jewelry I made," Trozzo said.
Trozzo later got into computers, multimedia and digital design as well as real estate and became a broker, which ultimately led him to Napa. Business was good for him yet the longing to pursue art full time never disappeared.
It wasn't until 2014, when he had a near-death experience, that Trozzo realized what he "was here to do." Since then, art has been a daily "practice" for him.
"When I'm not painting I do more automatic drawing," he said. "That's where I quiet my mind and let the pencil just roam by itself. It's freedom of expression.
What advice would he give to young artists?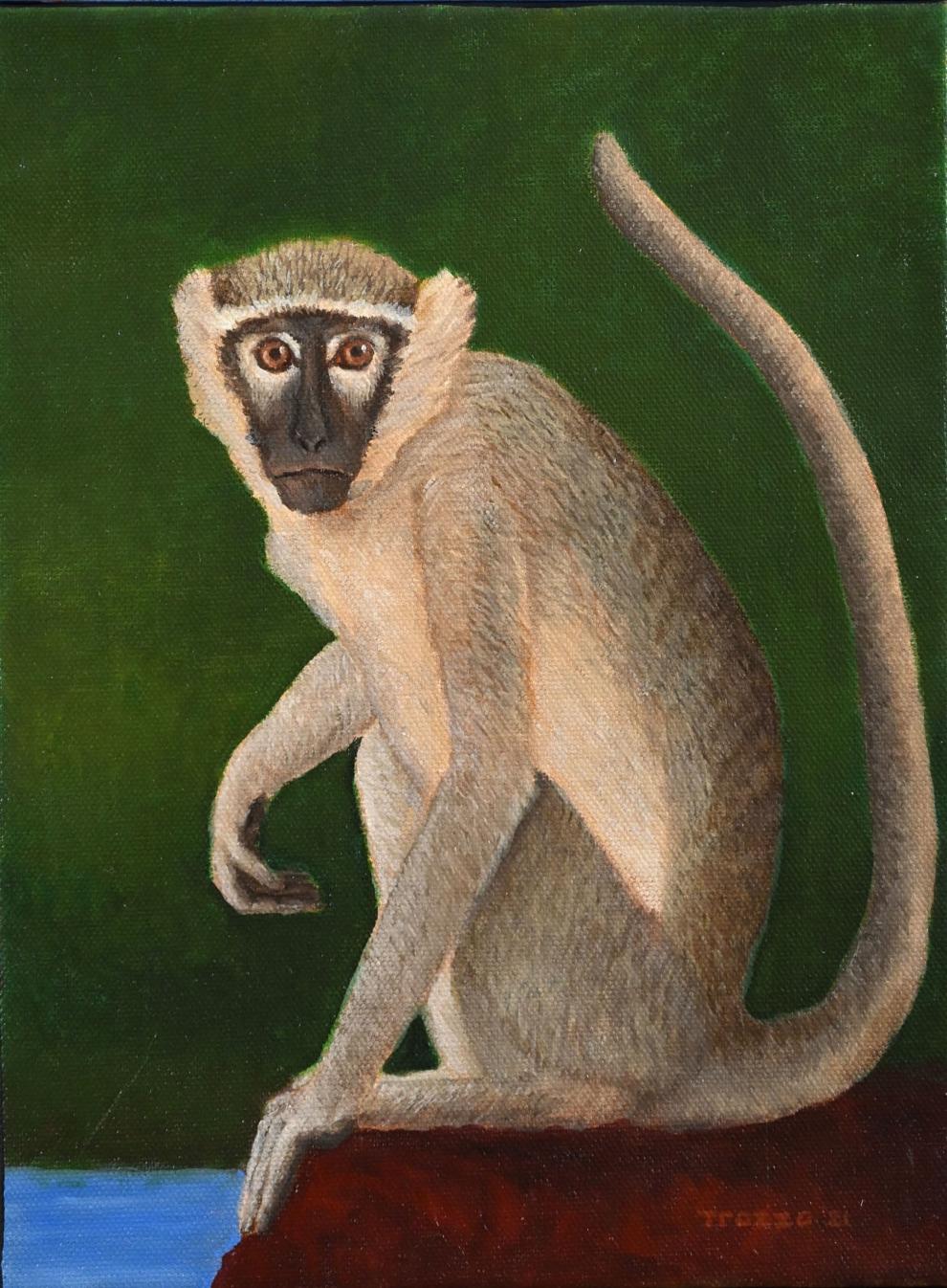 "Believe in yourself. Follow your own heart. Do the work. Don't let anyone stop you. You will be frustrated by the struggle, but the energy and the joy you get from the process is beyond measure. You will make many mistakes along the way, but in the end, you will produce a masterpiece. That masterpiece is you," Trozzo said.
His emphasis these days in is in getting his artwork out because he has "so many ideas and not enough time."
He is "beginning to loosen" his style. Although the art is still the same, he can delve deeper into it.
"What is more important to me now is the image, not the technique," he said. "I can get a lot more done quickly if I don't fuss over it."
One wall of the library is lined with his acrylic series "The Color of Music" with each painting being a musical statement. Each painting is a mix of grey, white and black that is punctuated with small images in a bright color.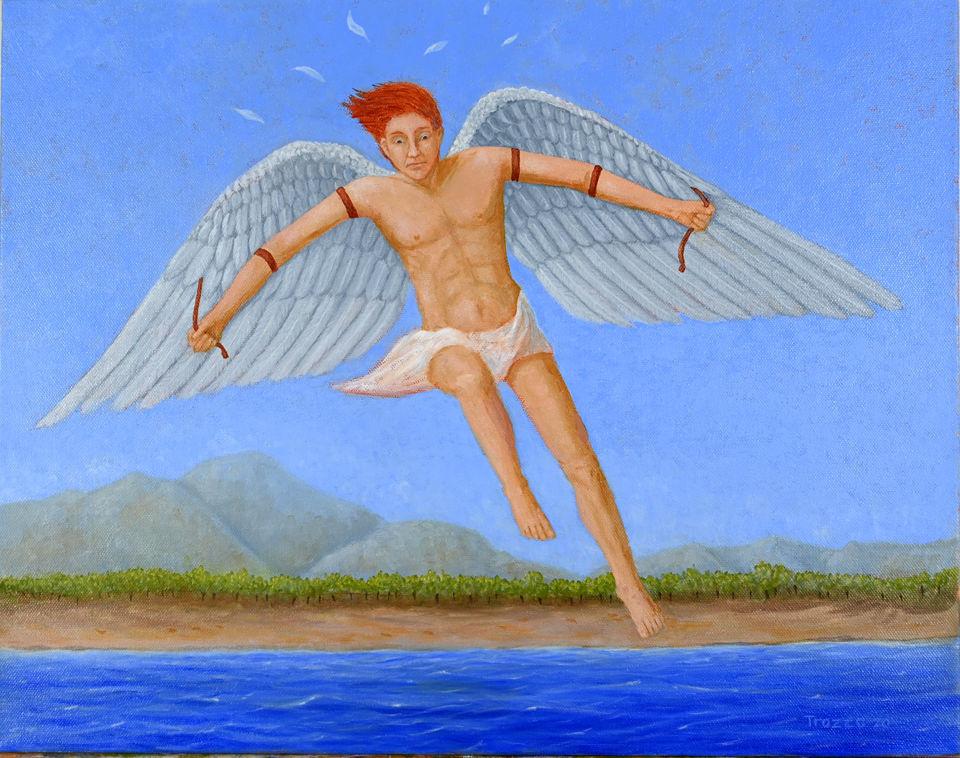 Red butterflies flutter up from the silhouette of a musician playing the violin in one. Tiny birds circle above a grand piano as the pianist plays in another. Cherubs spring from the mouth of his daughter as she sings.
"These are new. I just finished them in February," Trozzo said.
A richly detailed painting of an African monkey is titled "V is for Vervet Monkey." It's a sample of his alphabet animal paintings in this show.
Teachers are hounding Trozzo to put these beautiful paintings into book form for kindergarten children. He said that the reason he started the animal alphabet series was to get a show in the library.
"My wife will never let me sell that one. It's her favorite," Trozzo said, pointing to an exquisite painting titled 'P is for Panda.'
As we came to the painting of "M is for Monkey," Trozzo revealed that the soulful-eyed monkey climbing a tree in the painting is based on the monkey that he was given when he was 10 years old.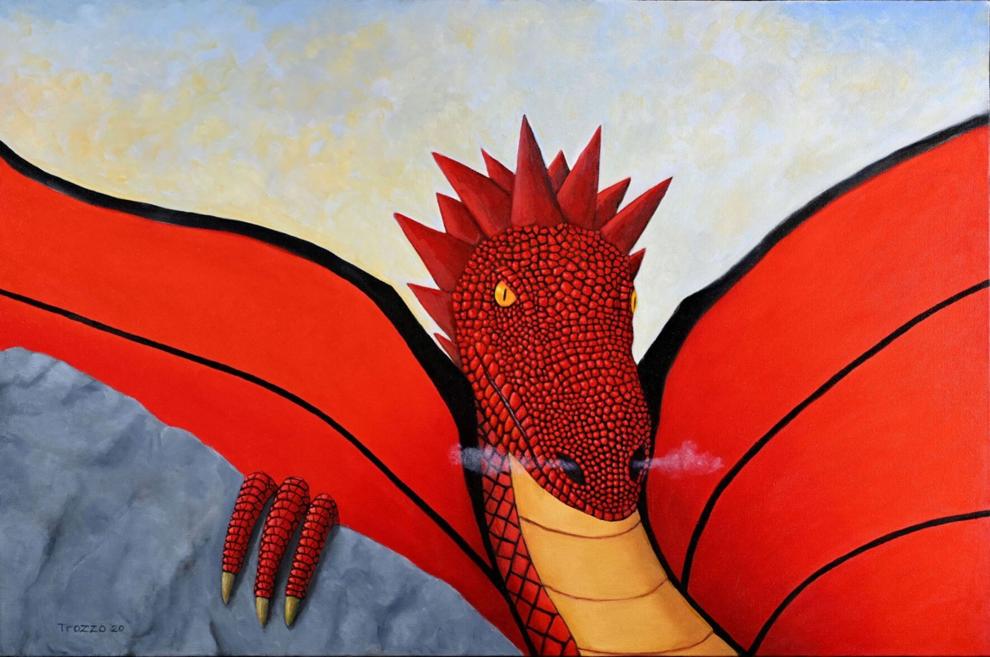 "He (the monkey) was so sweet, he'd sit on your head and groom you," Trozzo recalled, fondly.
For 10 years his pet monkey accompanied Trozzo almost everywhere but when he went away to college, he couldn't take his monkey with him and "sadly the monkey became mean" afterward in his absence.
A self-portrait of Trozzo in this show is titled "In the Time of Covid."
What were his biggest challenges during this time?
"Trying to stay focused and away from the madness of the times," Trozzo replied. "You can become numbed by watching the news over and over and miss out on the important things in life. You forget to take care of yourself and others."
After his solo art exhibition in the library this month, Trozzo may take a brief rest but he will soon be busy painting for upcoming art shows in Napa.
"We are going to have a pop-up art show just like the one we had in October on May 1, 2021, just in time for Mother's day, and we are holding the Open Studios event the last two weekends in September," he said.
CHECK OUT THE ARTWORK OF FRANK TROZZO
WATCH NOW: FIRE SURVIVOR OPENS NAPA ART GALLERY
Catch up on Napa County's top news stories