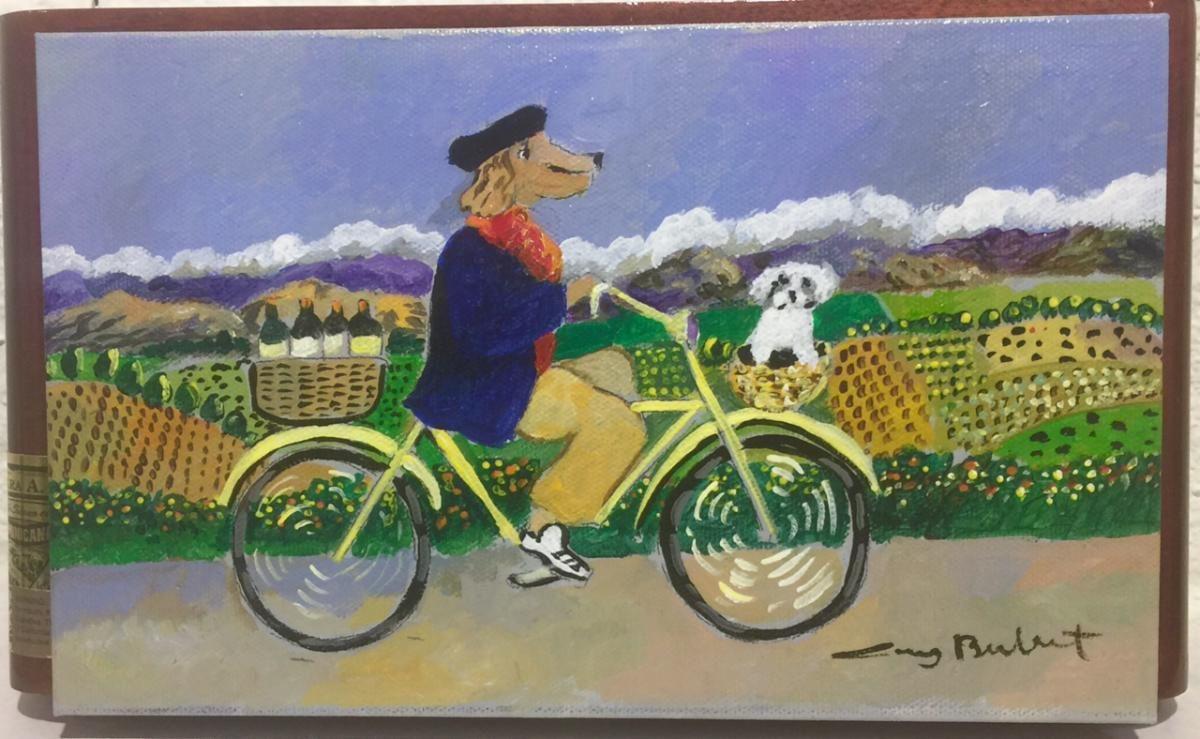 Join a Zoomfari
Safari West Preserve joins with St. Helena's Cameo Cinema at 10 a.m. on May 23 for a "Zoomfari" digital adventure.
Meet the Preserve's resident giraffes, as Cathy Buck, the Cameo's owner and creative director, hosts this unscripted and unpredictable safari adventure via Zoom. Safari West's Alex Coburn will be the "Zoomfari" guide and take questions live from the Preserve.
This online event will be paired with a screening of "The Woman Who Loves Giraffes," part of the Cameo's popular Science on Screen Series. This documentary follows Dr. Anne Innis Dagg as she retraces her groundbreaking 1956 journey to study giraffes in the wild. At 87, Dagg remains passionate, funny and modest and is the heart of this movie, rated 100% Fresh by Rotten Tomatoes.
Because of the current shelter-at-home directive, the movie is only available on the Cameo's On Demand Cinema platform from May 23 to May 25.
Student winners
Festival Napa Valley awarded $1,000 scholarships to the winners of its Four Seasons of Napa Valley Poetry Competition. The contest, open to all Napa County high school students, challenged young poets to write a sonnet about one of the four seasons of Napa Valley as inspired by composer Antonin Vivaldi's "The Four Seasons." In total, 86 poems were submitted by 75 students from six Napa County high schools.
The winning poems, one per season, received the highest cumulative score by a panel of judges. The jurors included Napa County Superintendent of Schools Barbara Nemko, Far Niente Vice President of Marketing Mary Grace, and Arts Council Napa Valley Education Alliance Coordinator Karen Provenza. The winners were announced live via Zoom.
Festival Napa Valley's Four Seasons of Napa Valley scholarship recipients are:
Spring: Annabel Elmore, Grade 12, from Justin-Siena High School
Summer: Rosalie Llave, Grade 12, from American Canyon High School
Fall: Ava Moreci, Grade 11, from Napa High School
Winter: Claire Sullivan, Grade 12, from Justin-Siena High School
The winning poems will be read at Far Niente Winery during Festival Napa Valley's 15th anniversary season in July 2021. The poems are available on the Festival's website at festivalnapavalley.org/poetry.
"We congratulate all the students who submitted their original work. The quality of the poems made the judging highly competitive," said Rick Walker, Festival Napa Valley president and CEO. "To tell the story of Napa Valley through the lens of these students' poems is remarkable. We will be honored to bring their poetry to life accompanied by Vivaldi's 'Four Seasons,' one of the most beloved works of music of all time, and are proud to support the literary talent of our community's youth."
Music in the Vineyards goes virtual
Music in the Vineyards has decided to develop a free, 2020 Virtual Festival as they postpone this year's in person-concerts that they had planned for their 26th season of chamber music, presented throughout Napa Valley. According to a message from the board and artistic directors, Daria and Michael Adams, they "are planning fresh, creative ways of connecting you to the unique MITV experience you've grown to love ... including program introductions and music commentaries from Michael and Daria Adams, as well as visual connections to winery venues. Each program will be shown in a digital format on our regularly-scheduled concert days."
The virtual programming will allow them to goal of online audiences high-quality music while retaining staff and providing musicians "with desperately-needed compensation.
Jessel Gallery online auction
Napa's Jessel Gallery continues its online auctions of works of art. This session features whimsical "cigar box art" painted by a variety of artists. Works include Guy Buffet's charming dog pedaling a bicycle through Napa Valley (starting at $475), Beverly Wilson's luminous "Autumn Lights" (starting at $275) and Laura Regan's "Matilda," a koala, starting at $250.
The auction is helping artist Jessel Miller pay the rent for the Atlas Peak Road gallery, where she has worked and shown the work of local, national and international artists for 35 years.
The auction runs through Friday, May 22. To bid on a box, go to the Jessel Gallery online auction, at jesselgallery.com
Live on the Lawn begins in July
The Meritage Resort and Spa and its neighboring property Vista Collina Resort will launch a weekly Live on The Lawn outdoor community gathering, taking place every Friday, Saturday and Sunday beginning on the Fourth of July weekend Friday, July 3, and running through Labor Day weekend Sept. 7.
Live on The Lawn will feature live music, a gourmet food truck, a cocktail bar and wine tastings.
It will feature n-site, al fresco dining at Olive & Hay Restaurant and Fivetown Grocery, wine tastings at on-site tasting rooms including Trinitas Cellars, Foley Family Wines, Jayson by Pahlmeyer and Luna Vineyards, as well as the microbrewery Napa Smith Brewery.
Lawn games such as corn hole and life-size Jenga will be provided.
Live on The Lawn will take place 4 to 8 p.m., with live music performances from 5 to 7 p.m.
Meritage Resort and Vista Collina Resort are working closely with the Napa County and California State authorities to adhere to strict social distancing and sanitization protocols for Live on The Lawn gatherings. Guests are welcome to bring their own picnic blanket, utensils, glassware, etc., but no outside food and beverage is permitted.
Open Studios cancelled for 2020
Open Studios Napa Valley has been canceled for September, according to Frank Trozzo, co-chair of the 2020 Open Studios steering committee.
"They decided this was the wisest thing to do since it is uncertain whether the situation would be under control by September," Trozzo said. "We want to keep our members and patrons safe, and no one wants to catch this illness."
The Open Studios Steering Committee will continue to meet on a monthly basis to assess the situation and brainstorm ways of promoting art in the valley.
"If the situation improves, we may attempt to organize a modified show/sale for later in the year," Trozzo said. "We talked about doing a show in May 2021 since many artists felt positive about it. We will continue to explore this possibility. There was not much support for an online event, so we will not be pursuing that further."
Stay up-to-date on what's happening
Receive the latest in local entertainment news in your inbox weekly!