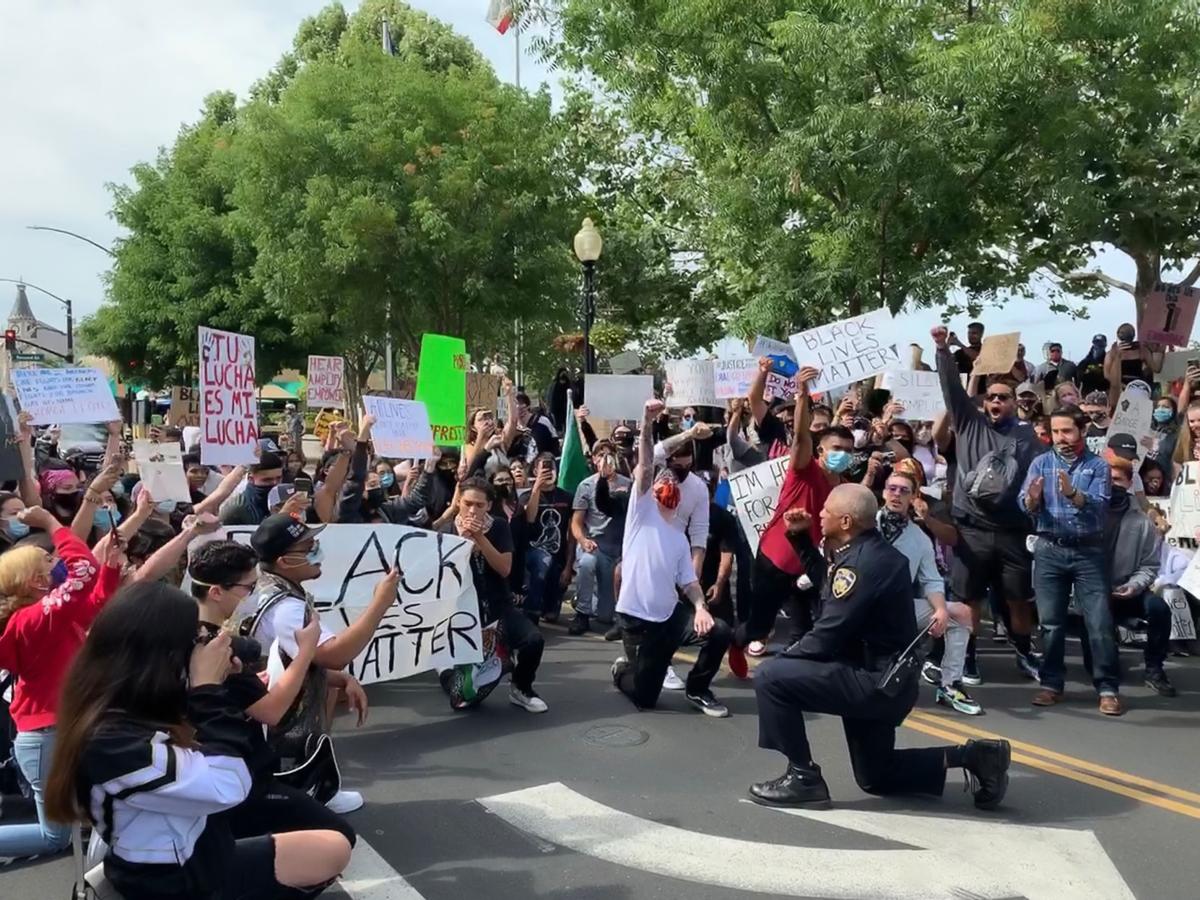 On May 31, Napa photographer Shelly Hanan snapped a shot of Napa Chief of Police Robert Plummer kneeling in solidarity with Black Lives Matter protesters in Napa.
Now, her photograph has been selected to be part of an upcoming show at the de Young Museum in San Francisco.
Hanan's photo was chosen from 11,518 artworks spanning painting, drawing, print-making, digital art, photography, sculpture, fiber art and video that were submitted by artists for the show.
After being evaluated by curators and artist judges Hung Liu, Mildred Howard and Enrique Chagoya, 881 works created by 763 artists were selected.
"I am really gratified that this moment of coming together in our local community will be part of The de Young's exhibit," Hanan said.
Napa Valley Writers presents 'Story vs. Reality'
Adam Smyer, author of the critically claimed novel, "Knucklehead," will talk about the blurred lines of reality versus story telling at the upcoming Napa Valley Writers meeting on Sept. 9, from 7-9 p.m. via Zoom.
Smyer realized early that it is not enough to write reality laced with fiction if there are not "hooks" to make the reader connect with your words. Gradually, he came to think of these hooks as the difference between reality and story. Ideally, participants in this talk will leave with one new technique for making truth as engaging as fiction.
Juanita Martin, Fairfield's first poet laureate, is September's member reader. Martin was a longtime member of Redwood Writers, 2007-2017, and is a member of Napa Valley Writers, Benicia Writers Salon, Ina Coolbrith Circle, and Benicia First Tuesday Poets. Her book, "The Lighthouse Beckons," was accepted in Solano County Library. Her poetry appears in Blue Collar Review, SoMa Literary Review, Rattlesnake Review, and others. She contributed non-fiction to Sonoma Discoveries Magazine. When she is not writing or volunteering, Martin reads on Vallejo Ozcat radio's ARTbeat or with Benicia First Tuesday Poets. Her website is www.jmartinpoetwriter.com.
A shelter-in-place arts archive
The Arts Council Napa Valley (ACNV) is compiling a historical archive of artwork from adults created while sheltering-in-place. The virtual gallery. featuring work from professional artists across Napa County, can be viewed on Instagram at instagram.com/acnvgallery/.
Artists, both visual and performing, are encouraged to submit work using a simple online form. ACNV will continue to add work until all restrictions are lifted for professional artists.
"During this unprecedented time in history, it's important to recognize and preserve the work born from its challenges, representing the change to all of our daily lives," said ACNV Executive Director Chris DeNatale.
The pieces cover many different themes, styles, and media to show the diversity of what art means to our community during such a difficult time, DeNatale added. "We hope that this gallery will serve as a platform for Napa County community members to share creativity, process current events, and later reflect upon the past through the eyes of local artists."
San Francisco Ballet cancels the 2020 'Nutcracker'
San Francisco Ballet has canceled the live performances of "The Nutcracker" in 2020. The decision comes in the wake of restrictions posed by the COVID-19 pandemic and closure of the San Francisco War Memorial and Performing Arts Center through Dec. 31.
"Nutcracker is a tradition that I look forward to each year," said Artistic Director and Principal Choreographer Helgi Tomasson. "It brings out the child in every one of us, and for me personally it brings me back to my childhood in Iceland, where the singing, music, and games each holiday season are still vivid in my mind. Even though we will not be able to experience 'Nutcracker' in person this year due to the health crisis, I know San Francisco Ballet will be a part of the Bay Area's holiday tradition, maybe digitally or through other creative avenues. Perhaps all of this will make our reunion next year all the more special."
Executive Director Kelly Tweeddale added, "San Francisco Ballet experienced a record number of people — over one and a half million — streaming and accessing content as part of the SF Ballet @ Home platform created shortly after the San Francisco shelter-in-place order closed our performance venue. We are exploring options and working with our artists and our digital archives to see what might be possible. Being able to continue the Nutcracker tradition, especially in a digital environment, would be an apt reflection of our community."
San Francisco Ballet presented America's first complete performance of "Nutcracker" in 1944. Today, more than 75,000 people see performances each year.
The ballet is inviting the public to participate in a survey to share thoughts and ideas on how to continue the tradition of "Nutcracker" this year. Patrons are encouraged to visit the San Francisco Ballet website, sign up for E-news, follow it on social media, or contact ticket and patron services at tickets@sfballet.org. More information regarding plans for digital offerings of "Nutcracker" and virtual events in December 2020 will be shared as they become available.
Cinnabar launches virtual theater
Over the past few months, Cinnabar Theater actors, staff and crew have been preparing for introducing their all-new streaming theater experience.
First up is "The Lady with All the Answers," streaming on select dates between Sept. 18 through Oct. 4 with 2 p.m. matinees and 7:30 p.m. evening shows.
"It's a one-woman play about Ann Landers written by David Rambo," said Executive Director Diane Dragone. "Many people still remember her and her beloved column. Her real name was Eppie Lederer. A Midwestern woman whose advice was read by devoted fans in more than 1,000 papers across the country, Lederer spent half a century speaking out and giving advice to readers on issues previously only whispered about in public; topics ranging from sexual bondage to homosexuality to how to properly hang toilet paper."
The play is set in 1975 as Lederer, separated from her husband of 36 years, is struggling to write a particularly personal column in her posh apartment. As she tries to find the words to address her readers, she flips through old clippings and shares them with the audience, essentially presenting an annotated version of Ann Landers' greatest hits. She takes phone calls from daughter Margo, her estranged husband, Jules, and her sister "Popo" whom the rest of the world knew better as "Dear Abby." The show is full of timely, fun facts that charm and inform the audience, much the way Ann Landers did in her day.
Last month, Cinnabar Theater released their first virtual production, CinnaTriv Theater Game Show, a 30-minute Jeopardy-style game show.
Cinnabar is filming the performance of "The Lady with All the Answers" and will sell tickets to the virtual event that begins Sept. 18. Ticket sales will offset ongoing expenses and support the actors, directors, set designers, lighting designers, stage managers and videographers involved in the production.
"During these uncertain times, it's important to keep local theater and the arts alive," Dagone said. "These virtual performances require the same production efforts and cost as their live counterparts. We hope our patrons and the community will discover the same value, joy and entertainment in our virtual productions that we do in creating them. Theater allows us to escape for a time and encourages us to laugh, listen and be connected, even if we can't be together in person."
For more information on the schedule of shows and how to subscribe for viewing, visit the Cinnabar Theater website at cinnabartheater.org.
A new year ahead, at last
A memo from the Contemporary Jewish Museum (The CJM) in San Francisco notes, "As the Jewish New Year 5781 approaches, it is a fitting time to reflect on the past year (and oy vey—what a year!) and to consider how we can infuse joyfulness into what's to come. It is a time to pause for a spiritual reset, for a fresh start."
The CJM is considering the weight parents and caregivers carry as they work and teach from home. They write, "We are eager to provide you with more resources and activities to help share the load — plus a few special treats to lift your families' spirits and to help sweeten this unusual time."
On Sunday, Sept. 27, they will bring their popular Family ArtBash Sundays into homes virtually, including a live art-making session led by The CJM's educators. They will provide art kits filled with creative project supplies for little ones. These are available for pick up on Friday, Sept. 25.
With the advent of the Jewish High Holidays, they will be offering programs that explore themes of spiritual spaces and wonder. Their Sunday Stories series explores Mark Rothko and the Art of Transcendence, and feature stories about architects and artists whose works lift the spirit, while their exhibit, "Predicting the Past: Zohar Studios, The Lost Years," features the photography of Stephen Berkman.
The Contemporary Jewish Museum is at 736 Mission St., San Francisco. For more information, visit thecjm.org.
Watch now: Transcendence Theatre Company's 'I Hope You Dance'