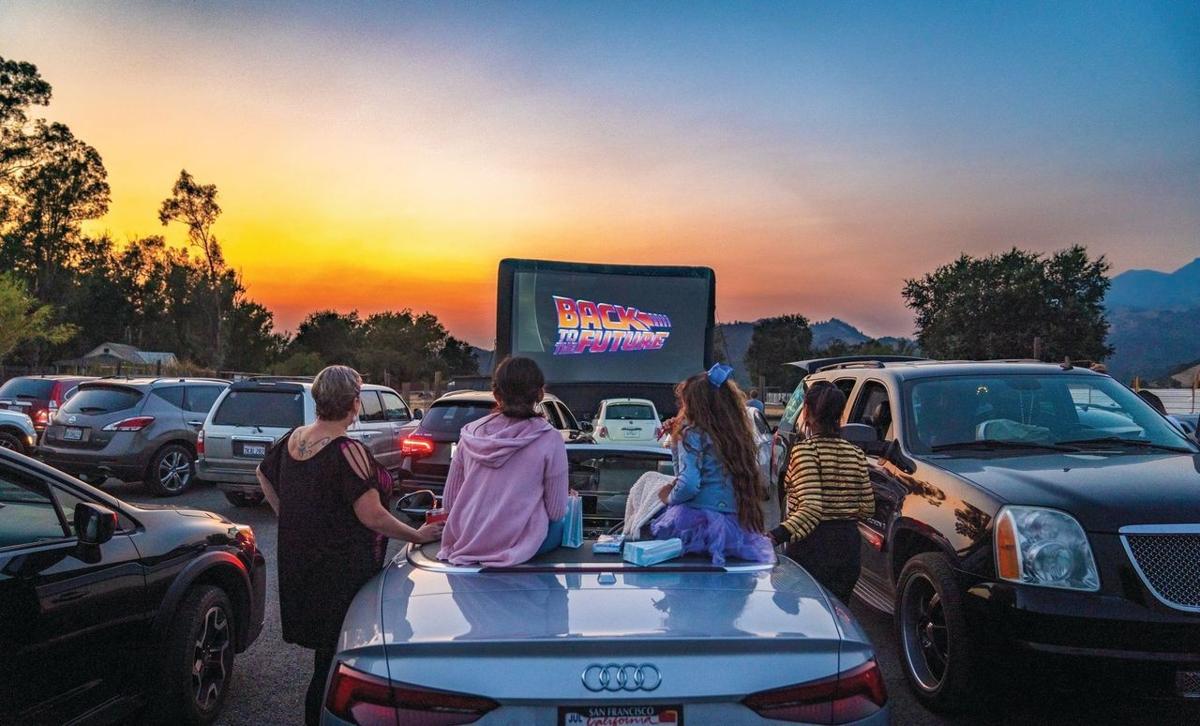 Cameo Cinema Drive-In at Krug 
St. Helena's  Cameo Cinema will stage drive-in movies, using their 30-foot outdoor Airscreen, at Charles Krug Winery, beginning on May 5.
 "We will maintain social-distancing practices as well as masking protocols for our guests," said Cameo Cinema owner Cathy Buck.
Support local news coverage and the people who report it by subscribing to the Napa Valley Register.
Cameo Cinema's Drive-In at Charles Krug Winery begins at 8:15 p.m. Tickets are $40 per car and must be purchased in advance. Popcorn will be available but must be ordered in advance as well, with ticket purchase.
The series begins with "Casino Royale" on May 5, followed by "Stardust" on May 12 and "Dirty Dancing" on May 19. 
The series will continue through the summer.
Before each screening, Charles Krug Winery will host a happy hour at 6:30 p.m. Signature Charles Krug wines and charcuterie will be available for purchase on-site to be enjoyed in the picnic area. Seating is limited so bring blankets or lawn chairs is encouraged. No outside food or drink is allowed at the winery or picnic area. However, you may bring food and drink to consume in your car during the movies. Alcohol is not permitted in the drive-in parking area.
Three meal options will be available for pre-order from Tre Posti. Meals will be themed for each film and will only be available for purchase prior to each event.
Napa Valley Writers invites submissions
Napa Valley Writers (NVW) is inviting submissions for original, unpublished works in fiction, poetry, and creative writing.
The club is currently offering a membership special. Persons submitting to the club's 2021 anthology who are not current club members, need not join for the current year but must pay next year's (July 2021-June 2022) dues in advance. Those dues are $45 plus a $20 initiation fee. Those new members will not be reported to CWC until July 1, 2021.
There is a limit of two submissions, either in a single genre or across genres. No untitled submissions will be accepted.
All submissions must be in 12-point Times New Roman font. The maximum length for poetry is 50 lines, single-spaced. The maximum length for fiction and creative non-fiction is 2,500 words, double-spaced.
All submissions must be attached with a doc or docx format. Each submission must be in a separate file without any identifying information except title In a separate cover sheet attachment, please include your name, submission title, genre of each submission, phone number, email, and bio up to 50 words.
A Mother's Day art and wine experience at di Rosa 
Di Rosa Center for Contemporary Art presents a paint and sip experience, hosted by Napa Valley artist Penelope Moore, on Sunday, May 9, from noon to 1:30 p.m.
Participants will taste Acumen Mountainside Rosé of Merlot, and then, using color and brushstrokes as flavor and aroma,  transform "taste" into a work of art.
Art materials are included. No experience is necessary but participants must be 21. The cost is $165. Reservations are necessary by April 30 at bit.ly/RoseMOMdiRosa. Di Rosa is at  5200 Sonoma Highway, Napa, 707-226-5991.
Sonoma Community Center announces spring classes
The Sonoma Community Center's spring 2021 arts and culture class schedule runs through the end of June.
The majority of course offerings are virtual to comply with COVID safety guidelines, but the in-person youth summer camps and the Jack London State Historic Park partnership will give the community an opportunity to connect in small, socially distanced groups for arts-focused learning.
Catch up on Napa County's top news stories