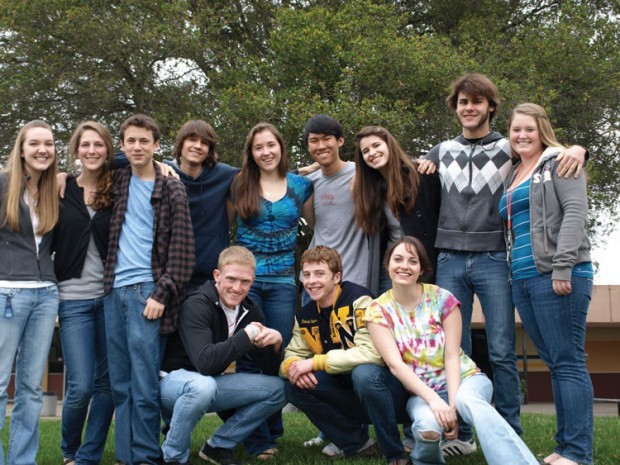 The renown pioneers of a cappella music, the House Jacks, will headline an evening of contemporary a cappella and barbershop music at the Napa District Auditorium Friday, for the fifth "A Capella Extravaganza."
Hosted by the Napa High Vocal Music Workshop singers, who will also perform, the evening will also include performances by the Napa High School Girls Barbershop Quartet, the Scattertones of UCLA, UC Berkeley's Men's Octet and "VocalMotion" from UC Santa Barbara.
Vocal Music Workshop and their director Jamie Butler launched the event five years ago as the "First — hopefully — annual a capella extravaganza," and it proved to be a hit that has returned ever since.
The House Jacks of San Francisco are the original "rock band without instruments."
Using nothing more than their five voices (and mouths), they deliver everything from blistering funk to screaming rock to heart-melting ballads for their growing legions of fans. They have performed thousands of shows, and their music can also be heard in places as far-reaching as movie soundtracks and computer operating systems.
Cal's Men's Octet is an eight-member a cappella singing group, founded in 1948. The Octet has entertained audiences around the world with its close harmonies, zany stage antics and wide repertoire of barbershop, doo-wop, contemporary pop, modern alternative, and of course, Cal fight songs. The group has released dozens of recordings and is also the only two-time champion of the International Competition of Collegiate A Cappella.
Founded in 2002, The Scattertones is a student-run, co-ed a cappella group at UCLA that performs regularly on campus and around the Los Angeles area.
They have been featured on KTLA Channel 5 Morning news, National Public Radio's program 'Says You', and in Barack Obama's presidential campaign. Performing a variety of music from pop, to jazz, R&B, musical theater, and rock styles, the ScatterTones create the melodies and rhythm using their own voices and beatboxer. They compete annually at events like the International Championship of Collegiate A Cappella, as well as UCLA's prestigious talent competition, Spring Sing.
VocalMotion is UC Santa Barbara's only all-female a cappella group, which began in 2003 as an '80s a cappella group.
Tickets, at a $10 donation ($5 with valid student identification) for each general admission, are available in advance at the Napa High School Music Office, 2475 Jefferson Street or by calling 253-3705.
Remaining tickets will be available one-half hour prior to the performance at the door.