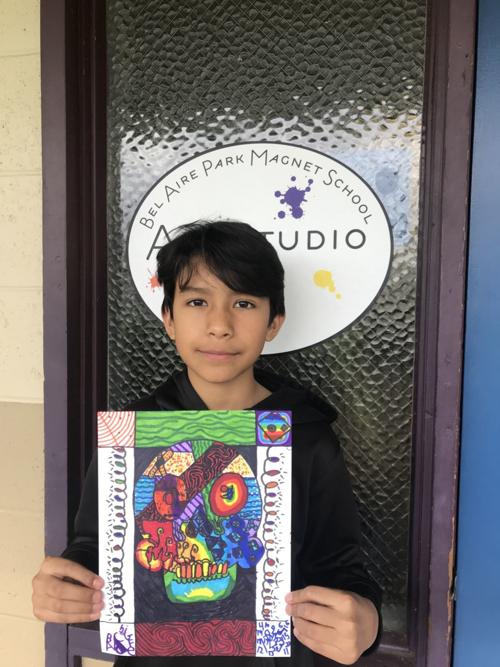 Arts Council Napa Valley Education Alliance (ACNVEA) has announced January's visual and performing arts students of the month winners. Five students are being recognized in the disciplines of Visual Arts, 3D Art, and Band & Orchestra. 
This new annual awards initiative will seek nominees monthly culminating in an awards ceremony in April, 2020 to announce the ACNVEA VAPA students of the year and scholarship winners. ACNVEA is accepting nominations for February from college, high school, middle school and elementary level visual and performing arts teachers from throughout the county. Go to the Arts Council Napa Valley Website for more information and to access the entry form.
Here are January's winners:
-- High school and college students:
3D Art: Junior Jordan Groves, Camille Creek Community School/Nimbus Arts Program. Her teacher, Margaret Dennett, recognized her for her excellent attitude, commitment to her work, and enormous growth in her creative work.
3D Art: Senior Mariah San Jose, American Canyon High School. Her teacher, Adam Musto, recognized her for her strides in ceramics skills over this year, and her ability to self-motivate and work hard to create and further her abilities in the arts. She shows excellence in hand-building and takes on projects at the wheel as well, learning to hone her craft and broaden her skills in the classroom.
-- Middle and elementary students:
Visual Arts: Fifth-grader Rogue Hill, Willow Elementary. Her teacher, Ivory Martin, recognized her for her growing skill and dedication to creating visual art. Rogue spends most of her free time sketching, drawing, and creating. No matter the task in the classroom, Rogue is up to the challenge and finds a way to add her own artistic flare to every project, no matter the skill level. She sees the beauty in the world around her and captures it on paper.
Visual Arts: Fifth-grader Alexis Garcia, Bel Aire Park Magnet School. His teachers, Tere Charney and Suzanne Morgan, recognized him for his ability to overcome academic struggles through art. He shows his skills and talent through his art, making him a desired partner in class and giving him a platform to feel confidence and encouragement in his environment. He is putting his artistic skills to excellent use in an education research project in the classroom, wanting to use his talent to teach others the importance of education. 
Visual Arts: Seventh-grader Roger Flores Chacon, Harvest Middle School. His teacher, Nick Burdick, recognized him for his ability to take on the notoriously difficult French horn at the beginning of the year; he is already performing at a level beyond that of most middle school students. Earlier this year, he single-handedly organized and led a brass quintet that performed at the Winter Concert and can often be heard practicing pieces on his own time from composers such as Tchaikovsky and Bizet. 
If you know someone, a teacher or a student, who deserves recognition, please direct them to the ACNV or ACNVEA websites for details, including the Call for Nominees document Nominations are due by the 20th of every month.
Stay up-to-date on what's happening
Receive the latest in local entertainment news in your inbox weekly!