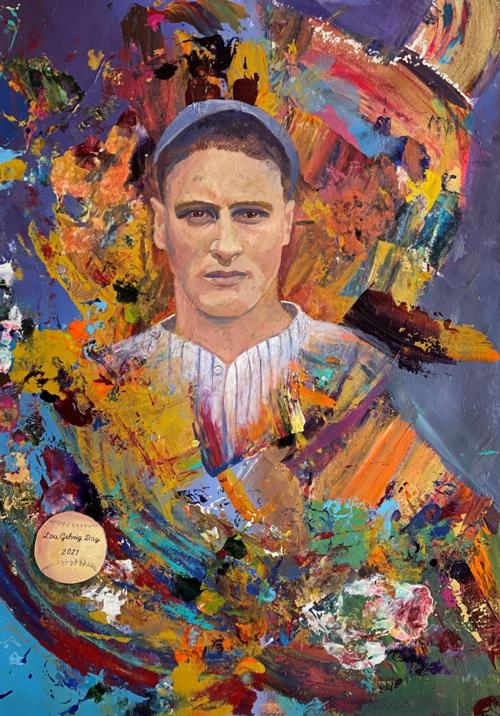 It's not often that we cover baseball on the Arts pages, but on June 2, a collaborative effort to find a cure for a deadly disease brings both subjects together, and a painting by Napa Valley artist Jessel Miller is at the heart of it.
Major League Baseball has designated June 2 as Lou Gehrig Day to raise awareness of amyotrophic lateral sclerosis, ALS, which killed the legendary ballplayer in 1941. They will donate proceeds from games that day to organizations supporting research for this progressive, neurodegenerative disease, often called Lou Gehrig's disease. According to HopkinsMedicine.com, each year there are about 5,000 new cases. There is no cure, as yet.
On June 2, as well, Miller will launch a year-long auction of a portrait she has painted of Gehrig for the benefit of one Bay Area organization supporting ALS research, the ALS Cure Project.
It's Miller's new way forward, she explained.
Support local news coverage and the people who report it by subscribing to the Napa Valley Register. Special offer: $1 for your first 6 months!
The story begins some decades back, when Miller was beginning her career as a portrait artist in the Bay Area. Her first major exhibition, which opened at the San Francisco Museum of Modern Art in 1982, focused on the faces of 25 well-known Bay Area personalities, including Maya Angelou, Herb Caen, and Dianne Feinstein.
When she discovered she was allergic to oil paints (and not wishing to take a doctor's advice to "find something else to do"), Miller switched her medium to watercolors. Settling in Napa Valley, she turned her talent to softly-colored, romantic, wine country landscapes.
She also began a tradition of creating works for non-profits, including posters for the Napa Valley Mustard Festival, which ran from 1994 to 2010. 
Fast-forward to 2020 which, in Miller's words, "turned our world upside down." She had just begun exploring the world of acrylics when the pandemic shut down much of the art world. Miller, isolated in her studio, began to paint. 
"In a typical year, when I was teaching a lot, I might complete four paintings," she said. "In 2020, I made 400."
The images "came from my core values," she said, and she rendered them in vivid abstract acrylic paintings. Animals began to emerge in these works, and then faces: endangered species such as birds, elephants, and cheetahs. Next came humans: Joe Biden, Ruth Bader Ginsburg, Kobe Bryant, and his daughter, all set in swirls of color.
She would paint an abstract and know it wasn't finished until the face appeared. She called the images "Soulful Voices," the title of Miller's upcoming book.
"I could feel the needs of the world around me," Miller said. "I realized then that this new work had a greater purpose."
She decided it was time to "give back and pay it forward," using her artworks to support non-profit organizations.
A synergistic series of events led to the first project being Lou Gerhig and the ALS Cure Project.
One of her 2020 paintings was titled, "Gretchen and Gretchen," featuring a woman, named Gretchen on a Clydesdale horse, who shared the name. The woman was Gretchen Piscotty who had died of ALS in 2018. In her memory, her husband, Mike, and his three sons had founded the ALS Cure Project. The image can be seen on the ALS Cure Project website, alscure.net, and proceeds from products using the image to help support the group's work.
"They are determined to find a cure," Miller said. "I, too, have known people here in the valley who have died of this awful disease." 
When she learned that one of the Piscotty sons, Stephen, is an outfielder for the Oakland Athletics and that June 2 is dedicated to raising awareness for ALS,  "it all came together," Miller said. 
She looked over her abstracts — those without faces — and settled on one, which, rotating it vertically, called for a face — Gehrig's.
Working from a black and white photo of Gehrig as a young man, she rendered him in color.
"The intensity in his eyes and the very heart of his devotion to his fans and family touched my soul," she said. "I didn't tell Mike and Steve what I was doing. I just painted it." 
When she showed it to the father and son, they were in for the project, the first of what she hopes will become a series of "non-profit alignments" where she can use her art to generate funds for organizations. 
"There are so many that need support," she said.
The painting of Gerhig will officially go up for auction on June 2, on ALS Cure Project's site and as well as Miller's. The auction will close in one year, with a gala at the Jessel Gallery and the profits from the auction will be split, 50-50, between the artist and ALS Cure Project. 
The project is picking up steam. Not only is Miller's painting on the National League website, but Campos Family Vineyards in Byron, California, has turned the image into a label for one of their wines.
"They have generously added this to their new collection of wines that support non-profit organizations that are near and dear to their hearts," Miller said. 
"Charity is the act of giving help to those in need of it. It is a humanitarian act. It involves giving money, goods, or time and effort," she said. 
"I believe the best use of my art is to touch the hearts of the souls who support these causes and build a global alliance uniting our diversities. Giving back and paying it forward go hand in hand. I feel it is my time to do both." 
Catch up on Napa County's top news stories
Get unlimited digital access to the Napa Valley Register for just $3 for your first 3 months! Enjoy every article without restrictions and find tons of subscriber-only perks, such as access to our daily eEdition. Click here for details!
Sasha Paulsen is a novelist and features editor of the Napa Valley Register. Contact her at spaulsen@napanews.com.