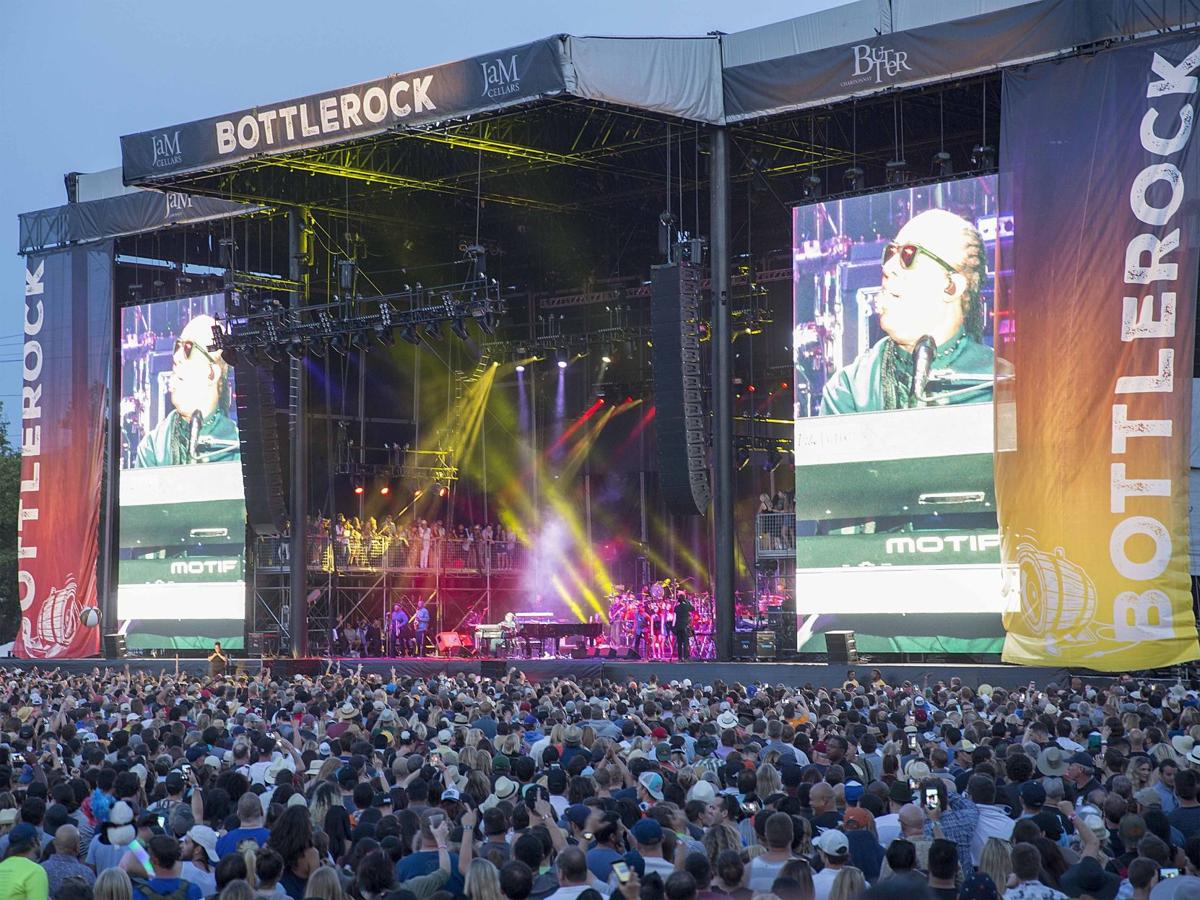 BottleRock CEO Dave Graham, typically a practitioner of MBA-speak, was in his office last week waxing metaphorical about the 2013 inaugural festival under the previous founders. "I would liken it to a birth," he said. "A birth is amazing, it's beautiful. At the same time, it's not pretty.
"It did go off the rails as a business venture, but that does not take away from the birth itself. I give a ton of credit and respect for their taking that idea and making it a reality. The fact that they were able to bring it to life in Napa, of all places, was amazing. I was there as an attendee, I was proud to be from Napa and really happy it was happening."
On the eve of BottleRock's fifth year, Graham described how he and his partners, Justin Dragoo and Jason Scoggins, leaned in, as he put it, to revive a festival that much of the community felt was beyond repair. "I was leaving a company that I had co-founded to take a little bit of a hiatus for the first time in my life," he said. "One of my partners in that firm kind of planted the seed for me to take a look at what was going on with BottleRock."
Getting started
"It started to resonate with me," Graham said. "'Well, a lot of things are going wrong with it right now. I don't really know, but wow, what an experience it was, and there's a lot of potential there.' So I texted Jason out of the blue, 'Hey, do you want to buy BottleRock?' Literally, verbatim. And he said, 'Interesting, let's chat.'
"It didn't take long for us to want to have Justin on board as an equal partner because, well, he's Justin. He's extremely talented and very smart and we have a pre-existing relationship and so we all know each other really well."
The trio, each from Napa and successful in business, began an intense process of due diligence and subsequent negotiation with Napa Valley Expo that culminated in settlement of the debt from the 2013 festival and a lease agreement for a resurrected BottleRock in 2014. Their new company was Latitude 38 Entertainment.
Graham left metaphor behind and dissected the rationale for their commitment. "Because of our background in business," he said, "having run successful companies and also things that didn't work, you can see certain patterns — opportunities and attributes that are key to a business's ultimate success — brand differentiation, experience differentiation, the site itself, the pre-existing demand for customers. We saw those things just staring at us."
2014 – a rescue, but 'Is this even a business?'
After a successful round of fundraising with investors, they went to work on the content of the 2014 festival. "It was intimidating at times," Graham said, "because you knew that you did not know what you did not know. But coming into this business with complete humility relative to our knowledge of the music space, we knew right away that we were going to need to talk to people who knew a lot more than we did. And that's exactly what we did, as fast as we could."
Graham emphasized that one of their early surprises was just how expensive major bands are, and further, that even if you have the money, that doesn't mean that you can book the band. "The complexities that dictate whether or not you can book a band," he said, "we could spend the next week talking about that. That was a big roadblock for 2014 that we almost did not make it through."
Well, they made it through. "After the festival, we were relieved to have not only pulled it off, but we pulled it off in a way that was safe," Graham said. "Everyone was paid and we felt like everyone had a good experience. We were able to improve upon the previous year's experience in a variety of ways. There was kind of just a sigh of relief. But we sold fewer tickets than they did the previous year, and it was not profitable. We were kind of like, 'Well, is this even a business?'
"The community, fortunately, turned for us right after the festival and people were happy that we pulled it off, and the industry was shocked that we pulled it off. Locally, folks went from, 'OK, who are these guys and can we trust them?' to 'Good job, we can trust them.' That gave us a little bit of confidence that we could have a better shot at doing some of the things that we wanted to do in 2015, booking the bands that we would have liked to book. So we said, 'Let's do this, let's lean in.'"
2015, 2016 – Identity, growth, 'We have a business.'
"So we started down that path," Graham said. "It was a slog to book bands like Imagine Dragons. It just about killed us to convince them to take our money. But we were able to do that and we were able to put together a plan for a VIP experience that we felt would differentiate our festival from others. Finally, we were able to re-brand the company in a way that we felt it needed to be re-branded.
"We aligned every single piece of marketing material with the Napa Valley and food and wine and weather and fun and 'the first taste of summer.' We felt like, 'Let's give this a shot and do it the way that we think it should be done before we really say there's a business here or not.'
"We ended up not only becoming profitable in 2015 but beating our estimates. The brand pulled to focus and some of the things that Justin wanted to do in VIP, he was able to do. Some of the things that Jason wanted to do in terms of sponsorship, he was able to do. We ended up coming out of the 2015 festival saying to ourselves, "We have a business, no question, and we've found our groove. We know what we're about."
Graham said that while the 2015 festival was profitable, he considered 2016 to be their breakout year. "That's when we took the leap to the next level," he said, "not only for our festival, but in the festival business. What was done at the VIP level in particular, with the four different levels, whether it be VIP, VIP Skydeck, the Suites, and then Platinum, it's not done in other festivals like that. It's the year that we really put ourselves on the map."
2017 – Upgrades for everyone
Not resting on their laurels, Graham and the BottleRock team have targeted investments for 2017 at nearly every element of the festival "We're taking from 2016 and literally improving upon that in a very profound way," Graham said. "While VIP levels will continue to be enhanced, the majority of investment for 2017 is in upgrades for GA (general admission)."
Graham sang the praises of GA at BottleRock compared with other festivals, where, as he put it, "…there's waffle cones and waffle fries. GA for our festival is really like VIP at other festivals."
The list of GA enhancements for 2017 includes a $600,000 investment in a plush lawn for the entire massive area in front of the main stage; significant improvement in main stage sight lines through relocation of spotlight towers and the re-design of the front-of-house sound structure; and additional video screens and audio in multiple locations.
The list continues with an enhanced Wine Garden, where wines from the individual tasting rooms can be purchased in a centralized location; many more acoustic musical performances by major artists at wine tasting locations, and on Saturday night, the largest silent disco ever held in the U.S., with 5,000 headsets available.
For VIP pass holders at the various levels, there will now be double-decker structures on both sides of the Main Green, an expansion of the VIP Village and the Platinum Lounge, and for the first time a VIP structure at the second stage.
If all that isn't enough, there will be, no kidding, a spa with a Champagne bar, massage, manicure/pedicure, hair care and a DJ, available to everyone from GA to Platinum.
BottleRock Napa Valley, May 26-28, 2017. Foo Fighters, Tom Petty and the Heartbreakers, Maroon 5, Macklemore & Ryan Lewis, Modest Mouse , Ben Harper & the Innocent Criminals and 80 other bands, the Culinary Stage with headliners Martha Stewart, Jose Andres and Masaharu Morimoto, 27 wineries and 73 food outlets. Napa Valley Expo, 575 Third St., Napa. www.BottleRockNapaValley.com.
Heads Up
Brendan James Monday at Blue Note
Brendan James returns to Napa Valley after sharing the headliner spot with Zella Day at last year's Live in the Vineyard. The popular piano man and singer/songwriter is touring in support of his sixth studio album, 2016's "The Howl." Local duo, Imports – Peter Sykes and Graham Yallop – will open the show. Monday, May 22, 7 p.m. $10—$17.50. Blue Note Napa, 1030 Main St., Napa. BlueNoteNapa.com.
David Kerns is a Napa-based freelance journalist. You can view more of his work at DavidKerns.com.
Stay up-to-date on what's happening
Receive the latest in local entertainment news in your inbox weekly!