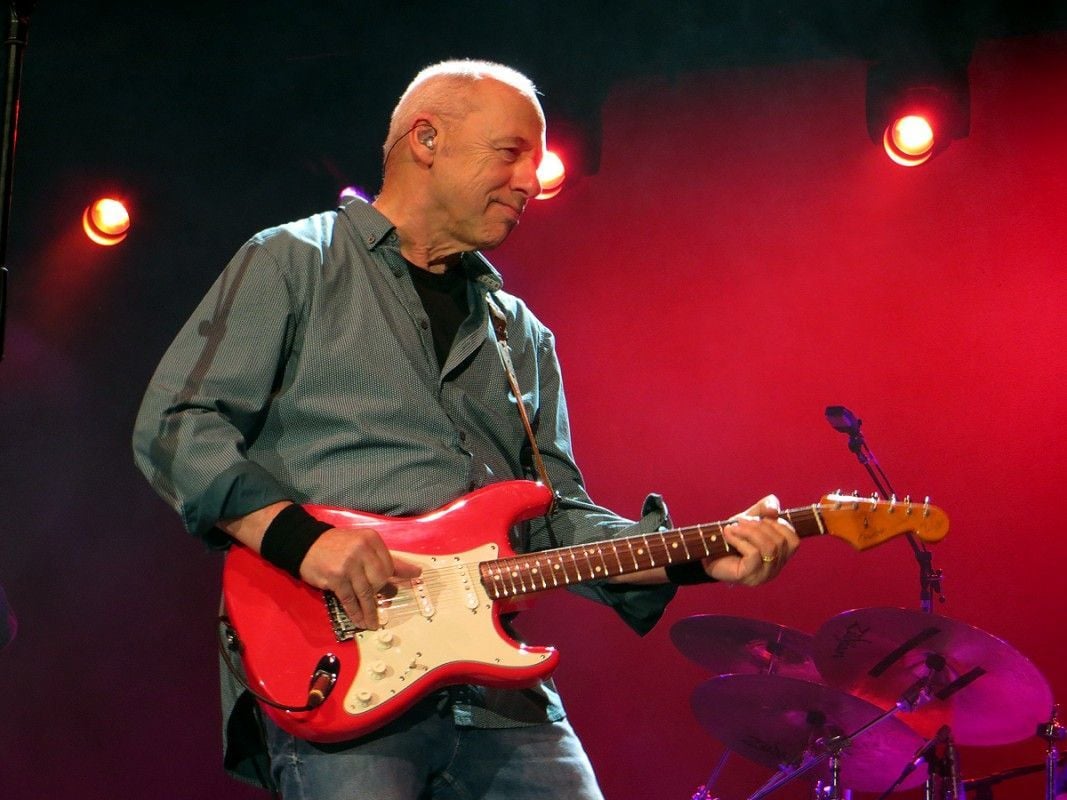 In the midst of an extensive European-North American tour celebrating "Tracker," his latest album, Mark Knopfler got a rousing reception at Berkeley's Greek Theater last Saturday night. As is the case in city after city, the former Dire Straits star and his band, a collective of brilliant, seasoned multi-instrumentalists, played before a sold-out house and, in today's vernacular, killed.
Guitarist Richard Bennett wrote in his blog following the show, "At the end, even with our ear monitors securely in, the crowd was deafening. I could actually feel the air vibrating with the cheering."
Glasgow-born and Newcastle-raised, Knopfler burst onto the international music scene in the 1980s as a guitar hero, heading up Dire Straits and turning out hits like "Sultans of Swing," "Money for Nothing" and "Romeo and Juliet." After a decade of stardom and packed stadiums, Knopfler pulled the plug. He reinvented himself and his band, going small and balancing his prowess as a player with his passion as a singer/songwriter.
In his current incarnation, Knopfler's love of folk, blues and country music dominates nearly two decades of recordings and shares his set lists with rock 'n' roll in live performances. In Seattle two weeks ago, three longtime bandmates sat down for a conversation about their celebrated front man.
Guy Fletcher is the only current band member who was in Dire Straits with Knopfler. He is, by every indication, the indispensible musical and technical sidekick, and these days Knopfler's co-producer. He believes that the arc of Knopfler's career is unique.
"I really don't know any other artist who had that magnitude of success in the '80s," Fletcher said, "and has rebuilt a second career that still seems to be on the rise. While CD and album sales are falling, we seem to be headed in the upward direction in terms of fans, second and third generations being introduced to his music."
"The band has evolved massively," he said. "I've never come across a collective union like this that's so musical and kind of humble as well. The distinct lack of egos, for the most part, is what makes it work in the long run, I think, the fact that everybody strives for the same thing, to make it a musical experience as a whole. It's not the individual standout performances, apart from Mark obviously. We're there to support him and to support the songs."
Richard Bennett agreed. "That's a very big thing we talk about, honoring the song," he said. "That's what you're there for. You're not there to be the star, it's not about you, it's about honoring the song. And that's how Mark treats his own songs."
Bennett has been the second guitarist in Knopfler's band for two decades, and was Neil Diamond's guitar sidekick for almost as long. He spoke at length about Knopfler's guitar playing. "He's just a very special guitar player," he said. "He's absolutely one of the greatest guys to ever grace that instrument. In any era, any style. He's got it all covered because he's listened so much — the old '20's, '30's country blues, and hillbilly music and jazz and bluegrass and rock 'n' roll and R&B and boogie-woogie, all of it. He devours it all."
Much has been said about the voice of Knopfler's guitar, the tone and richness of the notes. "It is more than gear," Bennett said. "He can get it out of anything. He could get it out of a $12 guitar because it's all right there in the fingers. That's how it is with any great musician. But at the end of the day, it's his sense of melody and lyricism. It's like singing. His guitar playing truly is like singing. You hear people say, 'Man, that guy can make a guitar sing.' Well, he can."
Still, songwriting is the thing that Knopfler cares most about these days. "He sees himself as a songwriter," Fletcher said, "and that's what he's concerned with going forward. He's striving to be an ever better songwriter. He's not content on resting on his past successes. That means nothing to him. Mark has no interest in the past. He just wants everything in the future to be better in every way, every element."
Bennett said that Knopfler went through a period where he didn't want to be the guitar hero anymore. "I think he's come back to some of those things with a fresh eye as to why they were good. He often says that if you don't do the little 'twiddly bits' in 'Sultans of Swing,' then you've not done it. It's part of the architecture of the song, it's almost like the writing of the song itself."
Scotsman John McCusker is a more recent band member, joining up in 2008. A master fiddler and all-around Celtic multi-instrumentalist, he talked about his gratitude and admiration for Knopfler. "It never stops being inspiring, working with Mark," he said. "Every single show he inspires me. Every time we make a record he inspires me.
"He wants to keep on learning. Mark will say something very honest, 'All I want to do is make a great record.' That could be seen as being a bit of a throw-away, but he actually really means it. And that really strikes a chord with me. As someone who's produced a few records, it's such a real goal to try to get back to what you do, to make a better record. It's completely inspiring."
"I remember the very first tour with Mark in 2008," McCusker said. "We finished up in Miami after 90 shows and Mark was still taking stuff out of the arrangements and trying to improve them. After 90 gigs! 'Hey, what about if we …' That's what keeps you on fire."
McCusker said that being in this band has changed his life, made it bigger and better. "Life doesn't get better," he said. "We went across the road after the show to get a beer and some chicken wings, Mark and I, and we said 'you know, life is really good.'"
Bennett had a benediction of his own. "First and foremost, it's an honor to be in this band," he said. "It's a real privilege, because I hold Mark in very high regard as a musician. And I'm grateful to have a job, one that's reasonably steady in this thing for over 20 years now. I take a lot of pride in that. And it's a challenge, and it's a camaraderie."
Asked if touring was arduous, Bennett would have none of it. "The tour," he said, "it's money for nothing, you know. It's not work."
David Kerns is a Napa-based freelance journalist. You can view more of his work at DavidKerns.com.