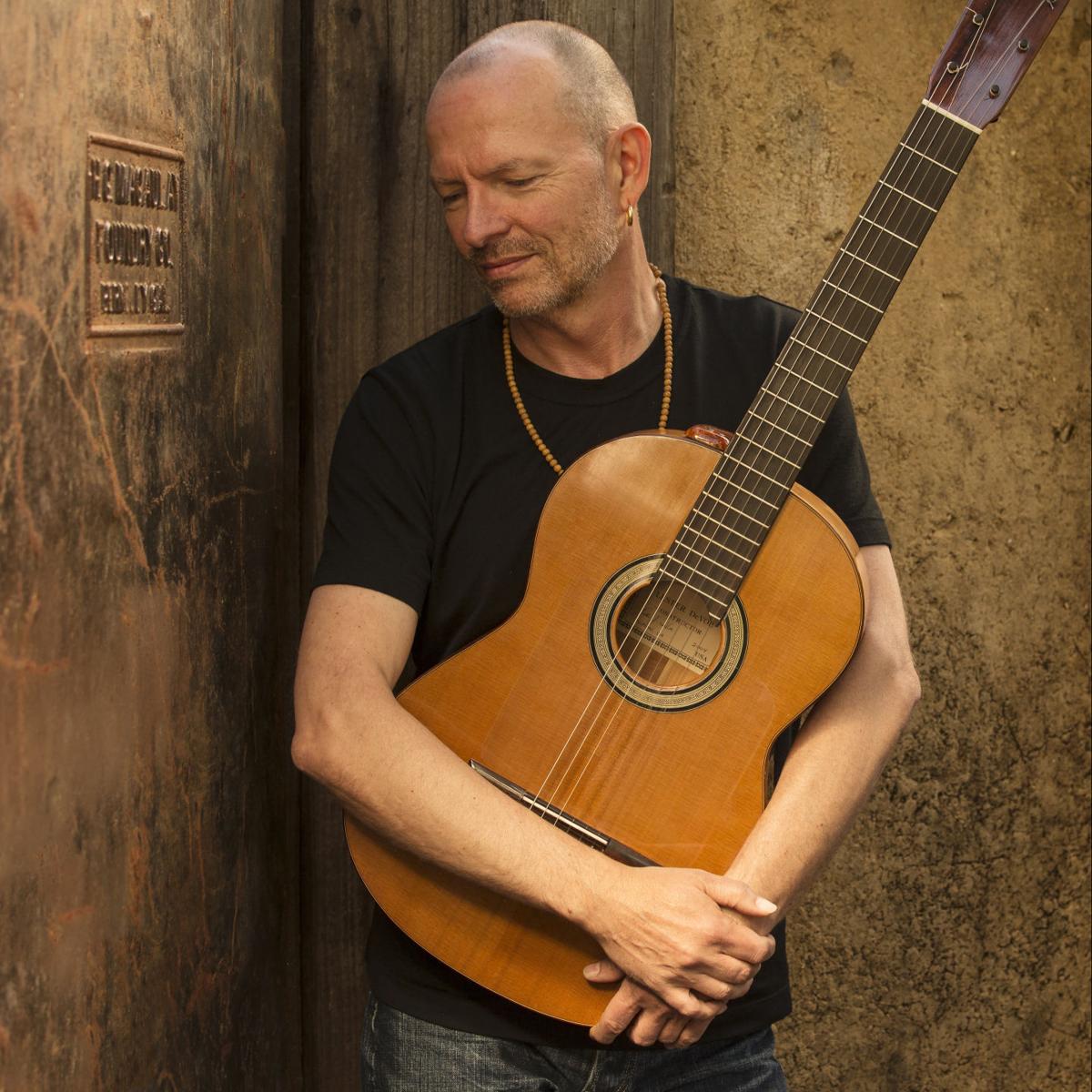 Ottmar Liebert has been one of the recording industry's most popular instrumental artists for more than 25 years. An acoustic guitarist combining jazz and Spanish influences, his "Nouveau Flamenco" music has had broad international success.
The five-time Grammy nominee will perform with his trio Luna Negra at Blue Note Napa, two shows a night, Thursday, Feb. 16 through Sunday, Feb. 19.
On the phone from his home in Santa Fe last week, Liebert talked about his relocation to the Southwest in the mid-1980s and the sharp turn in his career. Arriving from the East Coast, he left his rock 'n' roll life as an electric guitarist behind. "I wanted to do something different," he said, "so I came out here in the spring of '86 and pretty quickly fell in love with the place.
"There were a lot of different cultures mixed together in Santa Fe. It makes for a very vibrant atmosphere. I remember going to a restaurant to listen to three musicians who were playing there. There was a flamenco guitar player, a classical violinist, and a banjo player. That is a whacked out, strange combination. This is my kind of town.
"A friend had a not very good nylon-stringed guitar, and I just loved playing that thing. I thought, you know, this is what I really want to do. I want to do instrumental music, and I want to make acoustic music primarily. Let's see where this goes."
Liebert refined his acoustic style, played regular performances around town and in 1989 released a CD which was distributed locally. It caught the attention of Higher Octave Music, was re-mastered and released a year later as "Nouveau Flamenco." Eventually the album went double platinum in the U.S. and its name remains the trademark of Liebert's brand of Spanish-influenced digestible jazz.
"I was combining what was here," the German-born guitarist said. "You've got the Spanish strain and you also have the Mexican strain of culture. If you listen to a song like 'Barcelona Nights,' you've got the sort of oom-pah rhythm from the bass, then a rumba rhythm from the rhythm guitar. The main melody is a surge, just like a lot of mariachi music is. It's actually a mix of a lot of the stuff that's right here in Santa Fe.
"That record had amazing commercial success, platinum in the United States and Canada, in New Zealand and Australia and a bunch of other places. It was scrutinized a lot, especially by the flamenco people in Spain. Those kind of sales were something that really had never happened."
Criticized by flamenco purists for adopting the centuries-old name for his music, Liebert minimized the controversy. "Anything that has a strong tradition can withstand having somebody mess with it," he said. "I think people assume that jazz or flamenco are monolithic cultures that just sort of came up and boom, there it was.
"When you scratch a little at the surface of this pedestal that flamenco is on, you find that flamenco is mostly Arabic in nature, and then things like rumba and tangos actually were brought into Spain from the Caribbean. At the core of things, you always find that it's a mish-mash of a bunch of different cultures."
Liebert's particular mish-mash has resulted in 30 studio albums, an array of compilations and collaborations and a glittery track record of gold and platinum sales. His most recent album, 2016's "Slow," is a meditative instrumental counterpoint to the year past.
For the Blue Note performances, Liebert's Luna Negra sidekicks are bassist Jon Gagan and percussionist Chris Steele.
Thursday, Feb. 16 through Sunday, Feb. 19, 7 p.m. and 9:30 p.m. $25-$45. Blue Note Napa. 1030 Main St., Napa. 707-880-2300. BlueNoteNapa.com.
David Kerns is a Napa-based freelance journalist. You can view more of his work at DavidKerns.com.
Stay up-to-date on what's happening
Receive the latest in local entertainment news in your inbox weekly!