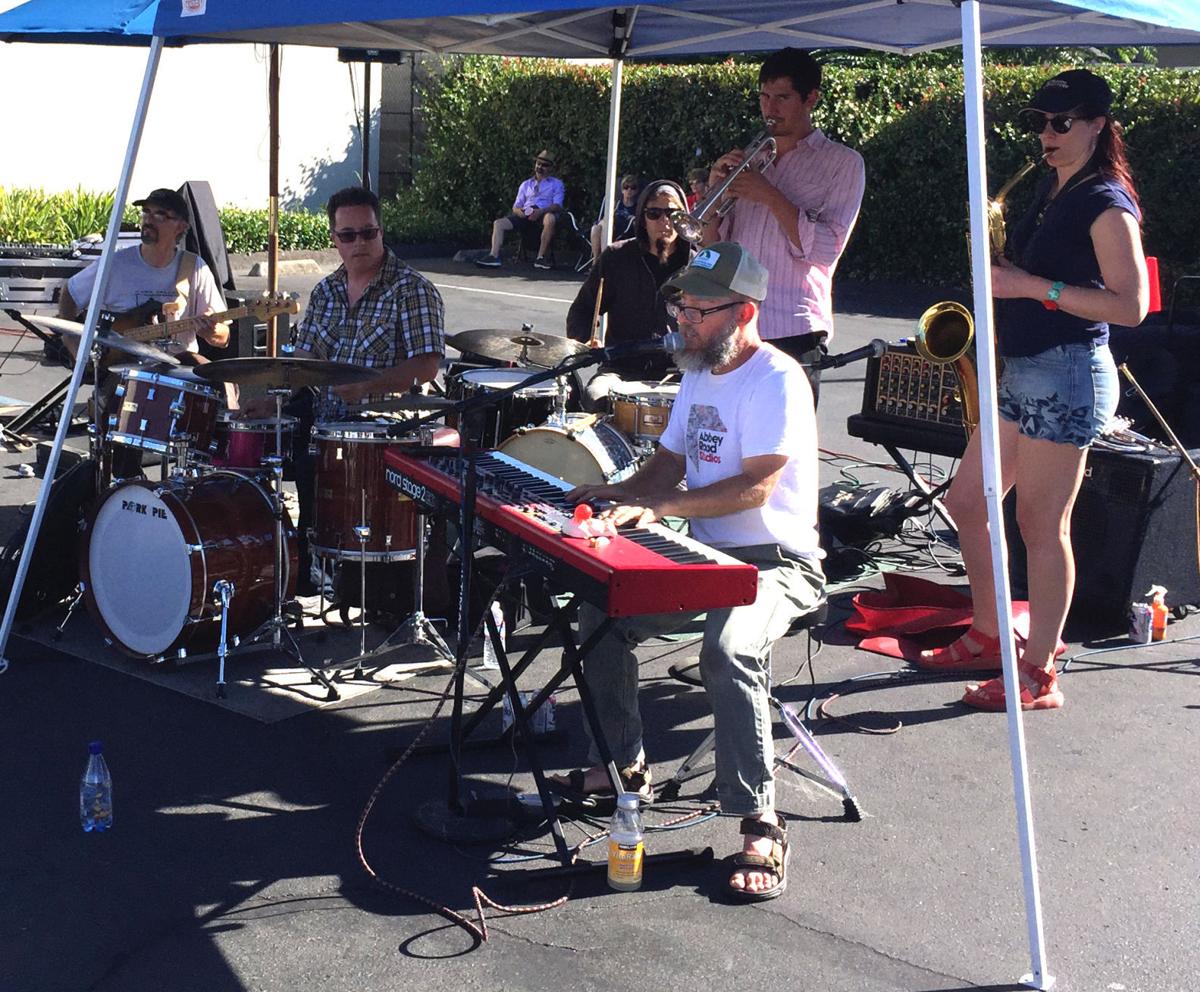 Porchfest is a crazy quilt of musicians, bands of every size, age, gender and genre. For some, it's a routine gig, for others it's a one-off. Ross Rubin, the founding member and lead singer of Jealous Zelig, said that the event in 2014 was his band's birthplace. They will play their fourth consecutive Porchfest, along with 128 other bands, this Sunday, July 30.
It's safe to say that Ross Rubin is a singular fellow, unless you run across another Jewish piano playing, singing, songwriting, bandleading beekeeper with a whimsical Hispanic alias. "Chivito Pelon" was bestowed upon him many years ago by fellow workers in the kitchen at the Sonoma Mission Inn. Intended and received as a term of endearment, it means "small bald goat." He likes it so much that he uses it as his Facebook identity.
Rubin talked last week about the experience of Porchfest from the musician's perspective. "Each of our porches has attracted a different slice of the community," he said, "and at each of those places we met new people that we would never have known. The porch hosts were all very distinct people, and each with their own style of hospitality."
The movement of the audience, the typical comings and goings during the performance, was not distracting, Rubin said. "I think when you've been performing it long enough, first and foremost you're serving the music," he said. "You're not just serving it up, but you're trying to embody it and be honest with the music so that it does that thing that music does to us. And then you're worrying less about if people decide, 'Oh, I'd rather go hear a different kind of music.'"
Rubin said he believes that Porchfest has been important for the success of the band. "Porchfest did kind of birth us," he said. "It established a sort of awareness that Jealous Zelig was attempting to do original music and that when we would do covers, they were covers that were unusual. We were a group of musicians that were into playing something a little jazzy, a little classical, a little different. And some original stuff.
"Jealous Zelig is trying to do something fresh that is a pleasant distraction from all of the things we're all worried about all the time. So whether it's at Porchfest or whether it's at the Blue Note where we've played four, five times, the idea is the same ultimately. We're trying to foster a sense of community that is shared by everyone in the space together. We're trying to focus on something that has no other purpose than to be a positive, to give us a sense of release from our cares."
Rubin is in awe of his bandmates. "The guys who are in this group, they can play anything," he said. "And I'm really happy to be able to play with them because they help me synthesize all these different things that I love listening to. There's the jazz influence, there's the classical influence, there's a rock influence. So there's this desire to play these different genres of music."
Jealous Zelig is Rubin on keyboards and vocals, percussionist David Hight, bassist Anthony Cappeto, Martin Reid on clarinets and saxophones, trumpeter Brendan Galvin and Quinn McMichael on trombone and flute. At Porchfest, they will perform from 2:30 to 4 p.m. on Porch #36 at 1206 Oak St. at Coombs St.
David Kerns is a Napa-based freelance journalist. You can view more of his work at DavidKerns.com.
Stay up-to-date on what's happening
Receive the latest in local entertainment news in your inbox weekly!