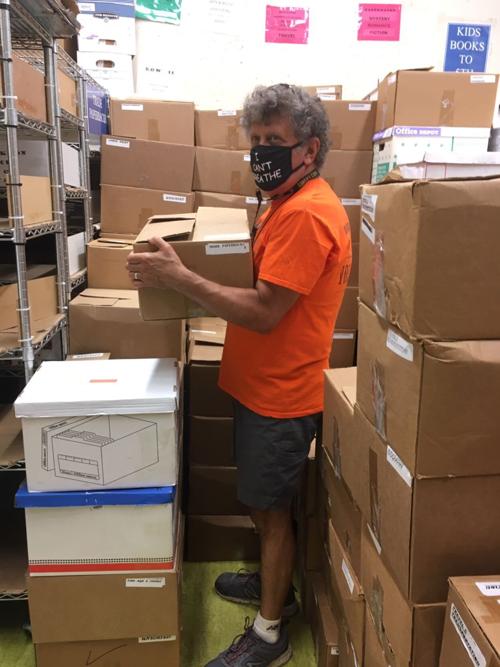 Unable to host its popular quarterly book sales due to the COVID-19 pandemic, the Friends of the Napa Library are hosting its first Friends of the Napa Library Back Door By the Box Book Sale on July 30 to Aug. 1 and Aug. 6 to 8. Hours are 10:30 a.m. to noon each day.
For safety reasons, the Friends had to cancel two of its 2020 quarterly book sales. A third sale, scheduled for September, is the latest casualty of the COVID-19 pandemic. Because of safety regulations, the Friends cannot conduct its book sales in the usual manner.
These quarterly sales support library programs for everyone, especially for children, teens and seniors. Without the Friends' book sales, many library programs may be cut back or eliminated. Current programs that the Friends has paid for or is funding are listed on the website www.folnapa.org.
Because the public has been generous with book donations over the last four months, the Friends has a lot of books to offer— books that otherwise would have been sold at the popular book sales.
A Back Door–By the Box–Book Sale gets these reading, watching and listening materials into the hands of the Friends' community where they can be enjoyed.
Here's how it works: On the sale days, customers drive to the back corner of the Napa library (where book donations are normally dropped off for the Friends). It's the corner of Fifth and Brown streets between Coombs and Main.
Friends of the Napa Library volunteers will greet buyers. Books are pre-boxed by category and type. Customers tell the volunteer what category or type they want. Volunteers then bring boxes to the car (and will put them into the car if needed). Payment can be made by cash, check or credit card.
Categorized books are $10 for one box; $25 for three boxes.
Categories are: Biography, Business/Economics, Cookbooks, Education, Foreign Language, Gardening, Health/Medical, History, Home Crafts/How To, Large Print, Law/Politics, Literature, Reference, Relationship/Self Help, Religion, Romance Paperbacks, Science Fiction, Travel, Westerns, Wine and Unsorted (Surprise!).
Non-categorized fiction is boxed by book type (hardcover, trade paperback and mass market): $10 for 2 boxes.
Children's books are boxed for youths up to fifth grade or for those in grades 6-12: $10 for 3 boxes. CDs are $10 for 2 boxes; DVDs are $10 for 1 box.
To maximize safety and accommodate as many as possible, the Friends asks that customers do not open boxes on the premises. Quick turnaround in this small lot will help minimize congestion and hasten service.
Also, all citizens are asked to wear a mask and practice social distancing. The library's back door is also the delivery area for the library. If the rear parking lot is full, customers are asked to drive around the block and give volunteers a chance to get caught up with other customers. Find more information on the website folnapa.org.
Watch now: Summer reading