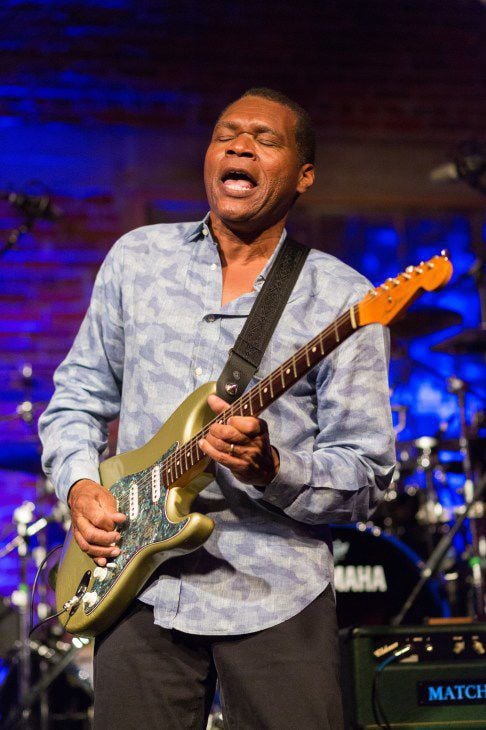 Robert Cray has been an award-winning blues/soul/R&B vocalist and master guitarist for over three decades. The five-time Grammy winner and Blues Hall of Fame inductee returns to the Uptown Theatre in Napa on Saturday, Nov. 9.
On the phone last week from his home in Southern California, Cray talked about being immersed in music beginning in early childhood. "My dad, he was into music and my mom was as well," he said. "We listened to a lot of music growing up. My father was in the Army, and the time that I remember listening to the most music is when we were stationed in Munich, Germany in the early '60s.
"My dad would buy a lot of records at the PX. Mom and Dad were listening to people like Ray Charles and Sarah Vaughan, and BB King and John Lee Hooker and Sam Cooke and Bobby "Blue" Bland and Jackie Wilson and all that stuff. Then on Sundays they were listening to gospel music, the Dixie Hummingbirds, the Swan Silvertones and all that. I heard all that music when I was growing up."
Cray's first instrument was the piano. "When we lived in Germany is when I took piano lessons," he said. "I switched to guitar when we left Germany and moved back to Washington state. That was when The Beatles came out. The Beatles are to blame for a lot of people playing guitar."
Cray has been quoted as saying that when he started playing guitar he wanted to be George Harrison, but he said his actual mentor and inspiration was Texas bluesman Albert Collins.
"The first time that I saw Albert Collins was in Washington state," Cray said. "It was at one of those rock festivals in the late '60. I saw him perform, and like he always did he went out into the audience with his long guitar cable. He just slayed everybody who had been on the stage before him, and then who came on stage after him, and I was highly impressed."
A few years later, in 1971, Collins and his band performed at Cray's high school graduation party. "I remember watching Albert," Cray said, "and afterwards going up to him and thanking him for the show. And he goes, 'Young man, you play guitar?' 'Yes, sir.' 'Well, keep it up.'"
You have free articles remaining.
Four years later, then relocated to Eugene, Oregon, Cray and his own band were asked to back up Collins at a local performance. This led to Cray and his mates touring with Collins when he was playing the Pacific coast. "We played between San Francisco and Vancouver, British Columbia with Albert," he said. "He was like a father figure for us—you know, 21-year-old, 22-year-old kids—at that particular time."
"We learned a lot from Albert standing behind him and watching him take off, and learning how to be supportive in that kind of role. And so that was a really good lesson for us."
Another important collaboration for Cray, this one ongoing for decades, has been with famed drummer and record producer Steve Jordan. They met in 1987 while working together on "Hail! Hail! Rock and Roll," the concert film tribute to Chuck Berry. Jordan has produced a number of Cray's albums, including the 1999 Grammy winner, "Take Your Shoes Off," and his latest, "Robert Cray and Hi Rhythm."
"Steve is, first and foremost, just a super great guy," Cray said. "And he gets how it works playing with other musicians. As a matter of fact, we just recorded another record back in April that'll be out in February. It's untitled yet, but he produced it."
"What Steve does, he gets everybody into the room, he gets behind the drum kit and just starts playing and everybody falls in. And after about 20 minutes of just playing a groove, you know each other through that. It loosens everything up and then you can start to work. That's how Steve gets things going."
"When we actually record, we work out the groove for a long time, and then we find it, and then it's time to record it. It's really comforting, and I find that it works all the time with Steve. It's really just, 'Damn, that's what it's all about.'"
At the Uptown, Cray will be accompanied by Richard Cousins on bass guitar, Dover Weinberg on keyboards and Terence Clark on drums.
Saturday, November 9, 8 p.m. $45-$75. Uptown Theatre Napa. 1350 Third St., Napa. 707-259-0123. UptownTheatreNapa.com.
David Kerns is a Napa-based novelist and freelance journalist. You can view more of his work at DavidKerns.com.