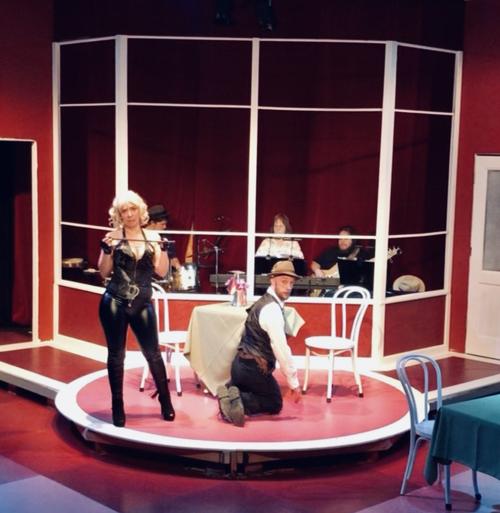 Lucky Penny Productions presents the musical "Five Course Love" Feb. 14 through March 1. Moving from one dining room to another, three actors portray 15 different characters in five different restaurant situations in this all-sung musical production.
Gregg Coffin wrote the music, lyrics and book for the show, which premiered off-Broadway in 2005.
Talkin' Broadway called it "genuinely heartwarming…an undercurrent of unrequited love pierces the often blistering, breakneck comedy and creates moments of surprising seriousness and sentimentality…distinctive, tuneful, and highly memorable…"
The production is directed by Heather Buck, with music direction by Ellen Patterson and choreography by Staci Arriaga.
Sarah Lundstrom, F. James Raasch, and Brian Watson are the three actor/singers who play all the parts.
"Five Course Love" will be performed at the Lucky Penny Community Arts Center, 1758 Industrial Way in Napa. Tickets can be purchased online at luckypennynapa.com or by calling 707-266-6305.
2020-2021 season
Lucky Penny Productions announces their nine-show season of musical and plays for 2020-2021, on stage from September 2020 through June 2021.
Based on the true story of Patsy Cline's friendship with Houston housewife Louise Seger, an avid fan who struck up a friendship that lasted until Cline's death in a plane crash in 1963. Reprising her multiple award-winning performance from 2019, Danielle DeBow sings the tunes that made Kline famous: "Anytime", "Walkin' After Midnight", "She's Got You", "Sweet Dreams", and "Crazy" with Karen Pinomaki joining Danielle as Louise.
This beloved tale in which a Kansas farm girl travels over the rainbow to discover the magical power of home, has been entertaining audiences for generations. Lucky Penny will produce what is know as the "RSC Version," which is the stage script that is most like the classic film.
Sidney Bruhl, a successful writer of Broadway thrillers, is struggling to overcome a dry spell that has resulted in a string of failures and a shortage of funds. A possible break in his fortunes occurs when he receives a script from a student in the seminar he has been conducting at a nearby college — a thriller that Bruhl recognizes immediately as a potential Broadway smash. His plan, devised with his wife's help, is to offer collaboration to the student for co-credit. Or is it? "Deathtrap" provides twists and turns of devilish cleverness and hilariously sudden shocks in abundance.
Orphaned Buddy mistakenly crawls into Santa's bag of gifts and is transported to the North Pole where he is raised by elves, unaware that he is actually a human until his enormous size and poor toy-making abilities cause him to face the truth. With Santa's permission, Buddy embarks on a journey to New York City to find his birth father and discover his true identity. Faced with the harsh realities that his father is on the naughty list and his half-brother doesn't even believe in Santa, Buddy is determined to win over his new family and help New York remember the true meaning of Christmas.
"The Marvelous Wonderettes,"
This Off-Broadway hit takes you to the 1958 Springfield High School prom, where to meet Betty Jean, Cindy Lou, Missy, and Suzy, four girls with hopes and dreams as big as their crinoline skirts. In Act II, the Wonderettes reunite to take the stage and perform at their 10-year reunion. The play features more than 30 classic '50s and '60s hits.
Napa Valley College Theater Arts and Lucky Penny Productions team up to present "The Producers" under the direction of Taylor Bartolucci and Jennifer King. In this popular musical, a down-on-his-luck Broadway producer and his mild-mannered accountant come up with a scheme to produce the most notorious flop in history, bilking their backers out of millions of dollars. Only one thing goes awry: the show is a smash hit. Co-written by Mel Brooks and Thomas Meehan, "The Producers" skewers Broadway traditions and as it proclaims itself an "equal- opportunity offender."
"Legally Blonde The Musical JR,"
Based on the award-winning Broadway musical and hit motion picture, "Legally Blonde: The Musical JR" is Lucky Penny's third Young Actors Production featuring only youth performers age 8-17. "Legally Blonde JR." follows the transformation of Elle Woods as she tackles stereotypes, snobbery and scandal in pursuit of her dreams.
Evolution and emotion collide in Sarah Treem's thought-provoking and sharp play about science, family, and survival of the fittest. On the eve of a prestigious conference, an up-and-coming evolutionary biologist wrestles for the truth with an established leader in the field. This intimate and keenly perceptive play explores the difficult choices faced by women of every generation.
Inspired by a true story and featuring the Tony-nominated score by Steve Martin and Edie Brickell, "Bright Star" tells a tale of love and redemption set against the rich backdrop of the American South in the 1920s and '40s. When literary editor Alice Murphy meets a young soldier just home from World War II, he awakens her longing for the child she once lost. Haunted by their unique connection, Alice sets out on a journey to understand her past — and what she finds has the power to transform both of their lives.
The first round of auditions for the 2020-2021 season will be held March 28 and 29, at the Lucky Penny Community Arts Center, 1758 Industrial Way in Napa. Visit luckypennynapa.com and follow the Auditions link for more information and to sign up for an appointment.
Season subscriber packages for the 2020- 2021 season are on sale now. Tickets for individual shows will go on sale Sunday, March 1. Packages and single show tickets can be purchased online at luckypennynapa.com or over the phone by calling 707-266-6305. For questions, call or email info@luckypennynapa.com.
Stay up-to-date on what's happening
Receive the latest in local entertainment news in your inbox weekly!